Super Mass Gainer By Dymatize Nutrition, Weight Gainer
Super Mass Gainer Benefits and Results:
Zytrix Advanced Digestive Enzyme Matrix †
Provides 82 Grams of Protein †
1900 Calories and 17 Grams BCAAs †
Gluten-Free †
Super Mass Gainer By Dymatize Nutrition - Weight Gainer - Protein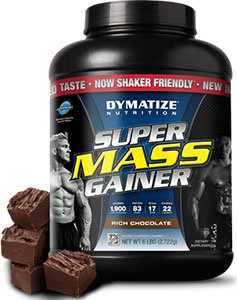 Essential Nutrition to Build Mass & Muscle
We all want to be bigger, stronger and faster but gaining muscle mass can be difficult. Between eating at a surplus and exercising to your max, something as simple as a fast metabolism can delay your results. Super Mass Gainer is a high-quality mass and size gainer that is loaded with enough protein, BCAAs, calories and other nutrients to help even the hardest gainers pack on mass and size. Unlike many other mass gainers out there, Super Mass Gainer also tastes delicious and has amazing mixability! Super Mass gainer is a powerhouse combination of 10.9 grams of BCAAs with 5.2 grams of Leucine. Super Mass Gainer also has a blend of vitamins and minerals to aid in balanced nutrition.
Loaded with Muscle Fuel
Dymatize Super Mass Gainer's exclusive formula provides the perfect ratio of Essential, Conditionally Essential and Non-Essential Amino Acids with a combination of Complex and Simple Carbohydrates for both immediate and sustained energy delivery to muscle. Super Mass Gainer is Now formulated with superior protein sources like hydrolyzed whey protein, whey protein isolate and micellar casein. The best just got BETTER! So the formulation is superior, but what about taste? At Dymatize tasting good is not an option...it MUST taste GREAT! Super Mass Gainer is now so delicious it tastes like a decadent gourmet milkshake. Technically formulated, tested in the lab and athletes preferred....Super Mass Gainer is a revolution in muscle mass gains. Gluten Free.
What's In Dymatize Nutrition Super Mass Gainer?

How to Take Dymatize Nutrition Super Mass Gainer:
Using a blender, add two heaping scoops of Super Mass Gainer to 24-32 oz. of water or 32 oz. of whole milk. Blend for 45-60 seconds. Add ice cubes, fruit or other ingredients as desired and blend for an additional 30-45 seconds.
Warnings:
Contains Milk, Soy and Egg. Soybean oil is genetically modified. Consult with a physician prior to use if you have any medical conditions. Do not use if pregnant or lactating. Use only as directed. Keep out of the reach of children.
PLEASE NOTE: Product image is representative of the product offered but may not have the exact attributes. Please read product description for the specific attributes of this product.
PLEASE NOTE: The information above is intended for reference only. While we attempt to keep our information accurate, we cannot guarantee it is an accurate representation of the latest formulation of the product. If you have any concerns, please visit the vendor's web site. The information above are the views of the product's manufacturer, not the views of Same Day Supplements. These statements have not been evaluated by the Food and Drug Administration. This product is not intended to diagnose, treat, cure or prevent any disease.
*Prices are subject to change at any time and some items are limited to stock on hand.
In-stock orders placed before 3pm EST ship out the same day.
We offer many shipping options to countries like:
Brazil
United Kingdom
Canada
Germany
Australia
Japan
India
France
Israel
Worldwide
More Information

| | |
| --- | --- |
| SKU | SUPER-MASS-GAINER |
| Manufacturer | Dymatize Nutrition |
Customer Reviews
cheap and clean

Cleanest way to gain lean weight.

Huge Scoop

Huge Serving Size but does the job