SizeOn By Gaspari Nutrition
SizeOn Benefits and Results:
Speeds Up Protein Synthesis †
Improves Muscle Recovery †
Enhances Muscle Volume †
Intra-Workout Amino Acid and Creatine Formula †
SizeOn By Gaspari Nutrition - Maximum Performance - Intra Workout
What Is Gaspari Nutrition SizeOn?
Gaspari Nutrition takes sports nutrition to the highest level with SizeOn - The Ultimate Hybrid Intra-Workout Amino Acid & Creatine Formula. The original SizeOn became known as the "King of Creatines" and by utilizing the latest advances in clinical research, this award winning formula is better than ever! SizeOn contains high quality whey protein hydrolysate, which is clinically proven to absorb even faster than free-form amino acids. SizeOn also boasts a premium creatine formula, high-performance carbohydrates, a high dose of L-Leucine (4 g), and many more anabolic-promoting ingredients. SizeOn contains the revolutionry ingredient L-Ornithine-L-aspartate (LOLA), which has been shown to reduce ammonia and improve psychometric function. L-Ornithine-L-aspartate is able to reduce high blood ammonia levels induced either by ammonium chloride or protein ingestion. Furthermore, LOLA decreased protein breakdown and stimulated protein synthesis in muscle.
Gasapri SizeOn brings these carefully selected ingredients together for unparalleled increases in athletic performance, skeletal muscle recovery, explosiveness and most notably, immediate increases in muscle size WHILE YOU ARE STILL TRAINING.
Why Is Gaspari Nutrition SizeOn Better Than The Rest?
Gaspari Nutrition has formulated a product that will literally put Size On your body. With its top of the line research driven formula, SizeOn stimulates lean muscle synthesis due the potent combination of creatine and the high quality whey hydrolysates. The whey hydrolysate that includes over 50% di and tripeptides as well as a large array of pro-anabolic promoting components such as a high dose of L-LEUCINE (5 grams) to allow for unequaled support in athletic performance, skeletal muscle recuperation, explosiveness and most particularly, nearly instant increases in muscle size. SizeOn Maximum Performance promotes both muscle growth and muscle recovery to get you functioning at the highest performance levels.
Gaspari Nutrition SizeOn Max Performance Benefits:
Speeds up Protein Synthesis & Muscle Force Recovery
Heightened Muscle Volume, Muscle Fiber Size, Cell Volume & Plasma Amino Acid Levels
Intensifies S6K1 and 4E-BP1 Signaling and Hypertrophic mTOR Pathway Conduction
Initiates & Maintains Myogenesis and Muscle Recovery While You Are Still Training
Transports Vital Nutrients, Essential Minerals, and Growth Co-factors To Skeletal Muscle Tissue.
Harnesses the Insulinotropic Power of Pterostilbene
Contains the never before seen LOLA, our cutting-edge, amino acid salt L-Ornithine-L-Aspartate that cuts down on ammonia in the body!
What is the Difference Between SizeOn Maximum Performance and SizeOn Pre-Contest?
SizeOn Maximum Performance contains the revolutionary OUTLAST carbohydrate complex for maximal performance in the gym and recovery and it contains pterostilbene - our patent pending, naturally occurring insulin secretagogue - which helps to push those carbohydrates (and amino acids and other nutrients) into skeletal muscle cells to maximize glycogen synthesis, cell volumization and myogenesis. This formula is geared towards an athlete looking to "bulk up as fast as possible." SizeOn Pre-Contest does not contain the OUTLAST complex nor pterostilbene.
What is the Difference Between the New Version of SizeOn and the Original?
The new version of SizeOn contains high amounts of whey protein hydrosylate, leucine, along with more carbohydrates and the insulinotropic powerhouse pterostilbene. All in all, it is a much more advanced product based on cutting edge research.
Can SizeOn Only be used by Bodybuilders or can Athletes Looking to Build Muscle Mass and Enhance Their Recovery Use it as Well?
Gaspari SizeOn can be utilized by anyone wishing to speed their recovery, build muscle mass, and increase performance whether in the gym or for athletic competition.
What's In Gaspari Nutrition SizeOn?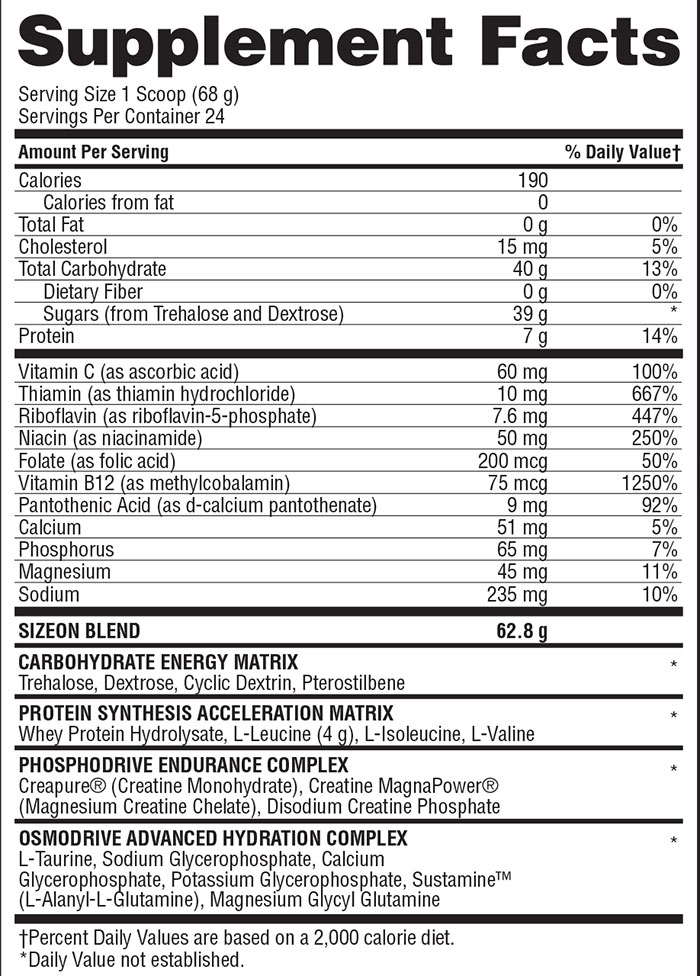 How Do I Take Gaspari Nutrition SizeOn?
SizeOn is meant to be taken once per day, on training days while you train, 5-6 days per week. Mix one scoop of Gaspari SizeOn in 20-30 ounces cold water and sip throughout your workout. Should the need arise, add more water as necessary throughout for proper hydration. Note: Do not store in direct sunlight, store in a cool dry place.
Warnings:
See the advise of a health care practitioner before use. Not suggested for use in children under the age of 18 or in people who have been diagnosed with hypertension, kidney disease, liver disease, metabolic syndrome, diabetes, neoplastic condition such as cancer or thalassemia. Do not use if pregnant or nursing. Keep out of reach of children. Allergen Warning: Milk.
PLEASE NOTE: Product image is representative of the product offered but may not have the exact attributes. Please read product description for the specific attributes of this product.
PLEASE NOTE: The information above is intended for reference only. While we attempt to keep our information accurate, we cannot guarantee it is an accurate representation of the latest formulation of the product. If you have any concerns, please visit the vendor's web site. The information above are the views of the product's manufacturer, not the views of Same Day Supplements. These statements have not been evaluated by the Food and Drug Administration. This product is not intended to diagnose, treat, cure or prevent any disease.
*Prices are subject to change at any time and some items are limited to stock on hand.
In-stock orders placed before 3pm EST ship out the same day.
We offer many shipping options to countries like:
Brazil
United Kingdom
Canada
Germany
Australia
Japan
India
France
Israel
Worldwide
More Information

| | |
| --- | --- |
| SKU | SIZEON |
| Manufacturer | Gaspari Nutrition |
Customer Reviews
The one and only

Have been using SizeOn for as long as I can remember, it is a staple in my supplement cupboard. Nothing makes me pack on the mass like this product. Highly recommended

Best intra product

Love SizeOn! This stuff helps like no other with its awesome profile and I love how it tastes.