Sinister Pre Workout - Panda VS Black Magic Supply - Limited Edition
Benefits and Results:
Intense Energy†
Laser-Like Focus†
Muscle Pumps†
Frequently Bought Together
Sinister Pre Workout - Panda VS Black Magic Supply - Limited Edition
What Is It?
Sinister is a high stimulant, premium pre workout. It is a collaboration pre workout from Panda Supps and Black Magic Supply. It is absolutely loaded with top quality ingredients giving you a whopping 18.1 grams per scoop. A truly one of a kind all-in-one pre workout.
Not sure which Panda Pre Workout to take? Check out our new blog: A Comprehensive Review and Comparisons of Panda Supps Pre Workouts 2023.
How Does It Work?
Ingredients:
L-Citrulline: may improve training endurance, intensity, and recovery by promoting nitric oxide production and blood flow.†

Beta Alanine: may buffer lactic acid build up, improve athletic performance, and build lean muscle mass.†

Malic Acid: may boost muscle energy and recover from exercise more quickly.†

Betaine Anhydrous: May improve body composition and enhance your power in the gym.†

Beet Extract (Beta vulgaris)(std. to contain 1% Nitrate)(root): may improve blood flow.†
L-Tyrosine: may help enhance focus and alertness.† This may help you focus on your workouts in the gym.†

Agmatine Sulfate: Modulates Nitric Oxide Levels.†

Dimethylaminoethanol DL-Bitartrate (DMAE): supports neurotransmitter production (focus).†

Alpha GPC 50% (L-Alpha-glyceryl phosphorylcholine): May optimize muscular power output and endurance, as well as memory and cognitive functions.†

VasoDrive-AP (Casein Hydrolysate): may increase nitric oxide production to enhance muscle pumps while also helping reduce muscle soreness.†

Catuaba (Erythroxylum Catuaba)(bark): may help with increasing energy, curbing appetite and promoting weight loss.†

Phenylethylamine HCL (PEA): may support an increase in energy and well-being.†

Caffeine Anhydrous: may provides energy, focus, alertness, and concentration.†

Kanna (Sceletium tortusosum): may provide euphoric energy and focus.†
Safed Musli (Chlorophytum borivilianum)(50% Saponins): may make your body more efficient in response to stress.†

Mucuna Pruriens Extract (98% L-Dopa): may promote recovery and growth from intense training.†

S7 (Green Coffee Bean Extract, Green Tea Extract, Turmeric Extract, Tart Cherry, Blueberry, Broccoli, Kale): may promotes Healthy Nitric Oxide Production Levels in the Body.†

Theobromine: similar to caffeine, may help increase energy and focus.†

Caffeine (Extended Release): smoother, long-lasting energy increase, so users don't feel a hard crash in energy.†

AstraGin (Astragalus & Panax Notoginseng Extract): may help increase absorption of the other nutrients.† Also shown to support lean muscle.†

Halostachine: may increase energy, boost focus, and supports fat burning.†

Huperzine A 1% (Huperzia serrata Leaf Extract): natural acetylcholinesterase inhibitor, meaning it prevents the breakdown of acetylcholine in the brain.†

What Can I Expect?
*Results vary person to person*
EXPLOSIVE FOCUS†

SICK MUSCLE PUMPS†

INTENSE ENERGY†
Who Should/Shouldn't Take It?
Sinister Pre Workout is perfect for those that are looking for an high stimulant and premium pre workout that may provide intense, fast and potent boost for their workout.† It may deliver intense energy, enhance muscular pumps, and intense focus - a all-in-one pre workout.† If you're someone who has a sensitivity to stimulants or is looking to avoid them, this pre workout product may not be suitable for you.† In this case we suggest exploring pre workout options with lower levels of stimulants or those that are entirely stimulant-free such as Panda Pump.†
FAQ:
How many servings are there?
40 Servings if you take one scoop. 20 Servings if you take two scoops.
What flavors are there?
Currently there is only two flavors: Kiwi Apple and Blue Shark Gummy.
How much caffeine does it have?
Per scoop there is 175mg caffeine anhydrous and 50mg caffeine (extended release). Please note there is other stimulants of top of this.
Why is it clumpy?
Due to the very high concentration of ingredients in this product, clumping of the powder is common. This does not affect the quality of the supplement. Simply break up the clumps and enjoy the results.
Similar Alternative Products:
Stacks Well With:
How Do I Take Sinister Pre Workout?
Suggested Dosage and Directions:
It is recommend to start with 1/4 to 1/2 scoop to gauge tolerance. This product should be consumed 20-30 minutes prior to any workout or exercise session. Mix preferred serving vigorously in 8-16oz of water until dissolved fully. Do not exceed 2 scoops per day.
What's In Sinister Pre Workout?
Supplement Facts/Label: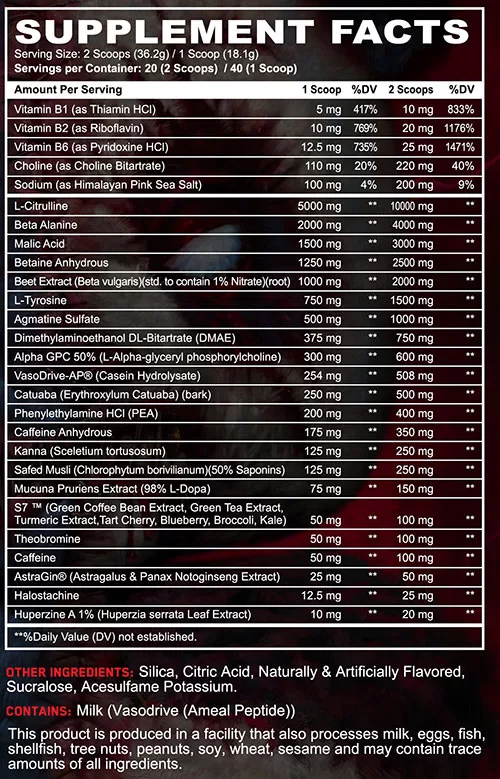 Warnings and Side Effects:
For use by health adults only, not recommended for persons under the age of 18. Do not use if you are pregnant or nursing. Individuals should not consume other caffeinated products in conjunction with this product. Seek advice from a healthcare professional before taking if you have any pre-existing medical condition to ensure it is safe to take this product. In case of accidental overdose, contact a poison control center immediately. Avoid alcohol and prescription stimulants while taking this product. Exceeding recommended serving will not improve results and may cause serious adverse health effects. Discontinue use and contact a licensed healthcare professional immediately if you experience an unusually rapid heartbeat, dizziness, severe headache, or shortness of breath. Keep out of the reach of children.
This product may contain ingredients that are banned by some sports organizations and/or increase risk of false positive on a drug test. Please consult with your sport organization or physician before taking this product.
This product can raise blood pressure and interfere with other drugs you may be taking. Talk to your doctor about this product.
Disclaimer:
PLEASE NOTE: Product images represent the product offered but may not contain exact attributes. Please read the product description for the specific attributes of this product.
†PLEASE NOTE: The intention of the information above is for reference only. It is our goal to maintain and display accurate information. Yet, we can't guarantee it represents the latest formulation of the product. If you have any concerns, please visit the manufacturer's website. The information above is not a representation of our views at Same Day Supplements. These are the views and information provided by the product's manufacturer. The Food and Drug Administration has not evaluated these statements. The intention of this product is not to diagnose, treat, cure or prevent any disease or illness.
*Prices are subject to change at any time and items may limit to stock on hand.
Other Information:
Visit Panda Supp's website for more information.
In-stock orders placed before 3pm EST ship out the same day.
We offer many shipping options to countries like:
Brazil
United Kingdom
Canada
Germany
Australia
Japan
India
France
Israel
Worldwide
More Information

| | |
| --- | --- |
| SKU | SINISTER-PRE-WORKOUT |
| Manufacturer | Panda Supps |
Customer Reviews
Review Disclaimer:
The reviews posted below are based on individual customer experiences and not views or guarantees from SameDaySupplements.com. These results are not be typical. Actual results may vary.
5
100% of customers recommend this product
Top customer reviews
Good Stuff

Works great. Flavors okay

Worth the price for sure

Holy shi*t this pre workout hits. Blue shark gummy tastes amazing. Pumps, endurance and energy are better than any pre I had.

Crazy Pump

This is the best pre workout I have ever used! Best mix of pump and energy.