PSYCHOTIC Pre Workout - Insane Labz
SKU
PSYCHOTIC-PRE-WORKOUT
Benefits and Results:
Insane Energy †
Enhanced Focus †
Increases Strength and Muscular Endurance †
No Crash Formula †
Frequently Bought Together
PSYCHOTIC PRE WORKOUT - INSANE LABZ - 35 SERVINGS

What is Psychotic Pre Workout?
Psychotic is an intense stimulant heavy pre workout powder. When you first try Psychotic you will think to yourself " why hasn't this pre workout been banned yet". It's really that good. Psychotic is made for stim junkies and should not be used by beginners. One scoop of this product compares to 3-4 scoops of any of the mainstream pre workouts.
Psychotic is made in a cGMP Certified facility and tested for purity. It undergoes strict microbial testing to ensure your product is clean from pixie dust ingredients.
How does it work?
Psychotic contains a high amount of caffeine and other stimulants. This can give you insane energy.
Psychotic Pre Workout also contains creatine monohydrate and beta alanine. This can aid your performance output at the gym. It doesn't stop there.
Insane Labz has also included focus enhancers in this formula. This can give you that tunnel vision focus for your gym hit so you are really in the zone.
Ingredients:
Beta Alanine
Creatine Monohydrate
Caffeine Anhydrous
†AMPiberry (Juniperus Communis) (berry)
Hordenine HCL
Dimethylethanolamine
Rauwolfia Vomitoria Extract (std. min. 90% alpha yohimbine) (rootbark)
Huperzine Serrata Leaf Standardized Extract
What can I expect?
Psychotic is a stimulant-based supplement that is used 20 to 30 minutes before your workout. It's loaded with several high-octane ingredients that have been shown to provide a number of fitness benefits including increased energy, greater strength output, and amped-up endurance. This unique formula has been shown to last for as long as three hours, making it ideal for any workout. Psychotic is also considered a nootropic supplement as it promotes cognitive performance and function. With ingredients such as Huperzine A, you'll notice an immediate boost in your reaction time and overall alertness.
Who should/shouldn't take it?
Let's talk about who shouldn't take it first. Psychotic Pre Workout is not for people who are stimulant sensitive. If you drink a cup of coffee and become jittery this product is not for you.
If you still want to give it a go, we recommend starting off at a half scoop if not a quarter scoop.
This product is for the stim junkies who can handle a heavy dose of stimulants.
If you are looking for a pre workout that can give you insane energy and want to actually feel it working...
Then Psychotic is for you.
Featured customer reviews:
Review by Pell
Always a staple. hardcore stims... never fail. could be too strong for some
Review by Tommy
Who needs DMAA. This pre workout gives me insane energy. Better than any pre workout thats available IMO.
Review by Alex
The first time I tried this product I wasn't sure what to expect as I don't take Pre workouts often. While I was working out, I was blasting through reps and was able to increase the weight of my lifts. I'm very happy with this product and I recommend it.
FAQ:
Psychotic is one of the most popular pre workouts. We get plenty of questions about Psychotic. Here is what we get asked the most:
How much caffeine does Psychotic Pre Workout have?
The label doesn't show how much caffeine is in psychotic so we reached out to Insane Labs. Insane Labs has confirmed there is approximately 300mg of caffeine in Psychotic. †
Can Women Take It?
Yes, they can. The ingredients in Psychotic are not gender specific. It is just recommended to start with a lower dose to access your tolerance. If you are pregnant or nursing, we would recommend you speak with your doctor before use. †
Does It Have DMAA?
No, Psychotic does not have DMAA. Instead we included AMPiberry. AMPiberry is considered a binding ingredient. It can increase the performance of other stimulants such as caffeine and theacrine. † AMPiberry can prolong the stimulant life of ingredients for as much as 3 hours. Making Psychotic more effective. You won't find this pre workout at GNC or Walmart.
What Flavors Does Psychotic Pre Workout Come In?
Psychotic Pre Workout comes in 9 delicious and unique flavors:
Cotton Candy
Fruit Punch
Grape
Gummy Candy
Watermelon
Apple
Sour Cherry Colada
Snowcone
Peach Mango
Comparable products:
Stacks:
If you are looking for a non stim supplement to help aid in pumps, endurance, and vascularity, we suggest taking: Insane Labz Insane Veinz. †
If you are looking for a supplement to help with recovery, strength, size, and power, we suggest taking: Insane Labz Insane Creatine. †
How do I take Psychotic Pre Workout?
Dosage and Directions:
Psychotic is not your normal pre-workout. Begin with ½ scoop to assess tolerance.
What Is In Psychotic Pre Workout?
Psychotic Pre Workout Supplement Facts / Label: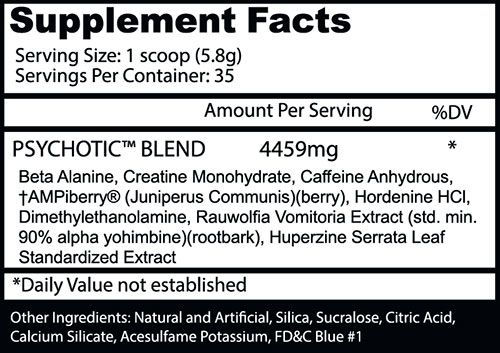 Warnings and Side Effects:
Read entire label before taking this product. Do not take psychotic in excess of its recommended dosage. Psychotic is not intended for use by persons under the age of 18. Do not consume caffeine from other sources, including but not limited to:
Coffee
Tea
Soda
Other Dietary Supplements
Medications containing Phenyleprine or Caffeine
Do not use Psychotic for more than 8 weeks. Consult your physician prior to use if you are pregnant or nursing, or if you are taking medication, such as:
MAOI Inhibitors
Antidepressants
Aspirin
Nonsterodial Anti-Inflammatory Drugs
Products containing Phylphrine, Ephedrine, Pseudoephedrine, or other stimulants
Consult your physician before use if you have a medical condition, such as:
Heart
Liver
Kidney
Thyroid Disease
Psychiatric or Epileptic Disorders
Difficulty urinating
Diabetes
High Blood Pressure
Cardiac Arrhythmia
Recurrent Headaches
Enlarged Prostate or Glaucoma
Discontinue 2 weeks prior to surgery or if you experience:
Rapid heart beat
Dizziness
Severe headaches
Shortness of breath
This product contains caffeine.
Disclaimer:
PLEASE NOTE: Product images represent the product offered but may not contain exact attributes. Please read the product description for the specific attributes of this product.
†PLEASE NOTE: The intention of the information above is for reference only. It is our goal to maintain and display accurate information. Yet, we can't guarantee it represents the latest formulation of the product. If you have any concerns, please visit the manufacturer's website. The information above is not a representation of our views at Same Day Supplements. These are the views and information provided by the product's manufacturer. The Food and Drug Administration has not evaluated these statements. The intention of this product is not to diagnose, treat, cure or prevent any disease or illness.
*Prices are subject to change at any time and items may limit to stock on hand.
References:
Richard B. Kreider, Douglas S. Kalman, Jose Antonio, Tim N. Ziegenfuss, Robert Wildman, Rick Collins, Darren G. Candow, Susan M. Kleiner, Anthony L. Almada, and Hector L. Lopez (2017 Jun 13) International Society of Sports Nutrition position stand: safety and efficacy of creatine supplementation in exercise, sport, and medicine https://www.ncbi.nlm.nih.gov/pmc/articles/PMC5469049/
Marina Yazigi Solis, Simon Cooper, Ruth M Hobson, Guilherme G. Artioli, Maria C. Otaduy, Hamilton Roschel, Jacques Robertson, Daniel Martin, Vitor S. Painelli, Roger C. Harris, Bruno Gualano, and Craig Sale (2015 Apr 14) Effects of Beta-Alanine Supplementation on Brain Homocarnosine/Carnosine Signal and Cognitive Function: An Exploratory Study https://www.ncbi.nlm.nih.gov/pmc/articles/PMC4397072/
ERIC T. TREXLER, ABBIE E. SMITH-RYAN, ERICA J. ROELOFS, KATIE R. HIRSCH, and MEREDITH G. MOCK (2015 Sep 22) Effects of coffee and caffeine anhydrous on strength and sprint performance https://www.ncbi.nlm.nih.gov/pmc/articles/PMC4803635/
In-stock orders placed before 3pm EST ship out the same day.
We offer many shipping options to countries like:
Brazil
United Kingdom
Canada
Germany
Australia
Japan
India
France
Israel
Worldwide
More Information

| | |
| --- | --- |
| SKU | PSYCHOTIC-PRE-WORKOUT |
| Manufacturer | Insane Labz |
Customer Reviews
Good pre-workout

I only use 1 full scoop 20 minutes before weight training. It increases my mood on days when I need more energy to work out (leg days) and speeds up my recovery between sets. I finish my workout without feeling exhausted.
I thought it was stronger than the propaganda promises...there's nothing "psychotic" other than blablabla about it. Overall, it's a good pre-workout.

Insane Labz

Does exactly what it says!

Psychotic

Best pre I've had so far, taste is not bad at all compared to some other ones. Had an insane workout from this overall wouldn't recommend to beginners but a nice pre workout for the price. Got two for $50

Good

Start with half scoop bitch!

Excellent pre workout

This product is amazing and the price was outstanding. Could have not found a better deal elsewhere. Highly recommended for pre-workouts.

Exellent

Good flavor and works well. Hi stims so stay away if you are sensitive

Amazing

Same day supps is great. They ship very quickly and get my order right ever time. I just want to know how they can sell my pre workout at half the price that insanelabz sells it for?!?!?!

Great

Great

The best pre workout

You will never find something like it.

Good flavor

Good flavor but not too strong for lifting. Good but not great.