Psychotic Black Pre Workout - Insane Labz - 35 Servings
Benefits and Results:
What Can I Expect?
Frequently Bought Together
Insane Labz Psychotic Black - Pre Workout
Zero Sugar, Carbs, and Calories with amazing taste. Insane Labz just released their new pre workout that is taking the market by storm.
What Is Psychotic Black?
Psychotic Black is an all-new pre workout by Insane Labz. This new formula isn't like the other versions. It has been designed with a moderate amount of stimulants that are still quick-hitting but won't leave you jumping off the walls.
It was formulated for those who love the Psychotic pre workout series but need less caffeine. Psychotic Black can still get the job done.
How Does It Work?
Psychotic Black contains a proprietary blend of stimulants, pumps, and focus enhancers. This formulation was created to maximize your performance in the gym.
Ingredients:
Creatine Monohydrate: can help increase power output.†
Beta Alanine: Helps buffer lactic acid build up which can lead to better endurance and performance.†
Taurine: Can help aid mental performance. †
L-Tyrosine: aids in focus and mental alertness. †
Caffeine Anhydrous, Di-Caffeine Malate, and Caffeine Citrate: Helps boost energy levels and aids in focus.†
AMPiberry (Juniperus Communis)(berry): helps increase energy and focus and can boost the effects of the other ingredients in the formula. †
Who should take it?
Psychotic Black Pre Workout is ideal for anyone that is looking for a mild-stimmed pre that won't leave you jittery or with a crash.
FAQ:
How much caffeine does it have?
According to Insane Labz, the caffeine content from all the sources is 200mg per serving.
Does it have creatine?
Yes, it has creatine. The exact amount is unknown since there is a prop blend.
Does it have yohimbe or yohimbine?
No, these ingredients were removed so people that are sensitive to the effects of yohimbe can still enjoy psychotic black.
Can I drink coffee with it?
No, avoid caffeine from other sources while taking Psychotic Black.
Do I need to cycle it?
It is recommended not take for longer than 8 weeks without a 4 week break. Why? This is because your body builds a tolerance to stimulants making the product less effective to you.
What flavors does it come in?
Currently, there is only two flavors. Fruit Punch and Watermelon.
Comparisons:
Currently there is 4 different types of Psychotic pre workout. This makes it hard to choose the right one for you. Below we have listed each version and their benefits to make it easier for you to pick the right one:
High Stimulant Pre Workout
Formulated For Extreme Energy and Focus
Includes Creatine to Boost Endurance
Contains Only 1 Form of Caffeine
VS Psychotic Gold:
High Stimulant Pre Workout
Formulated For Clean Energy and Pumps
Includes Vascularity Boosters
Contains 2 Forms of Caffeine
High Stimulant Pre Workout
Formulated For Longer Lasting Effects
Absorbs and Hits the Quickest
Contains 3 Forms of Caffeine
Provides a more subtle rush of energy with a pump and focus complex.
How Do I Take Psychotic Black?
Suggested Dosage and Directions:
As a dietary supplement for adults, take 1 scoop in 8-12 oz. of water to assess tolerance, 30 minutes before activity. Once tolerance has been assessed, take 1 to 2 servings, 30 minutes before activity. Never consume more than 2 servings in a 24 hour period.
To avoid sleeplessness:
Do not take within 4 hours of bedtime. Read warnings and only use as directed.
What's In Psychotic Black?
Supplement Facts / Label: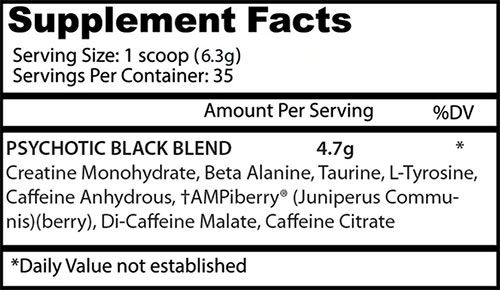 Warnings and Side Effects:
Read entire label before taking this product. Do not exceed recommended dosage. Intended for use by persons over the age of 18. Do not consume caffeine from other sources.
Consult your physician before using if you are pregnant or nursing, or if you are taking medication. Consult your physician before use if you have a medical condition.
Discontinue 2 weeks prior to surgery or if you experience:
Rapid heart beat
Dizziness
Severe headaches
Shortness of breath
Disclaimer:
PLEASE NOTE: Product images represent the product offered but may not contain exact attributes. Please read the product description for the specific attributes of this product.
†PLEASE NOTE: The intention of the information above is for reference only. It is our goal to maintain and display accurate information. Yet, we can't guarantee it represents the latest formulation of the product. If you have any concerns, please visit the manufacturer's website. The information above is not a representation of our views at Same Day Supplements. These are the views and information provided by the product's manufacturer. The Food and Drug Administration has not evaluated these statements. The intention of this product is not to diagnose, treat, cure or prevent any disease or illness.
*Prices are subject to change at any time and items may limit to stock on hand.
Other:
Cappelletti, S., Piacentino, D., Sani, G., & Aromatario, M. (2015, January). Caffeine: Cognitive and physical performance enhancer or psychoactive drug? http://www.ncbi.nlm.nih.gov/
Andres S, Ziegenhagen R, Trefflich I, Pevny S, Schultrich K, Braun H, Schänzer W, Hirsch-Ernst KI, Schäfer B, Lampen A. (2017 Jun). Creatine and creatine forms intended for sports nutrition. https://www.ncbi.nlm.nih.gov
In-stock orders placed before 3pm EST ship out the same day.
We offer many shipping options to countries like:
Brazil
United Kingdom
Canada
Germany
Australia
Japan
India
France
Israel
Worldwide
More Information

| | |
| --- | --- |
| SKU | PSYCHOTIC-BLACK |
| Manufacturer | Insane Labz |
Customer Reviews
Review Disclaimer:
The reviews posted below are based on individual customer experiences and not views or guarantees from SameDaySupplements.com. These results are not be typical. Actual results may vary.
4.6
100% of customers recommend this product
Top customer reviews
Trying a few pre-workout product. I like this one :-)

Lo mejor de lo mejor calidad en todo su esplendor, muy recomendó pero ojo no es para novatos. The best of the best quality in all its splendor, highly recommended but be careful not for novices.

good for training, but I suggest 2 servings for better performance

Como o próprio nome já diz, é INSANO mesmo! Me deu bastante energia para treinar (As the name suggests, it's INSANE! It gave me a lot of energy to train)

Pump, energy and best pré workout ever

Muito bom chegou sem taxa

Sem taxa e conforme foi pedido. (No fee and as requested.)

É um pré treino mediano. Bom pra quem é iniciante ou intermediário. (It's an average pre-workout. Good for beginners or intermediates. )

Muito fraco, vou mudar para o Gold. (Too weak, I'm going to switch to Gold. )

its the hardest preworkout than i have tried probably i will make a new purchase on the future

Great product! Gives you great pumps in the gym! It has a warm feeling to it.