Potassium Nitrate By iForce Nutrition, 120 Caps
iForce Potassium Nitrate Benefits:
Increases Nitric Oxide Levels †
Enhances Athletic Ability †
Enhances Endurance †
Potassium Nitrate By iForce Nutrition - 120 Caps - Vitamins / Minerals
For the past 10-15 years, one of the most popular terms in Sports Nutrition is "Nitric Oxide". Originally L-Arginine was used to give people "pumps" until it was discovered that orally ingested arginine really does very little to nothing for increased Nitric Oxide production. Since then, it has been an all our foot race to find which compounds are capable of truly increasing Nitric Oxide, and which products can give the ultimate pumps. After years of research, and clinical studies, the choice for optimal Nitric Oxide production is found in the all-mighty Nitrate.
How Does It Work?
Nitrates are inorganic compounds that have been shown to significantly increase Nitric Oxide production through the "nitrate-nitrite-NO pathway". What makes this form of Nitric Oxide production so effective is how quickly it is able to be completed in the body, giving you seemingly instantaneous results.
Why Potassium Nitrate Instead Of Other Forms Of Nitrates?
iForce Potassium Nitrate is the premier form of Nitrate utilization due to several factors. For 1, iForce Potassium Nitrate contains a high percentage of Nitrates in each molecule, unlike other popular Nitrates currently available. This means you need to take less material, to get more Nitrates. In fact, iForce Potassium Nitrate is 61% Nitrate, and only 39% Potassium, so this makes it possible to give you HUGE Nitrate doses, in just a few small pills. Potassium is also used due for its many health benefits such as acting as an electrolyte, enhancing physical performance, and helping to reduce cramping brought on by dehydration from strenuous exercise.
What Can Nitrates Really Do For Me?
One of the best aspects about Nitrate usage is that they are beneficial for every type of athlete. By significantly increasing Nitric Oxide, your body is able to perform physical actions at a lower Oxygen requirement. This means that your endurance will be significantly enhanced on your very first dose! Imagine breathing easier, yet running faster, or lasting longer in the weight room. Another benefit to Nitrate usage is the intense vasodilation it provides. Vasodilation is the literal expanding of your veins, which allows more blood, oxygen, and nutrients to reach your hungry and tired muscle cells. This gives you a great "pumped" feeling, as well as significantly enhanced recovery.
You're One Dose Away From The Best Work Out Of Your Life…
Just 1 single dose of 2-4 capsules of iForce Nutrition Potassium Nitrate will give you the best workout you have ever experienced. Take it on its own, stack it with Hemavol or Conquer, or ANY pre-workout product of your choice to see just how powerful this new Sports Nutrition break though truly is!
What's In iForce Potassium Nitrate?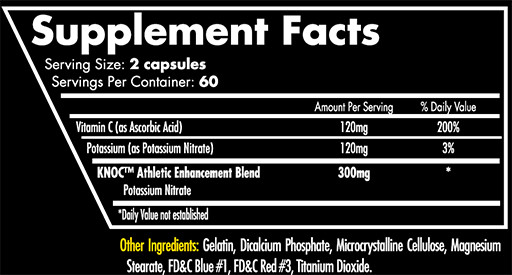 How to Take iForce Potassium Nitrate:
As a dietary supplement, begin by assessing your tolerance to iForce Potassium Nitrate by consuming 1-2 capsules approximately 20-40 minutes prior to your workout. Once tolerance has been assessed, consume up to 4 capsules 20-40 minutes prior to your workout. iForce Potassium Nitrate can also be dosed by consuming 1-2 capsules 2-4 times per day, to ensure longer bouts of increased Nitric Oxide levels. Do not consume more than 6 capsules in any 24 hour period.
Warnings:
Exceeding the recommended servings, not following the directions, or not following the warnings may lead to unwanted effects. This product is only intended to be consumed by healthy individuals 18 years of age or older. Pregnant or nursing women should not use this product. Consult with your health care provider before using this product, especially if you are taking any prescription, over the counter medication, dietary supplement product or if you have any pre-existing medical condition including but not limited to: hypoglycemia (low blood sugar), high or low blood pressure, cardiac arrhythmia, stroke, heart, liver, kidney or thyroid disease, seizure disorder, or if you are taking MAO-B inhibitor or any other medications, including but not limited to MAOIs, SSRIs or any other compounds with serotonergic activity. Do not combine with alcohol. Discontinue use and immediately consult your health care professional if you experience any adverse reaction to this product. Do not exceed recommended serving. Do not use if safety seal is broken or missing. User assumes all risks, liabilities or consequences respecting testing. Keep out of reach of children. Please store in a cool dry place.
PLEASE NOTE: Product image is representative of the product offered but may not have the exact attributes. Please read product description for the specific attributes of this product.
PLEASE NOTE: The information above is intended for reference only. While we attempt to keep our information accurate, we cannot guarantee it is an accurate representation of the latest formulation of the product. If you have any concerns, please visit the vendor's web site. The information above are the views of the product's manufacturer, not the views of Same Day Supplements. These statements have not been evaluated by the Food and Drug Administration. This product is not intended to diagnose, treat, cure or prevent any disease.
*Prices are subject to change at any time and some items are limited to stock on hand.
In-stock orders placed before 3pm EST ship out the same day.
We offer many shipping options to countries like:
Brazil
United Kingdom
Canada
Germany
Australia
Japan
India
France
Israel
Worldwide
More Information

| | |
| --- | --- |
| SKU | IF-0047 |
| Weight | 0.3600 |
| Manufacturer | iFORCE NUTRITION |
| UPC | 081950001484 |