Plasm Surge - Glaxon - Pump Complex
Benefits and Results:
Boost Strength and Power†
Help Transport Nutrients to the Muscles†
Remove Lactic Acid from the Muscles†
Support Proper Hydration Levels†
Glaxon Plasm Surge - Pump Complex / Non Stim Pre Workout
What Is Glaxon Plasm Surge?
Glaxon Plasm Surge is a non-stimulant pump complex to help increase nitric oxide production and muscle pumps.† This formula includes patented ingredients to help boost strength, power, and endurance – all while reducing fatigue, supporting recovery, and improving hydration.†
How Does It Work?
Ingredients:
L-Citrulline (Kyowa Quality): has a major role in the production of nitric oxide to increase muscular pumps and blood flow while also helping reduce muscle fatigue.†
Astrolyte Electrolyte Blend (Fructooligosaccharides, Magnesium Citrate, Sodium Chloride, Potassium Citrate): helps support cellular functions, helps maintain proper hydration and fluid balance, aids in muscular contractions, and can improve workout performance.†

L-Ornithine Hydrochloride: aids in enhancing workout performance by reducing fatigue and increasing energy levels, helps boost nitric oxide to enhance the pump, and supports maximum strength output.†
L-Arginine (Kyowa Quality): an antioxidant amino acid that helps encourage the production of nitric oxide.†

L-Glutathione Reduced (N-(N-L-gamma-Glutamyl-L-cysteinyl) glycine as Setria): may help boost nitric oxide levels, reduce fatigue, improve recovery.†

Low-Molecular Weight BioActive Peptides (as VasoDrive-AP): may increase nitric oxide production to enhance muscle pumps while also helping reduce muscle soreness.†
Astragin (Astragalus membranaceus and Panax Notoginseng)(Root) Extract: may help increase the absorption of ingredients.†
What Can I Expect?
Increase Muscular Pumps†

Improve Blood Flow†

Enhance Muscular Endurance†
Who Should Take It?
If you looking to boost nitric oxide levels to improve blood flow for better muscle pumps and don't want a supplement loaded with stimulants, Glaxon Plasm Surge is for you.†
Featured Customer Reviews:
Review By Nicolette Sarvis
Been using this for about 2 years and over those 2 years have never had a disappointing lift or pump. To say this product is elite is by no means an exaggeration.
FAQ:
How many servings are there?
There is 21 servings per container.
What flavors are there?
Currently there is 3 flavors: Juicy Apple, Americanade, and Unflavored.
Does it contain caffeine?
No, this product is caffeine free. It is completely stimulant free.
Similar Products:
Plasm Surge VS Ecto Plasm: contains a complex non-stim pump formula. Main ingredients include Citrulline Malate at 8 Grams and Glycerol Powder at 2 grams.
Designed to Stack With:
Specimen
Plasm Caps
Hybrid
Xeno Amino
How Do I Take Plasm Surge?
Suggested Dosage and Directions:
Mix 1 scoop (1 serving) with up to 16oz (500mL) of water or beverage of choice, vary the amount of liquid to taste. Consume daily at any time desired.
For training: Consume 15-30 minutes prior to exercise. Half servings (1/2 scoop) may be taken in intervals. Tastes best cold. Do not exceed 2 servings (2 scoops) per day.
What's In Glaxon Plasm Surge?
Supplement Facts / Label: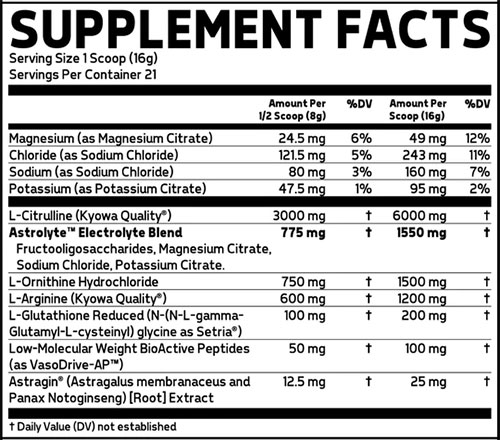 Warnings and Side Effects:
This product is only intended to be consumed by healthy adults, 18 years of age or older. Do not use if pregnant or nursing. Do not take this product before first consulting a licensed, qualified, health care professional. Discontinue use 2 weeks prior to surgery. Immediately discontinue use and contact a medical doctor if you experience any adverse reaction to this product. Store in a cool dry place. Keep out of reach of children.
This product is sold by weight not volume. Some settling of powder may occur during shipping and handling which may affect density of powder. This product contains the servings indicated when measured exactly by weight.
Disclaimer:
PLEASE NOTE: Product images represent the product offered but may not contain exact attributes. Please read the product description for the specific attributes of this product.
†PLEASE NOTE: The intention of the information above is for reference only. It is our goal to maintain and display accurate information. Yet, we can't guarantee it represents the latest formulation of the product. If you have any concerns, please visit the manufacturer's website. The information above is not a representation of our views at Same Day Supplements. These are the views and information provided by the product's manufacturer. The Food and Drug Administration has not evaluated these statements. The intention of this product is not to diagnose, treat, cure or prevent any disease or illness.
*Prices are subject to change at any time and items may limit to stock on hand.
Other Information:
Visit Glaxon's website for more information.
In-stock orders placed before 3pm EST ship out the same day.
We offer many shipping options to countries like:
Brazil
United Kingdom
Canada
Germany
Australia
Japan
India
France
Israel
Worldwide
More Information

| | |
| --- | --- |
| SKU | PLASM-SURGE |
| Manufacturer | Glaxon |
Customer Reviews
Review Disclaimer:
The reviews posted below are based on individual customer experiences and not views or guarantees from SameDaySupplements.com. These results are not be typical. Actual results may vary.
Top customer reviews
Do yourself a favor and stack this with either form of Specimen

I began stacking Plasma Surge with Specimen, and my workouts are 10x better. My pumps are insane. I like to use the unflavored Plasma Surge, so I can mix it in the Specimen. Try this. You won't regret it!

Best pump in town

Been using this for about 2 years and over those 2 years have never had a disappointing lift or pump. To say this product is elite is by no means an exaggeration.