Outlift Amped - Nutrex - Pre Workout
Benefits and Results:
Clinically Effective Doses †
Extreme Energy †
Intense Muscle Pump †
Reduce Fatigue †
Increases Strength and Performance †
No Sugar or Artificial Colors †
Frequently Bought Together
Outlift Amped By Nutrex - Pre Workout
What Is It?
Outlift Amped is the extreme energy edition of their clinically dosed pre-workout, Outlift. It combines the performance enhancing ability of these ingredients at clinically effective doses with cutting edge extreme energy. Experience the difference and start training at your true maximum potential.
How Does It Work?
With the addition of new energy and focus promoting ingredients such as TeaCrine, Kaff2, Rauwolscine and Choline Bitartrate, as well as new performance enhancing compounds like Betaine Anhydrous and Creatine MagnaPower, Outlift Amped can take you to the next level of your performance. †
Ingredients:
Citrulline Malate (2:1): Allows for intense, long-lasting muscle pumps by increasing Nitric Oxide and Arginine blood levels. †
Beta-Alanine (as CarnoSyn): Supports enhanced endurance and reduced fatigue/soreness. †
Betaine Anhydrous: Promotes increase in Nitric Oxide release and muscle fullness. †
Magnesium Creatine Chelate (as Creatine MagnaPower): Enhances the body's ability to utilize ATP efficiently. †
Taurine: Supports increased endurance, alertness and reduced recovery time. †
N-Acetyl-L-Tyrosine: Amino Acids that supports increased focus and alertness. †
Choline Bitartrate: Essential nutrient that increases Acetylcholine production. Supports healthy muscular contractile force. †
Caffeine: Performance ingredient that increases energy, alertness and mood. †

Caffeine Citrate (as Kaff2 Citrate)
Caffeine Anhydrous

Theacrine (as TeaCrine): Long-lasting energy and focus. †
Piper Nigrum Extract (fruit)(as Bioperine): Dietary ingredient that enhances nutrient absorption in the body. †
Rauwolscine: Assists with breakdown of fat for energy. †
What Should I Expect?
Intense Energy and Focus †
Skin-Splitting Muscle Pumps †
Increased Endurance and Reduced Fatigue †
Improved Athletic Performance †
Who Should Take It/ Who Shouldn't Take It?
Anyone, Men and Women, who are looking for an extra boost in their athletic performance, can take this product. Anyone with a prior medical condition, or women who are pregnant/nursing should not take this product.
Reviews:
Superior PWO By John
Have tried them all. By far the best I have used. Not just for workouts, but for cognitively demanding tasks/professions.
FAQ:
Will this cause a false positive?
If you have concerns whether this will cause a false positive, please consult with your sport organization or physician before taking this product.
Can I take this while on a keto diet?
Yes, this product does not contain any fats, carbs or sugars.
How much caffeine is in 1 scoop?
Each scoop contains 350mg of caffeine.
Comparisons:
Vs. Outlift
This product contains the same energy and focus ingredients while also including 3 of the essential amino acids. This Outlift is the least potent and powerful of the trio.
The concentrate edition contains less caffeine and no Citrulline Malate. This product will deliver a slightly less powerful effect when compared to Outlift Amped.
Vs. Smokin Guns
Smokin Guns contains natural ingredients that are comparable in dosage to Outlift Amped. This preworkout represents a solid competitor.
How Do I Take It?
Dosage and Directions:
Shake container before each use. Mix 1 scoop into 8-12 oz of cold water and drink 30-45 minutes prior to working out. Limit use to 1 serving per day. Never exceed 1 scoop.
When mixing with a shaker cup, use cold water. Hold cap and cup securely in hand. Do not shake vigorously as this causes pressurization.
What's In Nutrex Outlift Amped?
Supplement Facts / Label: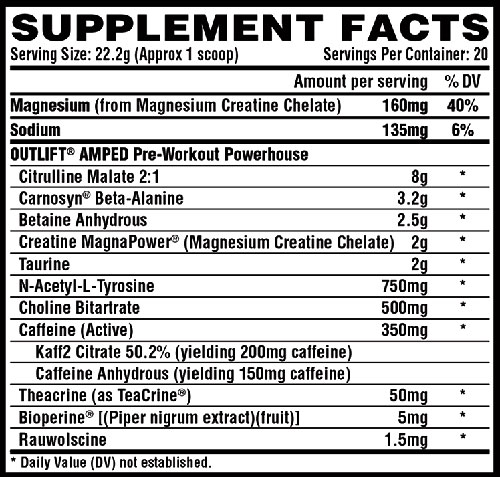 Warnings and Side Effects:
Not to be used by anyone under the age of 18. Do not use if pregnant or nursing. Never exceed the recommended maximum dosage. Do not consume synephrine, yohimbe, caffeine, thyroid-boosting compounds from other sources, including but not limited to:
coffee, tea, soda, energy drinks
other dietary supplements
medications containing phenylephrine, caffeine, or any stimulants whatsoever.
This product contains caffeine. Do not use product for longer than 4 weeks and make sure that usage is followed by a 2-week-off-period.
Consult your physician prior to use if you are taking any medication, including but not limited to:
MAO inhibitors
anti-depressants
aspirin
non-steroidal anti-inflammatory drugs
products containing phenylephrine, ephedrine, pseudoephedrine, phenylethylamine or other stimulants.
Consult your physician prior to use if you have a medical condition, including but not limited to:
heart, liver, kidney, or thyroid disease
psychiatric disorders
difficulty urinating, diabetes
high blood pressure
pernicious anemia
cardiac arrhythmia
hyper beta-alanemia
recurrent headaches
enlarged prostate
glaucoma
Discontinue use 2 weeks prior to surgery. Immediately discontinue if you experience rapid heartbeat, dizziness, severe headaches or shortness of breath. As individuals vary so may results from using this product. Store out of sunlight in a cool, dry place. Do not use if outer safely seal is broken. Keep out of reach of children.
This product contains ingredients that may be banned by some sports organizations and/or increase risk of false positive on a drug test. Please consult with your sport organization or physician before taking this product.
Disclaimer:
PLEASE NOTE: Product images represent the product offered but may not contain exact attributes. Please read the product description for the specific attributes of this product.
†PLEASE NOTE: The intention of the information above is for reference only. It is our goal to maintain and display accurate information. Yet, we can't guarantee it represents the latest formulation of the product. If you have any concerns, please visit the manufacturer's website. The information above is not a representation of our views at Same Day Supplements. These are the views and information provided by the product's manufacturer. The Food and Drug Administration has not evaluated these statements. The intention of this product is not to diagnose, treat, cure or prevent any disease or illness.
*Prices are subject to change at any time and items may limit to stock on hand.
References:
Pérez-Guisado J, Jakeman PM. (May 2010) Citrulline malate enhances athletic anaerobic performance and relieves muscle soreness. https://www.ncbi.nlm.nih.gov/
Artioli GG, Gualano B, Smith A, Stout J, Lancha AH Jr. (June 2010) Role of beta-alanine supplementation on muscle carnosine and exercise performance. https://www.ncbi.nlm.nih.gov/
In-stock orders placed before 3pm EST ship out the same day.
We offer many shipping options to countries like:
Brazil
United Kingdom
Canada
Germany
Australia
Japan
India
France
Israel
Worldwide
More Information

| | |
| --- | --- |
| SKU | OUTLIFT-AMPED |
| Manufacturer | Nutrex |
Customer Reviews
A+

Best PWO on the market, IMO. Hands down.

Great

Great pump and overall energy.

Superior PWO

Have tried them all. By far the best I have used. Not just for workouts, but for cognitively demanding tasks/professions.