Nutrex Postlift - Fruit Punch - 20 Servings
Benefits and Results:
Based on Solid Science From Ingredients at Full Effective Doses†
25 Grams HBCD Low Osmolaity Carbohydrate For Accelerated Nutrient Absorption†
2 Grams of HICA Promotes Optimum Muscle Recovery and Growth†
Helps Replenish Glycogen†
Reduces Downtime Between Workouts†
Helps Stimulate Protein Synthesis†
Electrolytes To Promote Hydration and Amino Acid Uptake†
No Proprietary Blend, Sugar, or Artificial Colors†
Nutrex Postlift - 20 Servings - Fruit Punch - Post Workout
Training takes a toll on the body. You're sore, exhausted, and in need of hydration. Nutrex Postlift is here to give you everything your body needs after a good workout.
What Is It?
Nutrex Postlift is the perfect post workout drink for athletes of any kind. † It supplies you with amino acids, electrolytes, HICA, and HBCD for hydration, faster recovery, and muscle growth. † You can get back into the gym so much quicker with Postlift. †
How Does It Work?
Ingredients:
Calcium, Phosphorus, Magnesium, Sodium, Potassium: Promotes hydration and amino acid uptake. †
Postlift Clinically Dosed Post-Workout Powerhouse (Cluster Dextrin [Highly Branched Cyclic Dextrin], L-Leucine, L-Glutamine, L-Isoleucine, L-Valine, Betaine Anhydrous, HICA [α-Hydroxyisocaproic Acid], L-Carnitine-L-Tartrarte, Taurine): Promotes muscle recovery, growth, and protein synthesis. †
Featured Customer Reviews:
Review by Jax:
Normally I am not a fan of fruit punch flavored drinks but this is my exception. The blend of Postlift is nice, not chalky, and the after taste isn't nasty like most other post workout drinks. Definitely will be buying again.
FAQ:
Does this contain creatine?
No it does not contain any creatine.
How much BCAAs is in this?
Each serving has 10 grams of BCAAs.
Does this contain caffeine?
No, there is no caffeine or any other stimulants.
Comparisons:
VS Universal Nutrition Torrent: This is also a post workout, but it is an anabolic muscle mass activator. The formula has an "anabolic matrix" and it also contains 3 different types of creatine. Torrent is more of a muscle building option.
VS Universal Nutriton LAVA: This is more of a post workout protein shake. It doesn't contain as many amino acids, but it does contain 5.5 grams of Creatine Monohydrate along with 32 grams of protein.
Stacks:
If you are looking for energy and extra amino acids before the workout, you could stack this product with Nutrex Outlift pre workout. Since Postlift doesn't contain any caffeine or stimulants, if would be safe to take with Outlift.
How Do I Take It?
Directions and Dosages:
To experience the full strength mix 2 scoops into 14-16 oz of cold water and drink after exercise.
What's In Nutrex Postlift?
Supplement Facts / Label: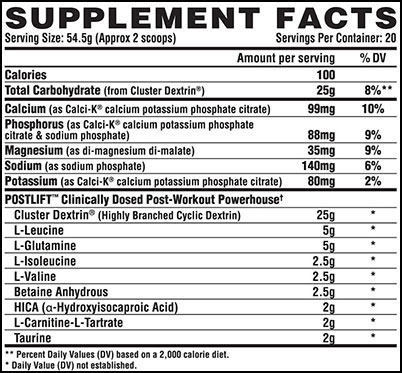 Warnings and Side Effects:
Do not use if pregnant or nursing. KEEP OUT OF REACH OF CHILDREN. Store in a cool, dry place (60°F to 80°F).
ALLERGEN WARNING: Contains soy. Manufactured on equipment that processes products containing milk, egg, soybean, fin fish and wheat.
Disclaimer:
PLEASE NOTE: Product images represent the product offered but may not contain exact attributes. Please read the product description for the specific attributes of this product.
†PLEASE NOTE: The intention of the information above is for reference only. It is our goal to maintain and display accurate information. Yet, we can't guarantee it represents the latest formulation of the product. If you have any concerns, please visit the manufacturer's website. The information above is not a representation of our views at Same Day Supplements. These are the views and information provided by the product's manufacturer. The Food and Drug Administration has not evaluated these statements. The intention of this product is not to diagnose, treat, cure or prevent any disease or illness.
*Prices are subject to change at any time and items may limit to stock on hand.
References:
L Breen and T A Churchward-Venne (2012 May) Leucine: a nutrient 'trigger' for muscle anabolism, but what more? https://www.ncbi.nlm.nih.gov/
Antti A Mero, Tuomo Ojala, Juha J Hulmi, Risto Puurtinen, Tuomo AM Karila, and Timo Seppälä (2010 Jan 5) Effects of alfa-hydroxy-isocaproic acid on body composition, DOMS and performance in athletes https://www.ncbi.nlm.nih.gov/
In-stock orders placed before 3pm EST ship out the same day.
We offer many shipping options to countries like:
Brazil
United Kingdom
Canada
Germany
Australia
Japan
India
France
Israel
Worldwide
More Information

| | |
| --- | --- |
| SKU | NX-0092 |
| Weight | 2.7100 |
| Manufacturer | Nutrex |
| UPC | 857268005854 |
Customer Reviews
Best post workout

Best post workout hands down everything is clinically dosed it'll be a shame if they stop making this post workout by far the best I've been working out for well over 20 years take my word for it

Awesome

This was great. Tasted amazing, easy blending, and light

Great Product

Normally I am not a fan of fruit punch flavored drinks but this is my exception. The blend of Postlift is nice, not chalky, and the after taste isn't nasty like most other post workout drinks. Definitely will be buying again.