NOW Liver Refresh - 90 Veg Capsules
Benefits and Results:
Promotes Healthy Liver Function †
Supports Healthy Detoxification †
NOW Liver Refresh - 90 Veg Caps - Vitamins / Minerals
What Is NOW Liver Refresh?
NOW Foods Liver Refresh is a potent herbal supplement that combines key nutrients and herbs to support optimal liver health and natural detoxification. †
How Does It Work?
Liver Refresh combines milk thistle extract with a unique herb-enzyme blend to create a balanced botanical formula to support healthy liver function. N-acetyl-cysteine, methionine and other nutrients are included to support the production of glutathione, a potent free radical scavenger that also plays a critical role in maintaining the body's normal elimination pathways. †
Ingredients:
Milk Thistle Extract (Silybum marianum)(Fruit/Seeds)(Standardized to 240 mg Silymarin Flavonoids - equivalent 80%)†
Herbal-Enzyme Blend: Artichoke (Cynara scolymus) (Leaf), Beet (Beta vulgaris) (Root), Raspberry (Rubus idaeus) (Leaf), Pancreatin (Pancreatic Enzymes) †
L-Glutathione (Reduced) †
N-Acetyl Cysteine (NAC) †
Grape Seed (Standardized Extract)(Vitis vinifera) (Standardized for Polyphenols) †
Alpha Lipoic Acid†
L-Carnitine (from L-Carnitine Tartrate) †
Scute (Root) (Scutellaria baicalensis) †
Schisandra (Fruit)(Schisandra chinensis) †
Barberry (Root Bark)(Berberis vulgaris) †
Organic Turmeric (Root)(Curcuma longa) †
L-Methionin†
Frequently Asked Questions:
How many capsules are in the bottle?
We offer 90 and 180 Veg Capsule options.
What is Milk Thistle Extract and Silymarin?
Silymarin is the active ingredient in Milk Thistle. Silymarin acts as an anti-inflammatory and antioxidant.
Comparisons:
This contains ingredients to support other organs, like the heart and prostate. This is a better option if you're looking for overall organ support.
This product combines vitamins and antioxidants such as N-Acetyl-Cysteine and Milk Thistle to promote healthy detoxification.
This product contains similar ingredients such as Milk Thistle and Turmeric Root.
How Do I Take It?
Dosage and Directions:
Take 3 capsules daily with food.
What's In NOW Liver Refresh?
Supplement Facts / Label (Varies Product to Product):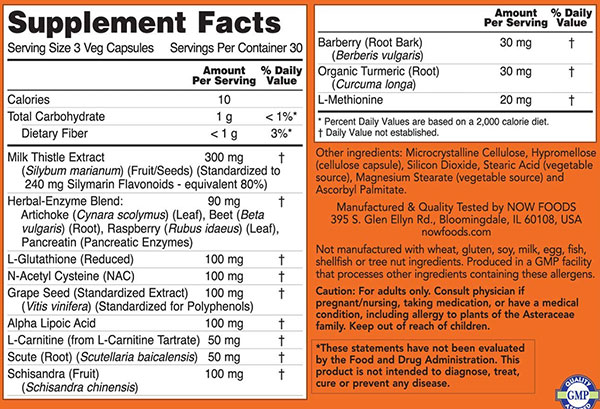 Warnings and Side Effects:
Caution: For adults only. Consult a physician if pregnant/nursing, taking medication, or have a medical condition, including allergy to plants of the Asteraceae family. Keep out of reach of children. Natural color variation may occur in this product.
SOY FREE
NUT FREE
MADE W/O GLUTEN
DAIRY FREE
EGG FREE
Disclaimer:
PLEASE NOTE: Product images represent the product offered but may not contain exact attributes. Please read the product description for the specific attributes of this product.
†PLEASE NOTE: The intention of the information above is for reference only. It is our goal to maintain and display accurate information. Yet, we can't guarantee it represents the latest formulation of the product. If you have any concerns, please visit the manufacturer's website. The information above is not a representation of our views at Same Day Supplements. These are the views and information provided by the product's manufacturer. The Food and Drug Administration has not evaluated these statements. The intention of this product is not to diagnose, treat, cure or prevent any disease or illness.
*Prices are subject to change at any time and items may limit to stock on hand.
References:
Camila Ribeiro de Avelar, Emile Miranda Pereira, Priscila Ribas de Farias Costa, Rosângela Passos de Jesus, Lucivalda Pereira Magalhães de Oliveira (July 2017). Effect of silymarin on biochemical indicators in patients with liver disease: Systematic review with meta-analysis. https://pubmed.ncbi.nlm.nih.gov/28785154/
Paul Hwang, Flor E Morales Marroquín, Josh Gann, Tom Andre, Sarah McKinley-Barnard, Caelin Kim, Masahiko Morita, Darryn S Willoughby (June 2018). Eight weeks of resistance training in conjunction with glutathione and L-Citrulline supplementation increases lean mass and has no adverse effects on blood clinical safety markers in resistance-trained males. https://pubmed.ncbi.nlm.nih.gov/29945625/
In-stock orders placed before 3pm EST ship out the same day.
We offer many shipping options to countries like:
Brazil
United Kingdom
Canada
Germany
Australia
Japan
India
France
Israel
Worldwide
More Information

| | |
| --- | --- |
| SKU | NOW-0501 |
| Weight | 0.2900 |
| Manufacturer | NOW Foods |
| UPC | 733739024480 |
Customer Reviews
Great Liver Support

Great Liver Support. Notice some weight loss and it also clears up my skin too.

Works Excellent

It has helped detox my liver because my metabolism has started functioning at a healthy level again, and it has helped with weight loss.

Great Product

It works! Excellent Product.

Liver Detox

I was taking medication which had side effects of liver problems. I noticed that my eyes were yellow. I started taking this product and my eyes cleared up(no more yellow) and my lab results came back good.

My skin clears up

I have had acne since I was a kid. But ever since I started taking this product my skin has been clearing up. I rarely have any breakouts anymore. I would definitely give this a shot.