NOW DMG - 125mg - 100 Veg Capsules
Benefits and Results:
N, N-Dimethyl Glycine †
Methyl Donor †
Nutritional Support †
Frequently Bought Together
NOW DMG - 125mg - 100 Veg Caps - Nutritional Support
What Is NOW DMG?
DMG (Dimethylglycine), also known as Pangamic Acid, is a derivative of the amino acid Glycine that can be found in foods such as beans, brown rice and pumpkin seeds. DMG is an important methyl donor that participates in numerous biochemical pathways and is important for glutathione synthesis. † It also helps to promote optimal cellular oxygen utilization and supports the production of cells involved in the immune response. †
Natural color variation may occur in this product.
Dairy Free
Egg Free
Made W/O Gluten
Non-GMO
Nut Free
Soy Free
Vegan/Vegetarian
Ingredients:
N, N-Dimethyl Glycine (DMG) (from N, N-Dimethyl Glycine HCl)
How do I take NOW DMG?
Dosage and Directions:
Take 1 capsule 1 to 3 times daily. Store in a cool, dry place after opening.
What's In NOW DMG?
Supplement Facts / Label: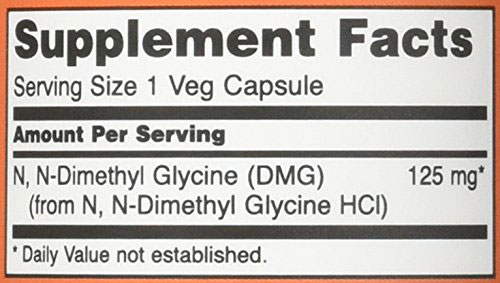 Warnings and Side Effects:
For adults only. Consult physician if pregnant/nursing, taking medication, or have a medical condition. Keep out of reach of children.
Do Not Eat Freshness Packets. Keep in Bottle.
Disclaimer:
PLEASE NOTE: Product images represent the product offered but may not contain exact attributes. Please read the product description for the specific attributes of this product.
†PLEASE NOTE: The intention of the information above is for reference only. It is our goal to maintain and display accurate information. Yet, we can't guarantee it represents the latest formulation of the product. If you have any concerns, please visit the manufacturer's website. The information above is not a representation of our views at Same Day Supplements. These are the views and information provided by the product's manufacturer. The Food and Drug Administration has not evaluated these statements. The intention of this product is not to diagnose, treat, cure or prevent any disease or illness.
*Prices are subject to change at any time and items may limit to stock on hand.
References:
Aiping Bai, Zdzislaw, M. Szulc, Jacek Bielawski, Jason S. Pierce, Barbara Rembisa, Silva Terzieva, Cungui Mao, Ruijuan Xu, Bill Wu, Christopher J. Clarke, Benjamin Newcomb, Xiang Liu, James Norris, Yusuf A. Hannun, and Alicja Bielawska (2014 Oct 22) Targeting (cellular) lysosomal acid ceramidase by B13: Design, synthesis and evaluation of novel DMG-B13 ester prodrugs https://www.ncbi.nlm.nih.gov/pmc/articles/PMC4443482/
Ha S. Nguyen, Ahmed J. Awad, Saman Shabani, and Ninh Doan (2018 Apr 9) Molecular Targeting of Acid Ceramidase in Glioblastoma: A Review of Its Role, Potential Treatment, and Challenges https://www.ncbi.nlm.nih.gov/pmc/articles/PMC6027516/
Ha S. Nguyen, Saman Shabani, Ahmed J. Awad, Mayank Kaushal, and Ninh Doan (2018 Jun 14) Molecular Markers of Therapy-Resistant Glioblastoma and Potential Strategy to Combat Resistance https://www.ncbi.nlm.nih.gov/pmc/articles/PMC6032212/
In-stock orders placed before 3pm EST ship out the same day.
We offer many shipping options to countries like:
Brazil
United Kingdom
Canada
Germany
Australia
Japan
India
France
Israel
Worldwide
More Information

| | |
| --- | --- |
| SKU | NOW-0136 |
| Weight | 0.1800 |
| Manufacturer | NOW Foods |
| UPC | 733739004727 |
Customer Reviews
Love these!

I get terrible elevation sickness-true misery. THIS is the only thing that makes me feel normal. This is the most effective DMG I have ever taken, 3 caps and I felt great all day.

Take for energy

I take this for energy. This is a wonderful metabolic enzyme that will give you more energy.

Highly Recommended

I purchase this product to help with seizures treatment, it worked so well I was able to cut the number of pills prescribed by the doctor
with time the convulsions disappeared completely. excellent stuff works highly recommend it.