NO Bull XMT By MuscleMeds
Increases Muscle Force, Velocity, & Endurance
Increases Blood Flow & Muscle Pumps
Increases Anabolic Signaling to Activate Muscle Growth
NO Bull XMT By MuscleMeds - Pre-Workout
MUSCLEMEDS NO BULL XMT Pre-Workout Formula enhances muscle force, velocity and endurance allowing you to lift heavier weights for more reps. The end result is Bigger, Stronger Muscles and Better Workouts!
MUSCLEMEDS NO BULL XMT (Extreme Muscle Tension) has been formulated with clinically researched ingredients to enhance workout performance and muscle growth through a proven training concept called "Time Under Tension." During a resistance weight training workout, the amount of time your muscles work is measured in repetitions and the amount of tension is measured in weight. Increasing the numbers of reps (time) and the amount of weight on the bar (tension) during a set increases the workload placed on your muscles and stimulates maximum muscle growth. MUSCLEMEDS NO BULL XMT is formulated to do just that – More Reps + More Weight= More Muscle Growth.
In the development of MUSCLEMEDS NO BULL XMT, MuscleMeds researchers focused on a key mechanism in muscle coined "Excitation-Contraction." Enhancing this mechanism of action in muscle tissuehelps increase muscle force, velocity and endurance thereby increasing "Time Under Tension" and total workout performance. In addition to enhancing muscle "Excitation-Contraction," MUSCLEMEDS NO BULL XMT's advanced synergistic design also increases energy, muscle pumps and anabolic signaling, making it the ultimate performance enhancing pre-workout formula NO BULL XMT is the Pre-Workout Formula for those who want more… More Reps + More Weight = More Muscle Growth!
NO Bull XMT-Peak Overview:
MUSCLEMEDS NO BULL XMT Pre-Workout Formula utilizes a full clinical dose of PEAK ATP to promote muscle building and strength increases. PEAK ATP has extensive clinical research backing its benefits, including the following:
Gain Up to 8.8 lbs. Muscle
Gain Up to 147% Total Body Strength
PEAK ATP is also shown in other clinical studies to reduce muscular fatigue in test subjects, plus increase blood flow to working muscles. In addition, MUSCLEMEDS NO BULL XMT extreme pre-workout formulation includes the Cre3 Creatine Complex with Beta-A for massive pumps, Sudden Impact Neurotropic Energizers for intensity, energy and focus, plus the exclusive MuscleMeds DecaDrive Delivery technology for optimum uptake and absorption.
What's In MuscleMeds NO Bull XMT?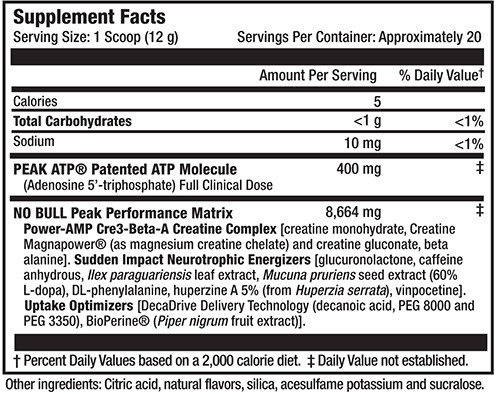 How to Take MuscleMeds NO Bull XMT:
For the full clinical dose, take 1 scoop of MuscleMeds NO Bull XMT with 8-12 fl. oz of water 30 minutes before training.
Warnings:
Not intended for use by persons under 18 or if you have high blood pressure, heart problems, or are contemplating becoming pregnant. Consult your physician before using. Contains caffeine compareable to a large cup of the leading premium coffee. Caffeine intake is not advisable in cases of high blood pressure, pregnancy, or nursing. Limit the use of caffeine-containing medications, foods or berverages while taking this product because too much caffeine may cause nervousness, irritability, sleeplessness and, occasionally, rapid heartbeat. Do not exceed recommended dose.
This product is manufactured in GMP compliant facilities and meets the highest quality standards. All ingredients meet the standards enforced by the U.S. Food and Drug Administration. The state of California requires the following warning:
WARNING: Consuming this product can expose you to chemicals including lead which is known to the state of California to cause cancer and birth defects or other reproductive harm. For more information go to www.P65Warnings.ca.gov/food.
PLEASE NOTE: Product image is representative of the product offered but may not have the exact attributes. Please read product description for the specific attributes of this product.
PLEASE NOTE: The information above is intended for reference only. While we attempt to keep our information accurate, we cannot guarantee it is an accurate representation of the latest formulation of the product. If you have any concerns, please visit the vendor's web site. The information above are the views of the product's manufacturer, not the views of Same Day Supplements. These statements have not been evaluated by the Food and Drug Administration. This product is not intended to diagnose, treat, cure or prevent any disease.
*Prices are subject to change at any time and some items are limited to stock on hand.
In-stock orders placed before 3pm EST ship out the same day.
We offer many shipping options to countries like:
Brazil
United Kingdom
Canada
Germany
Australia
Japan
India
France
Israel
Worldwide
More Information

| | |
| --- | --- |
| SKU | NO-BULL-XMT |
| Manufacturer | MuscleMeds |