Nitro Tech Power By MuscleTech
Subjects Built 11 lbs. of Mass & Increased Strength By 40%
Enhances Muscle Performance & Recovery
Boosts Testosterone & ATP Regeneration
Nitro Tech Power By MuscleTech - Protein
What Is MuscleTech Nitro Tech Power?
INTRODUCING NITRO-TECH POWER THE ULTIMATE MUSCLE-AMPLIFYING PROTEIN. Few if any proteins have had the impact that NITRO TECH has. For years, bodybuilders and other athletes have trusted NITRO TECH to pack on more muscle and build more strength than regular whey protein. And now comes the latest NITRO TECH innovation: NITRO TECH POWER! NITRO TECH POWER contains several key ingredients shown in multiple clinical studies to help you pack on more muscle than ever!
NITRO TECH POWER starts with a powerful blend of premium 100% whey protein for superior absorption, digestibility, easy mixing and high levels of essential branched chain amino acids (BCAAs) – the building blocks of muscle. MuscleTech researchers didn't stop there, though. Each two-scoop serving of this incredible new protein is boosted with clinical doses of creatine monohydrate, betaine anhydrous, boron citrate and tart cherry – creating the ultimate muscle-amplifying protein!
6 in 1 Supercharge Whey Peptide Formula (Based on 2 scoops):
60 Grams of Highest Quality Whey Protein Peptides & Isolate
14.8 Grams of Potent Dose of BCAAs
2.5 Grams of Scientifically Validated Dose of Betaine
6 Grams of Creatine Monohydrate
200 mg Test-Boosting Boron Citrate
480 mg Tart Cherry Powder
Delivers Ultra-Clean Whey Peptides:
NITRO TECH POWER supplies 30 full grams of the most quickly absorbed and highest biological value proteins available, including whey peptides and 97% whey protein isolate, some of the cleanest sources of protein available to athletes. Whey peptides are a powerful source of amino acids derived from much longer whole whey protein molecules. Whey peptides help promote rapid recovery from your grueling workouts and even support an insulinogenic response for improved nutrient delivery. What's more, whey peptides have one of the highest biological values (BV) of any protein source, a value given to protein sources to measure how well they are absorbed and used by the body.
Contains A Clinically Proven Dose Of Pure Creatine Monohydrate:
To create the ultimate musclebuilding protein, MuscleTech researchers started by packing a researched 6g dose of creatine into every two scoops of NITRO TECH POWER. In a double-blind, placebo-controlled study, subjects supplementing with this same dose of creatine gained 11 lbs. of mass in 12 weeks (versus 7.5 lbs. for the placebo group).
Provides A Powerful Researched Dose Of Betaine:
NITRO TECH POWER also contains a scientifically validated 2.5g dose of betaine (per 2 scoops), which has been shown in multiple studies to increase strength and lean muscle. In a gold-standard study, subjects gained 3.75 lbs. of muscle in 6 weeks (vs. 0.66 lbs. for the placebo) – an incredible 5 times the muscle!
Provides A Powerful Dose Of BCAAs – Leucine, Isoleucine And Valine:
This super-engineered formula is loaded with 14.8g of BCAAs, including 8g of highly anabolic leucine (in 2 scoops), to ignite protein synthesis and put your body in a prime anabolic state. The amount of leucine found in just one scoop of NITRO TECH POWER has been scientifically shown to increase strength by over 40%!
Clinical Dose Of Boron Citrate Increases Free Testosterone:
Unlike most other proteins, NITRO TECH POWER includes a scientifically studied 200mg dose of boron citrate (per 2 scoops), supplying a dose of boron that has been shown in a study published in the Journal of Trace Elements in Medicine and Biology to decrease estradiol and increase free testosterone within the normal range in only 7 days.
Recovery Support With A Full Dose Of Tart Cherry:
This complete formula also features the 480mg dose (per 2 scoops) of tart cherry powder that has been shown in emerging research to improve recovery through the reduction of muscle soreness post-exercise.
Multi-Phase Filtration Technology:
Each scoop of NITRO TECH POWER contains 30g of protein, primarily from whey peptides, which have several advantages over other forms of protein. For starters, they are rapid absorbing, and with the highest biological value, your body can easily assimilate the amino acids from the protein to build some seriously impressive muscle. This makes NITRO TECH POWER an ideal choice as a post-workout protein and for igniting muscle protein synthesis any time throughout the day. The whey protein in NITRO TECH POWER has been filtered using Multi-Phase Filtration Technology for less fat, lactose and impurities than cheaper protein sources. Furthermore, NITRO TECH POWER is manufactured according to cGMP standards, as is required for all dietary supplements to ensure quality and integrity.
Ultra Clean Formula With Best In Class Taste:
Take a look at other protein powders, and you might be shocked by what you find! Some of these proteins are loaded with unnecessary fat, while others have over 10g of carbs per scoop! NITRO TECH POWER features 30g of protein, up to 4g of carbs (depending on flavor), and 3.5g of fat!
At MuscleTech, we believe that you shouldn't have to sacrifice macronutrients for results. That's why our research team works closely with some of the top protein flavoring professionals in the world, and each flavor or NITRO TECH POWER is painstakingly tested in internal taste tests. The result is a great-tasting formula that doesn't pack the extra sugars and carbs – giving you more protein per scoop and a better overall macronutrient profile.
Tested For Quality and Purity:
To ensure a high standard of quality and purity, the whey protein in NITRO TECH POWER has been filtered using Multi-Phase Filtration Technology. Each batch of NITRO TECH POWER undergoes strict quality control and is third-party lab tested and verified to ensure that each bottle meets the highest standards of purity, quality and consistency.
What's In MuscleTech Nitro Tech Power?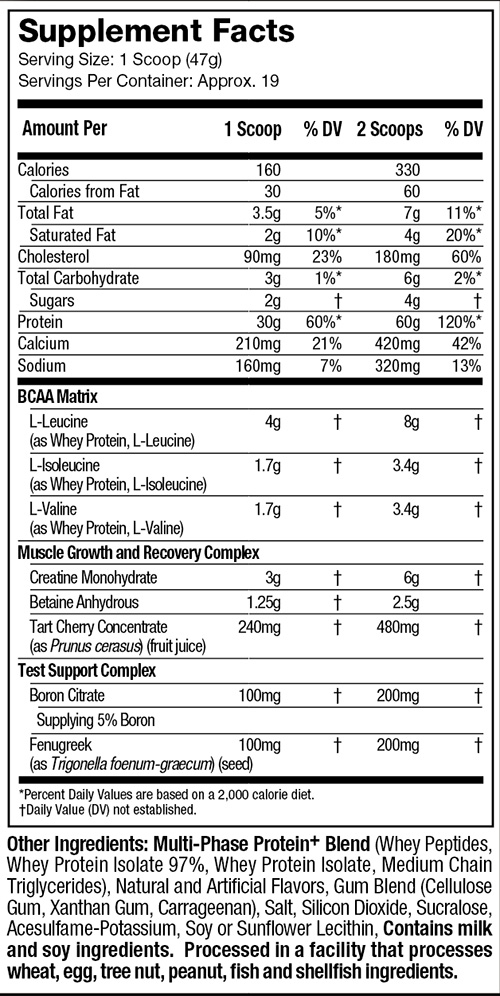 How Do I Take MuscleTech Nitro Tech Power?
Mix 1 serving (1 scoop) of Nitro Tech Power with 8 oz. of water daily. For full effects, mix 2 servings (2 scoops) of Nitro Tech Power with 16 oz. of water. Maintain an adequate state of hydration during use.
Warnings:
Not intended for use by persons under 18. Do not use if pregnant or nursing. Consult a medical doctor before starting any diet or exercise program or if you have a medical condition. KEEP OUT OF REACH OF CHILDREN.
PLEASE NOTE: Product image is representative of the product offered but may not have the exact attributes. Please read product description for the specific attributes of this product.
PLEASE NOTE: The information above is intended for reference only. While we attempt to keep our information accurate, we cannot guarantee it is an accurate representation of the latest formulation of the product. If you have any concerns, please visit the vendor's web site. The information above are the views of the product's manufacturer, not the views of Same Day Supplements. These statements have not been evaluated by the Food and Drug Administration. This product is not intended to diagnose, treat, cure or prevent any disease.
*Prices are subject to change at any time and some items are limited to stock on hand.
In-stock orders placed before 3pm EST ship out the same day.
We offer many shipping options to countries like:
Brazil
United Kingdom
Canada
Germany
Australia
Japan
India
France
Israel
Worldwide
More Information

| | |
| --- | --- |
| SKU | NITRO-TECH-POWER |
| Manufacturer | MUSCLETECH |
Customer Reviews
Happy

Same say supplements are one of the best people to do business great team and very fast shipping am a very very happy customer...