Nitro Pro Protein By Hi-Tech Pharmaceuticals
A Protein Supplement With No Equal!
The Most Advanced Protein Supplement For Promoting, Accelerating, and Sustaining Muscle Protein Synthesis
Scientifically-Formulated To "Get Back" From Your Protein What You "Put Into" Your Training!
Nitro Pro By Hi-Tech Pharmaceuticals - Protein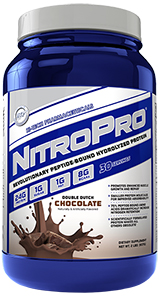 What Is Hi-Tech Pharmaceuticals Nitro Pro?
Nitro Pro is the fastest, purest, and most advanced whey protein supplement ever developed by Hi-Tech Pharmaceuticals. By hydrolyzing the protein in this revolutionary formula, we've created the fastest-acting whey protein yet. Hydrolyzing breaks larger proteins down into smaller pieces that are able to get into your system rapidly, enabling your muscles to start rebuilding rapidly. Hi-Tech Nitro Pro Protein contains an amazing protein composition that consists of 75% peptide-bound amino acids (PBAAs) and 8 gm branched-chain amino acids (BCAAs). In addition to being super fast acting, Hi-Tech Nitro Pro Protein is also ultra-pure. That's because Hi-Tech Nitro Pro Protein incorporates 85% hydrolyzed whey protein as its primary protein source! Hi-Tech Nitro Pro Protein also contains another 15% high-quality proteins. This scientifically-designed ratio of proteins helps ensure optimal blood levels of crucial, muscle-building amino acids - both PBAAs and BCAAs - to promote and support the growth of muscle tissue throughout the entire day and night. Hi-Tech Nitro Pro Protein is assayed for purity and potency and is only made from the highest quality material available.
Who Should Take Nitro Pro Protein?
Nitro Pro Protein was developed specifically for serious athletes and bodybuilders. Nitro Pro is the first protein whose formulation focuses exclusively on protein absorption, protein utilization, and, ultimately, protein synthesis. Nitro Pro Protein is the first scientifically-based protein ever developed. Nitro Pro is, literally, "Hi-Tech" protein and is crucial to the body's ability to build quality muscle tissue and enhance strength.
By combining the absolute finest ingredients with a series of highly specialized processing techniques, Hi-Tech Pharmaceuticals has created its most revolutionary muscle-building protein yet. Everything about Hi-Tech Nitro Pro was designed with an uncompromising attitude toward human performance - both in the gym and in enhancing your physique.
Nitro Pro Protein utilizes a proprietary hydrolyzing technique to precise degrees. Hydrolyzing is a process in which intact proteins are strategically broken down into smaller fragments, called peptides, for faster delivery and easier utilization by your body. Hi-Tech's exclusive combination of mild, moderate, and ultra-hydrolyzed proteins results in di- and tri-peptides, while retaining select microfractions naturally found in whey. If this is too much scientific jargon, then all that you really need to understand is that Hi-Tech Nitro Pro is exactly what you need first thing in the morning, before your workout, and immediately after your workout when your hard-working muscles benefit most from a fast-acting protein.
NitroPro Highlights:
NitroPro contains a hydrolyzed whey protein blend that is instant, delicious, and easy to use!
NitroPro is versatile! Use it as a maximum strength protein supplement to increase your daily protein intake, or as a high-protein, low-carbohydrate meal replacement drink.
NitroPro is the best protein available if you are serious about building lean muscle without adding unwanted body fat.
NitroPro (1 scoop) contains a whopping 24 gm of four different high quality whey proteins.
NitroPro is "User-Friendly" - mixes easy with a spoon. It's low in fat and easy to digest.
NitroPro is naturally high in BCAAs and glutamine, and is a complete source of all essential amino acids.
NitroPro contains 24 gm protein per serving with 85% from hydrolyzed whey protein.
NitroPro is ideal for low-carb diets and muscle-building cycles.
NitroPro is the most delicious tasting protein supplement available!
Why Is Nitro Pro Better Than Other Protein Products?
Nitro Pro is protein in its purest sense. Nitro Pro is made with 85% hydrolyzed whey proteins that have been isolated to remove excess lactose, cholesterol, carbohydrates, and fat. The result is a product that is ultra-pure, quickly digested, and packed with muscle-building and replenishing amino acids. Nitro Pro is also the first protein to utilize a 75% PBAA composition formulation with a net protein or nitrogen utilization score of 92 out of 100 All proteins are made up of amino acids, but not all amino acids are of equal importance. The three BCAAs (leucine, isoleucine, valine) - are particularly beneficial for athletes because they assist with new muscle protein synthesis and protect the muscle that you already have against breakdown. Even more important is the amount of PBAAs. That's why every serving of Nitro Pro Protein has a whopping 8,000 mg of BCAAs and 20,000 mg of PBAAs.
When comparing protein supplements, you need to look no further than Hi-tech Nitro Pro Protein. There isn't another protein supplement available that can even compare to Nitro Pro simply because Hi-Tech Nitro Pro totally annihilates the competition!
What's In Hi-Tech Pharmaceuticals Nitro Pro Protein?
How Do I Take Hi-Tech Pharmaceuticals Nitro Pro Protein?
Mix 1-2 scoops of Hi-Tech NitroPro in 8-10 ounces of water or beverage of your choice. Drink 2-3 shakes of Hi-Tech NitroPro per day for optimal nitrogen retention and muscle growth.
Warnings:
These statements have not been evaluated by the Food and Drug Administration. This product (NitroPro) is not intended to treat, cure, diagnose, or prevent any disease. This product (NitroPro) should not be used in place of or as a substitute for recommendations by your healthcare professional.California Residents Prop 65 WARNING: This product contains a substance known to the State of California to cause birth defects or other reproductive harm.
PLEASE NOTE: Product image is representative of the product offered but may not have the exact attributes. Please read product description for the specific attributes of this product.
PLEASE NOTE: The information above is intended for reference only. While we attempt to keep our information accurate, we cannot guarantee it is an accurate representation of the latest formulation of the product. If you have any concerns, please visit the vendor's web site. The information above are the views of the product's manufacturer, not the views of Same Day Supplements. These statements have not been evaluated by the Food and Drug Administration. This product is not intended to diagnose, treat, cure or prevent any disease.
*Prices are subject to change at any time and some items are limited to stock on hand.
In-stock orders placed before 3pm EST ship out the same day.
We offer many shipping options to countries like:
Brazil
United Kingdom
Canada
Germany
Australia
Japan
India
France
Israel
Worldwide
More Information

| | |
| --- | --- |
| SKU | NITRO-PRO-PROTEIN |
| Manufacturer | Hi-Tech Pharmaceuticals |
Customer Reviews
Best protein ever!!!

I am so picky when it comes to protein powders. I am all about taste and hate artificial sweeteners or stevia but this stuff... this, hands down, is amazing. I like it so much I'm getting 5 more flavors. You will not regret this purchase.