Natural EFX By Formutech Nutrition, 108 Caps
Special Price
$24.95
Regular Price
$39.95
Natural EFX Benefits and Results:
7 Keto-DHEA †
Burns Fat While Sleeping †
Suppresses Appetite †
Natural EFX By Formutech Nutrition - 108 Caps - Stimulant Free - Fat Burner

What Is Formutech Nutrition Natural EFX?
NATURAL EFX is the most complete, stimulant-free solution available for shredding weight, preserving lean muscle, controlling your appetite and setting you on your way to reaching once unattainable weight loss goals. NATURAL EFX is an all-natural formulation engineered to rival any of the leading over-the-counter diet pills on the market today. There are no caffeine or ephedrine-like stimulants to ramp the body's receptors. Rather, NATURAL EFX turns your body into a virtual fat-burning furnace, by tweaking its own chemistry and internal mechanisms.
How Does Formutech Nutrition Natural EFX?
Described as an "indispensable biochemical partner of insulin," a core ingredient in NATURAL EFX stimulates the activity of insulin, significantly aiding the body's glucose and fat metabolism, managing the breakdown of glucose and excess fat. As a non-stimulant thermogenic, NATURAL EFX packs significant levels of 7-keto DHEA to speed the metabolism and increase internal body temperature and oxygen production, without side effects. Increasingly used to improve lean body mass, build muscle, and increase the activity of the thyroid gland, "7-keto" ignites your body's fat-burning furnace with zero impact on the cardiovascular system – i.e. no pounding hearts, jitters, nausea or other untoward effects from old-school stimulants.
And finally, NATURAL EFX works within the satiety center of the brain by releasing chemicals similar to glucose but far stronger. The hypothalamus receives this signal as an indication that you are full, significantly curbing your appetite for more food. The end result is a leaner, stronger, faster physique that is ready to take on the rigors of life! Start your path toward the lean, muscular body you have always wanted, without stimulants! Try NATURAL EFX for 30 days, and see why our athletes are calling NATURAL EFX their number one tool for shredding naturally, outside of the gym!
What's In Formutech Nutrition Natural EFX?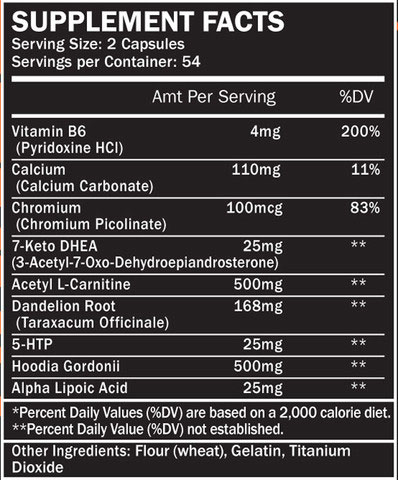 How Do I Take Formutech Nutrition Natural EFX?
Take 2 capsules of Formutech Nutrition Natural EFX 2-3 times daily.
Warnings:
KEEP OUT OF REACH OF CHILDREN. DO NOT USE IF PREGNANT OR NURSING. Consult your doctor prior to use if you have or are at risk for prostate disease, heart disease, or any other general medical condition. Consult your doctor prior to use if you're taking any other medications. Do not exceed suggested dosage of Natural EFX.
PLEASE NOTE: Product image is representative of the product offered but may not have the exact attributes. Please read product description for the specific attributes of this product.
PLEASE NOTE: The information above is intended for reference only. While we attempt to keep our information accurate, we cannot guarantee it is an accurate representation of the latest formulation of the product. If you have any concerns, please visit the vendor's web site. The information above are the views of the product's manufacturer, not the views of Same Day Supplements. These statements have not been evaluated by the Food and Drug Administration. This product is not intended to diagnose, treat, cure or prevent any disease.
*Prices are subject to change at any time and some items are limited to stock on hand.
In-stock orders placed before 3pm EST ship out the same day.
We offer many shipping options to countries like:
Brazil
United Kingdom
Canada
Germany
Australia
Japan
India
France
Israel
Worldwide
More Information

| | |
| --- | --- |
| SKU | FTN-0019 |
| Weight | 0.3000 |
| Manufacturer | Formutech Nutrition |
| UPC | 793573908766 |