Mass GainZ By iForce Nutrition, Weight Gainer
Mass GainZ Benefits and Results:
High Calorie Protein Matrix †
530 Calories †
75g Carbs †
40g Protein †
Insane, Healthy Gains †
Mass GainZ By iForce Nutrition - Weight Gainer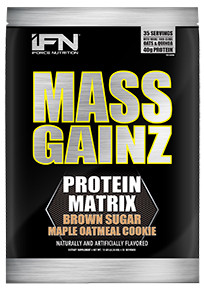 The Formula For Gains!
Gaining muscle and getting bigger comes down to 2 things: how many healthy calories we eat each day, and how hard we push ourselves in the gym. Calories are literally defined as "energy", and we need this energy to be able to allow our body to rebuild, repair, and grow our muscles bigger than they have ever been. Not all calories are created equally however, and to ensure the fastest gains possible it's necessary to make sure that the breakdown of calories you consume is 30% protein, 50% carbohydrates, and 20% fats.
The Power Of Protein!
Protein is what most people think of first in regards to a mass gainer such as iForce Mass Gainz. Protein is made up of amino acids that help our muscles recover and repair from intense workout sessions, so without this essential macronutrient gains are nearly impossible. The problem with protein is that not all of it is created equally… some forms are just inferior to other forms when it comes to gaining muscle. When bulking up and trying to gain muscle, countless studies have shown that whey protein concentrate and whey protein isolate are the most effective forms of protein as they contains very high levels of anabolic amino acids when compared to other forms of protein available on the market.
Real Carbohydrates = Best Mass Gainer!
If you've ever spoken to an accomplished bodybuilder or strength athlete, they will most certainly tell you that the best way to make quick gains is by using whole foods instead of gimmicky powders. Most mass gainers utilize carbohydrates such as pure dextrose or maltodextrin, which can be beneficial in their own place, but as a meal replacement leave your body with far too much sugar to use as fuel, and it will be stored as fat. However, the problem with only eating whole foods is that they are time-consuming to cook and take up so much room in our stomach that it's almost impossible to eat the amount of calories needed each day to truly gain serious muscle mass. The answer to this is to utilize whole foods in powder form. The healthiest carbohydrates which help us build muscle and burn fat are slow digesting ones like oats, quinoa, sweet potatoes, and vegetables. Of these, quinoa and oats have the highest levels of naturally occurring amino acids to further help you gain even more mass!
Healthy Fats = Healthy Gains!
Not all fats are created equally, and not all fats are bad. Specifically, a certain type of fat known as "Medium Chain Triglycerides" (or MCT's) is not only an effective way to consume more calories each day, but it actually helps you burn fat as well. That's right…eating fat can help you burn fat while building muscle! MCT's are different because they're water-soluble (unlike all other forms of fat), so they can't efficiently be incorporated into the bloodstream. Instead, they bypass the lymphatic system and are quickly and easily absorbed through the small intestines and directly transported to the liver as free fatty acids through the portal circulation. In the liver, MCTs are beta-oxidized and rarely stored as body fat. This means you get high amounts of calories from these fats, yet they are used more efficiently than normal fats to allow you to burn fat FAST while maximizing muscle gains.
iForce Mass Gainz is exclusively formulated with:
Stack #1: ProtoPlex: Strength, Power, and Hypertrophy, Using only the most proven forms of protein, iForce Mass Gainz, utilizes huge doses of both whey protein concentrate and whey protein isolate. This allows your body to absorb as many amino acids as possible, which means faster recovery, repair, and muscle growth. Don't settle for anything less than these two protein powerhouses if you want INSANE GAINS IN LESS TIME!
Stack #2: CarboPlex: CarboPlex is the first-of-a-kind in the mass gaining world. Utilizing only whole food carbohydrate sources (quinoa, oats, and oat fiber), there is not another single product on the market that offers the same muscle-building carbohydrate strength as iForce Mass Gainz. Each of these incredible carbohydrates have been converted into an 'easy-to-eat and digest' powder so you can get more healthy muscle building carbohydrates into your system with less effort than ever before. Stop struggling to fit so many carbs into your diet via food, and consume them in the easier way with iForce Mass Gainz!
Stack #3: LipoPlex: LipoPlex features only one ingredient. However, it is the backbone to a truly effective MUSCLE mass gainer, not just a "weight gainer". LipoPlex provides 10,000mg of pure Medium Chain Triglycerides in each serving, to not only increase your daily caloric intake, but to also help you burn fat while you build your muscle! While other mass gainers utilize things such as vegetable oil, or hydrogenated soybean oil to provide fat calories (and those WILL actually sit on your physique as fat), iForce Mass Gainz offers only the most effective muscle-building fat known to man to make sure you get INSANE GAINS IN LESS TIME!

What's In iForce Nutrition Mass GainZ?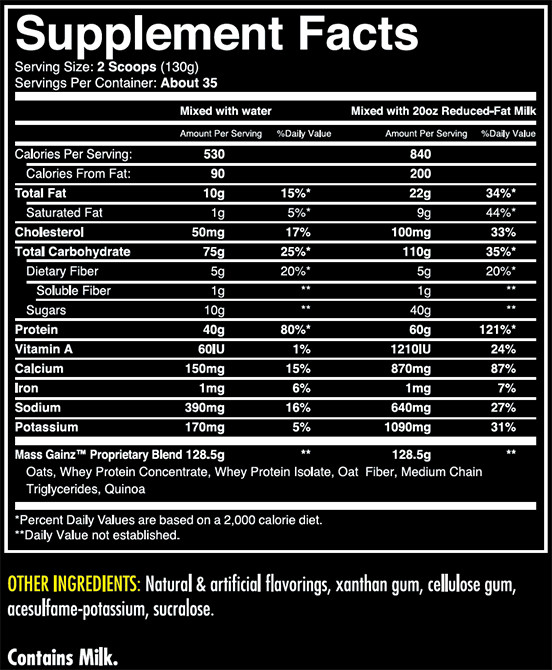 How to Take iForce Nutrition Mass GainZ:
As a dietary supplement, mix 1 serving of iForce Mass GainZ (2 scoops) with 14-20oz (415ml-590ml) of water or milk, one to three times per day. The best time to use iForce MASS GAINZ is upon waking, post workout, and/or prior to bed.
Warnings:
This product is only intended to be consumed by healthy adults 18 years of age or older. Do not use if pregnant, contemplating pregnancy, or nursing. Do not use as a sole source of nutrition. Do not use if the seal is broken or missing. Keep out of reach of children. check with a qualified professional before taking this product. Important: Exceeding the recommended serving, not following the directions, or not following the warnings may lead to unwanted effects.
PLEASE NOTE: Product image is representative of the product offered but may not have the exact attributes. Please read product description for the specific attributes of this product.
PLEASE NOTE: The information above is intended for reference only. While we attempt to keep our information accurate, we cannot guarantee it is an accurate representation of the latest formulation of the product. If you have any concerns, please visit the vendor's web site. The information above are the views of the product's manufacturer, not the views of Same Day Supplements. These statements have not been evaluated by the Food and Drug Administration. This product is not intended to diagnose, treat, cure or prevent any disease.
*Prices are subject to change at any time and some items are limited to stock on hand.
In-stock orders placed before 3pm EST ship out the same day.
We offer many shipping options to countries like:
Brazil
United Kingdom
Canada
Germany
Australia
Japan
India
France
Israel
Worldwide
More Information

| | |
| --- | --- |
| SKU | MASS-GAINZ |
| Manufacturer | iFORCE NUTRITION |
Customer Reviews
MASS GAINZ!!!!

If you are looking for a weight gainer, look no further. Mass Gainz is the best gainer I ever took. Tastes great and mixes well. Chocolate Truffle is the way to go. Gained around 12lbs so far. Really Great product.