Lipodrene Hardcore, By Hi-Tech Pharmaceuticals, 90 Tablets
Buy 2 for

$31.99

each and save

8

%
Hardcore Diet & Energy Aid for Serious Weight Loss!
Revamped Formulation for Even Loyal Lipodrene Fans
Hardcore Diet Aid for Razor cuts!
Hardcore Stimulants for an Eye-Opening Blast of Energy
Lipodrene Hardcore By Hi-Tech Pharmaceuticals - 90 Tablets - Fat Burner
What Is Lipodrene Hardcore?
Lipodrene Hardcore is exactly what the names says it is - Hardcore Lipodrene. You take Lipodrene and then tweak it with some cutting-edge tablet technology so that it blasts you faster and lasts longer. It's off-the-chain Lipodrene! Lipodrene Hardcore is a Hi-Tech weight loss and energy enhancement supplement designed to quench the "hard to please" dieter's thirst! Lipodrene Hardcore includes "rapid release" and "extended release" technology. These two technologies are why Lipodrene Hardcore provides such an exceptionally quick, long-lasting, no-crash stimulant feeling.
What Kind Of Results Can I Expect From Using Lipodrene Hardcore?
With Lipodrene Hardcore, get ready to experience a spectacular mood, ride an uninterrupted energy wave from the time you wake up until you are ready to wind down for bed, and, last but certainly not least, finally start making headway with unwanted weight and get razor cuts! Whether you are a man looking to get shredded and sport a chiseled six pack, or a woman looking for sexy curves that will make heads spin, Lipodrene Hardcore is your solution!
Why Is Lipodrene Hardcore Better Than Other Fat Burners?
As you can see, Lipodrene Hardcore has weight loss and energy enhancement locked down with an impeccable, diverse ingredient profile that contains only state-of-the-art ingredients designed to provide you with exactly what you need to launch a multi-directional attack on getting ripped up. Lipodrene Hardcore is Hi-Tech's most densely-dosed, jam-packed, jacked-up, hardcore diet aid and stimulant energizer yet!
The Science Behind Lipodrene Hardcore:
Lipodrene Hardcore contains Acacia rigidula extract, often called the ephedrine imposter, is the most effective metabolic stimulator on the market today! It is backed by "double-blind placebo controlled studies" and its effects were released at the Arnold Classic. Acacia rigidula displays beta-2 adrenergic receptor agonist activity. It is known that increased stimulation of beta-2 receptors will promote increased metabolic rate and thermogenesis. The findings of the study indicate that Acacia Rigidula promotes significant increases in resting energy expenditure (12+%) still evident 3 hrs post ingestion. When compared to 300 mg caffeine being at 3.5% at 3 hours post ingestion. The findings of the present study indicate that the increase in resting metabolic rate exhibited with Acacia Rigidula (12+%) are actuallly superior to the findings of previous studies which reported that 10 to 30 mg ephedrine increased energy expenditure by 6.6% to 10%.
The outer layer of the Lipodrene Hardcore tablet contains Explotab technology- for immediate burst of the active ingredients, producing rapid onset of energy! The inner layer releases a sustained dose of active ingredients into the bloodstream for long-lasting energy and a continued weight loss effect for several hours. When you take Lipodrene Hardcore be ready from the get-go to get slammed with an "eyes wide open" blast of energy that will take you from 0 to 60 in no time flat! Lipodrene Hardcore will then help you lose weight and feel great all day long.
What's In Hi-Tech Pharmaceuticals Lipodrene Hardcore?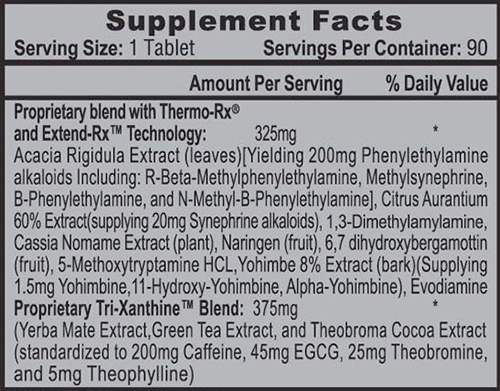 How Do I Take Hi-Tech Pharmaceuticals Lipodrene Hardcore?
Take 1-2 tablets of Lipodrene Hardcore in the morning and 1 tablet of Lipodrene Hardcore after lunch. Do not exceed 4 tablets of Lipodrene Hardcore daily.
Warnings:
Not for use by individuals under the age of 18 years. Do not use if you are pregnant or nursing. Individuals who consume caffeine with this product may experience serious adverse health effects. Individuals who are sensitive to the effects of caffeine should consult a licensed health care professional before consuming this product.
These statements have not been evaluated by the Food and Drug Administration. This product is not intended to treat, cure, diagnose, or prevent any disease. This product should not be used in place of or as a substitute for recommendations by your healthcare professional. No clinical study has been performed on Lipodrene® Hardcore. These statements are based upon the active ingredients: Senegalia, Ephedra, Theobromine, Yohimbe, Citrus aurantium, Caffeine, Green tea, 5-methoxytryptamine and Phenylethylamine. WARNING: this product can raise your blood pressure and interfere with other drugs you may be taking. Talk to your doctor about this product.
PLEASE NOTE: Product image is representative of the product offered but may not have the exact attributes. Please read product description for the specific attributes of this product.
PLEASE NOTE: The information above is intended for reference only. While we attempt to keep our information accurate, we cannot guarantee it is an accurate representation of the latest formulation of the product. If you have any concerns, please visit the vendor's web site. The information above are the views of the product's manufacturer, not the views of Same Day Supplements. These statements have not been evaluated by the Food and Drug Administration. This product is not intended to diagnose, treat, cure or prevent any disease.
*Prices are subject to change at any time and some items are limited to stock on hand.
In-stock orders placed before 3pm EST ship out the same day.
We offer many shipping options to countries like:
Brazil
United Kingdom
Canada
Germany
Australia
Japan
India
France
Israel
Worldwide
More Information

| | |
| --- | --- |
| SKU | HIT-0032 |
| Weight | 0.4000 |
| Manufacturer | Hi-Tech Pharmaceuticals |
| UPC | 857084000965 |
Customer Reviews
Super Queimador!

Não recomendo para iniciantes. Produto extremamente forte. Antes de usá-lo, consulte o seu médico e verifique suas condições hepáticas e cardíacas! Os resultados em relação à perda de peso são assustadores. Aprovado!

Serious Business

Talk about being ripped up like rambo. This fat burner is hardcore for sure! Focus and energy was excellent, really gave me the edge i needed.