Lipo 6 Black Hers Extreme - Nutrex - 120 Capsules
Benefits and Results:
Powerful Weight-Loss Support Formula for Women†
Helps Ramp Up Metabolic Rate†
Promotes High Energy and Alertness†
Helps Balance Food Intake and Controls Appetite†
Fast-Absorbing Liquid Capsules†
Nutrex Lipo 6 Black Hers - Extreme Potency - 120 Caps - Fat Burner
Lipo 6 Black Hers Extreme Potency was made with women in mind. It is perfect for active women who are looking for help in their weight loss journey. †
What Is It?
Lipo 6 Black Hers Extreme Potency is a powerful fat burner that may help you finally change your body composition. It may boost your metabolism and give you energy to get moving. †
How Does It Work?
Ingredients:
Bacognize (Bacopa monnieri Extract): Can improve cognitive function. †
Caffeine Anhydrous: Provides you with energy and alertness. †
Advantra Z Citrus Aurantium: Can stimulate metabolism and fat breakdown. †
Vinpocetine: Can enhance memory and brain metabolism. †
Zingerone: Can aid in weight loss. †
Yohimbine HCl: Promotes fat loss. †
Vitamin D: Promotes bone and immune health. †
Folic Acid (Folate): Helps your body produce and maintain new cells. †
Vitamin B12: Keeps your nerve and blood cells healthy. †
Calcium: Promotes bone health. †
Who Should Take It?
This product is perfect for women looking for a powerful weight loss support. †
Who Shouldn't Take It?
Avoid taking this product if you are pregnant or nursing.
Featured Customer Reviews:
Review by Jen:
This product is great I've been using it for years it's my go to anytime I need to drop a couple pounds please don't ever stop making this
FAQ:
How much caffeine is in it?
Each serving has 220mg of caffeine, which is about as much as 1-2 cups of coffee.
Can I drink alcohol with this?
It is best to avoid consuming alcohol while taking this product.
Can men take this?
It shouldn't have negative effects on men, but it is designed for women. There are many other Lipo 6 Black fat burners that men should try.
Can I take this on an empty stomach?
Yes you can. It is actually recommended to take at least 30 minutes before a meal, but not with food.
Comparisons:
VS Nutrex Lipo 6 Black Hers UC: Both have similar formulas, but Extreme Potency is stronger and contains Zingerone and Vinpocetine to boost weight loss even more. It also has Bacognize Bacopa monnieri to improve cognitive function as well.
VS Nutrex Lipo 6 Black UC: These have similar fat burning ingredients, but Lipo 6 Black Hers is made for women with other vitamins.
VS MuscleTech Hydroxycut Elite: Hydroxycut could give you more focus and energy, but Lipo 6 Black Hers has a stronger fat burning formula.
Stacks:
You can pair this with L-Carnitine or CLA to maximize weight loss results, since these are stimulant-free. It is recommended to avoid taking any other products with caffeine.
How Do I Take It?
Directions and Dosages:
Take 3 Black-Caps in the morning and 3 Black-Caps in the afternoon. Due to the potency of this product do not take more than 3 Black-Caps per serving.
NEVER TAKE MORE THAN 6 BLACK-CAPS IN A 24 HOUR PERIOD. Do not take with food. Consume at least 30 minutes before a meal.
Do not take within 6 hours of sleep.  Use product for 60 days and follow with a 15-day break.
What's in Nutrex Lipo 6 Black Hers?
Supplement Facts / Label: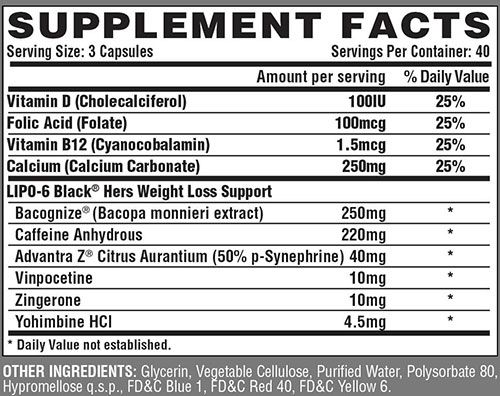 Warnings and Side Effects:
Not for use by persons under the age of 18 or those sensitive to caffeine. Do not use if pregnant or nursing. Each serving of this product contains 220 mg of caffeine, about as much as 1-2 cups of coffee.
Never exceed the recommended maximum dosage.  Do not consume synephrine, caffeine or thyroid-boosting compounds from other sources, including but not limited to, coffee, tea, soda and other dietary supplements or medications containing phenylephrine or caffeine or any stimulants whatsoever.
Do not use this product for longer than 8 weeks and make sure that usage is followed by a 4 week off-period. Consult your physician prior to use if you are taking medication, including but not limited to:
MAOI inhibitors
Anti-depressants
Aspirin
Non-steroidal anti-inflammatory drugs
Products containing phenylephrine, ephedrine, pseudoephedrine, phenylethylamine or other stimulants.
Consult your physician prior to use if you have a medical condition, including but not limited to:
Heart, liver, kidney or thyroid disease
Psychiatric disorders
Difficulty urinating
Diabetes
High blood pressure
Cardiac arrhythmia
Recurrent headaches
Enlarged prostate
Glaucoma
Discontinue use 2 weeks prior to surgery. Immediately discontinue if you experience rapid heartbeat, dizziness, severe headaches or shortness of breath. KEEP OUT OF REACH OF CHILDREN.
This product contains ingredients that may be banned by some sports organizations and/or increase risk of false positive on a drug test. Please consult with your sport organization or physician before taking this product.
Disclaimer:
PLEASE NOTE: Product images represent the product offered but may not contain exact attributes. Please read the product description for the specific attributes of this product.
†PLEASE NOTE: The intention of the information above is for reference only. It is our goal to maintain and display accurate information. Yet, we can't guarantee it represents the latest formulation of the product. If you have any concerns, please visit the manufacturer's website. The information above is not a representation of our views at Same Day Supplements. These are the views and information provided by the product's manufacturer. The Food and Drug Administration has not evaluated these statements. The intention of this product is not to diagnose, treat, cure or prevent any disease or illness.
*Prices are subject to change at any time and items may limit to stock on hand.
References:
In-stock orders placed before 3pm EST ship out the same day.
We offer many shipping options to countries like:
Brazil
United Kingdom
Canada
Germany
Australia
Japan
India
France
Israel
Worldwide
More Information

| | |
| --- | --- |
| SKU | NX-0009 |
| Weight | 0.4000 |
| Manufacturer | Nutrex |
| UPC | 857268005380 |
Customer Reviews
WORKS AWESOME

This product is great I've been using it for years it's my go to anytime I need to drop a couple pounds please don't ever stop making this

Worth the try!

Normally when im looking for a fat burner, im looking for something to energize, get my heart going, give me an upbeat happy feeling as well as suppress my appetite to last all day long.

Ill start with saying I took 1 pill first thing in the morning b4 work with something small to eat (most likely fruit) when i first started, and at first it definitely got my heart pumping, but then i got more of a jittery feeling, sitting still was something i couldn`t do and I felt agitated. I have had this feeling with a few different supps, and have yet to figure out what combination of ingredients works best for me. I tried taking another pill the next morning and then another later on in the day, no later than 1pm so I could still sleep (had no troubles sleeping while taking this stuff) and it made me even more agitated! I had quite the come down on this after about 4 hrs as well kind of just an uncomfortable feeling i couldn`t get rid of. I ate regularly healthy (small meals every couple of hours). Lipo 6 Black Hers definitely suppresses my appetite, but only for a few hours, then I got more of a sick feeling in my stomach so I only gave it a 7 for effectiveness because it definitely made me not want to eat!
Value I gave a 6 because it was fairly cheap, found online for about $25, so not a total waste. Was definitely worth the try, but not right for me! Overall 6 out of 10