Kanna Rush By Psycho Pharma, 60 Capsules
Benefits and Results:
Stimulate Euphoria †
Focused Energy †
Feel Good Fat Burner †

Psycho Pharma Kanna Rush - 60 Capsules - Fat Burner
Looking for a fat burner that can give the energy you need without the jitters. Look no further then Kanna Rush.
Kanna Rush is the replacement for Kush Rush.
What Is It?
Kanna Rush is a feel good fat burner. What exactly is a "feel good fat burner"? We will make it simple for you. Kanna Rush contains an ingredient called Kanna.
This ingredient can help elevate your mood so you feel relaxed and happy. It doesn't stop there. 
How Does It Work?
The Kanna Rush blend can also help with concentration. This in turn can help you get more things done through out the day. †
Kanna Rush also contains some of the top of the line weight loss ingredients. Check it out for yourself:
What's inside each pill?
Kanna 20:1 Extract (Sceletium Tortuosum)
Caffeine Anhydrous
Theophylline
Yohimbine HCL 98%
Rauwolscine (Alpha-Yohimbine)
How Do I Take It?
Dosage and Directions:
Take 1 capsule (1/2 serving) in the morning to start your day and another 4 hours later if needed.
For maximum results, you can take 2 capsules to fight off that sluggish midafternoon feeling or prior to going out for some added "social- lubrication".
What's In Kanna Rush?
Supplement Facts / Label: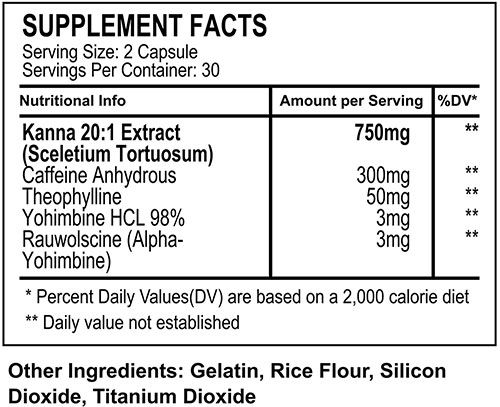 Warnings and Side Effects:
Not for use by individuals under the age of 18 years. Do not use if pregnant or nursing. Keep out of reach of children. Before beginning any supplement or training program always consult a physician.
Disclaimer:
PLEASE NOTE: Product images represent the product offered but may not contain exact attributes. Please read product description for the specific attributes of this product.

† PLEASE NOTE: The intention of the information above is for reference only. It is our goal to maintain and display accurate information. Yet, we can't guarantee it represents the latest formulation of the product. If you have any concerns, please visit the manufacturer's web site. Also the information above is not a representation of our views at Same Day Supplements. These are the views and information provided by product's manufacturer. The Food and Drug Administration has not evaluated these statements. The intention of this product is not to diagnose, treat, cure or prevent any disease or illness.

*Prices are subject to change at any time and items may limit to stock on hand.
In-stock orders placed before 3pm EST ship out the same day.
We offer many shipping options to countries like:
Brazil
United Kingdom
Canada
Germany
Australia
Japan
India
France
Israel
Worldwide
More Information

| | |
| --- | --- |
| SKU | PSY-0016 |
| Weight | 0.1600 |
| Manufacturer | Psycho Pharma |
Customer Reviews
Brilliant boost!

I fantastic burner and boost - excellent alternative when resting from Ephedrine products! Great value!

Life Changing

This supplement makes life so much better. Little things dislike Iabout my job, life, amd certain people seems to fade into the background. This pill does what is says....gives you energy, euphoria, and suppresses appetitie. I love it and will reorder again and again. This is the happinrss pill I have been searching for. Also this company is fantastic. They shipped my order the same day and I got it super fast.

Part of my morning routine

I used to be very big on coffee and energy drinks, but not anymore. Now I just take one cap of these in the morning and one in the afternoon. For me, it's the perfect balance of energy and focus without giving jitters or anxiousness. And I definitely notice the Kanna boosting my mood.