Hydroxycut Elite By MuscleTech, Fat Burner 100 Caps
Hydroxycut Elite Benefits:
Super-Thermogenesis
Extreme Energy
Enhanced Focus
Powerful Weight Loss
Frequently Bought Together
Details
Hydroxycut Elite By MuscleTech - 100 Caps - Fat Burner
What Is Hydroxycut Elite?
HYDROXYCUT HARDCORE ELITE is all-new and provides you with an unrivaled thermogenic experience. With potent amounts of green coffee, yohimbine, coleus, L-theanine, theobromine and caffeine, this powerful formula delivers a one-of-a-kind sensory experience and jacks up energy levels! Super-Thermogenic Also Delivers Extreme Energy!
Hydroxycut Hardcore Elite is the 4-in-1 Super-Thermogenic With Full Transparency!
POWERFUL WEIGHT LOSS: Designed with a key weight loss ingredient, which has been shown to be effective in two scientific studies.*
ENHANCED FOCUS: Hydroxycut Hardcore Elite supports increased focus with its key thermogenic driver.
SUPER-THERMOGENESIS: Hydroxycut Hardcore Elite features a supercharged thermogenic driver (caffeine anhydrous) in combination with other sensory-enhancing ingredients, including Coleus forskohlii and L-theanine, to deliver a one-of-a-kind sensory experience.
EXTREME ENERGY: Potent thermogenic driver (caffeine anhydrous) also jacks up energy levels for a boost in intensity – even after just one dose.
Hydroxycut Elite Ingredients:
200MG GREEN COFFEE EXTRACT: Green Coffee Extract is a key weight loss ingredient that has been shown to be effective in two clinical studies.
56.3MG YOHIMBE, 100MG L-THEANINE, 100MG COLEUS FORSKOHLII: A combination of potent ingredients that contribute to a one-of-a kind sensory experience.
270MG CAFFEINE ANHYDROUS: Caffeine has been scientifically shown to enhance energy and thermogenesis.
What's In Hydroxycut Elite By MuscleTech?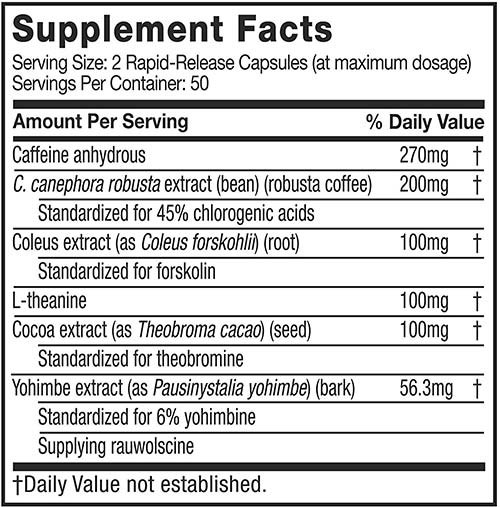 How To Take Hydroxycut Elite:
Hydroxycut Elite Dosage: To assess your tolerance, for the first day, take 1 capsule of Hydroxycut Elite once daily. On days 2 and 3, take 2 capsules of Hydroxycut Elite once daily. On day 4 and beyond, take 2 capsules of Hydroxycut Elite twice daily, 30 to 60 minutes before your two largest meals (e.g., breakfast and lunch). Do not snack between meals. For best results, use for 60 days combined with diet and training. Do not take Hydroxycut Elite within 5 hours of bedtime. Do not exceed 4 capsules of Hydroxycut Elite in a 24-hour period. Do not use Hydroxycut Elite for more than 8 weeks. Drink 10 glasses of water daily for general good health. Read the entire label before use and follow directions provided.
Warnings and Hydroxycut Elite Side Effects:
Not intended for use by persons under 18. Do not use if pregnant or nursing. Discontinue use and consult a medical doctor if you experience unusual symptoms. Discontinue use two weeks prior to surgery. Consult a medical doctor before use if you have been treated for, or diagnosed with or have a family history of any medical condition, or if you are using any prescription or over-the-counter drug(s). including blood thinners. This product should not be consumed by persons with cardiovascular disorders, anxiety or sleep disorders. One serving of this product contains up to as much caffeine as three cups of coffee. Caffeine sensitive individuals may experience the following symptoms, including (but not limited to) restlessness, nervousness, tremors, headaches, anxiety, palpitations increased heart rate or difficulty sleeping. Do not combine with other sources of caffeine or stimulants. Consult a medical doctor before starting any diet or exercise program. Do not exceed recommended serving. Improper use of this product will not improve results and is not advised. Use only as directed. Do not use if packaging has been tampered with. Keep out of reach of children.
PLEASE NOTE: Product image is representative of the product offered but may not have the exact attributes. Please read product description for the specific attributes of this product.
PLEASE NOTE: The information above is intended for reference only. While we attempt to keep our information accurate, we cannot guarantee it is an accurate representation of the latest formulation of the product. If you have any concerns, please visit the vendor's web site. The information above are the views of the product's manufacturer, not the views of Same Day Supplements. These statements have not been evaluated by the Food and Drug Administration. This product is not intended to diagnose, treat, cure or prevent any disease.
*Prices are subject to change at any time and some items are limited to stock on hand.
More Information
More Information

| | |
| --- | --- |
| SKU | MT-0127 |
| Weight | 0.2200 |
| Manufacturer | MUSCLETECH |
| UPC | 631656603361 |
Questions (0)