Gain Fast 3100 By Universal Nutrition
Gain Fast Benefits and Results:
Anabolic Weight Gainer †

Engineered for Maximum Gains in Mass & Size †
High in Protein & Complex Carbs †
Gain Fast 3100 By Universal Nutrition - Weight Gainer Protein
Gain Fast 3100 Product Overview:
Gain Fast 3100 is an Anabolic Weight Gain Supplement. "Get Big Quick" Formula. Engineered for Maximum Gains in Mass & Size. High in Protein & Complex Carbs. Who We Are: Universal Nutrition has been providing cutting edge and staple nutritional supplements to bodybuilders and hard training athletes the world over since 1977. As time passes, certain ideals never go out of style. Honesty. Integrity. Respect. These are the values we uphold and are the bedrock upon which we built our business. What It Is: Gain Fast 3100 from Universal is powerful and massive anabolic weight gaining formula. Gain Fast 3100 was our first weight gainer scientifically-engineered and formulated to help you attain solid gains of hard mass, without fat or wasted calories. Gain Fast 3100 is protein-rich, complex carbohydrate-dense and packed with advanced anabolic gaining agents, all designed to help target the cellular growth areas of your body. Gain Fast 3100 was also the first weight gainer to offer you a 3100+ calorie potential.
The exclusive "Get Big Quick" formula of Gain Fast 3100 lets you exceed the weight gaining barriers by fueling your body with an incredible 3100+ quality calories. How We Back It Up: What is on the label is in the bottle and what is in the bottle will help you reach your goals. We guarantee it. Our word is our bond. Anabolic Gaining Agents: Arginine Alpha-Ketoglutarate (AKG), Beta Sitosterol, Muira Puama, Kudzu Root Powder, Tribulus Terrestris Powder, 5-Methyl-7-Methoxyisoflavone, 7-Isoproposy-Ipraflavone, Alpha Lipoic Acid (ALA), L-Ornithine, Saw Palmetto. Metabolic Optimizers & Performance Factors: Kola Nut Powder, Korean Ginseng, Milk Thistle, Beta-Alanine, Bromelain. Lipotropics & Ergogenics: Creatine Monohydrate, Inositol, Choline Bitartrate, L-Glutamine, L-Carnitine. Gain Fast 3100 Specialized Amino Acid Complex: L-Glutamic Acid, L-Leucine, L-Aspartic Acid, L-Lysine, L-Threonine, L-Isoleucine, L-Valine, L-Proline, L-Alanine, L-Serine, L-Phenylalanine, L-Tyrosine, L-Cystine, L-Arginine, L-Methionine, L-Histidine, L-Glycine, L-Tryptophan. Made Proudly In The USA.
What's in Universal Nutrition Gain Fast 3100?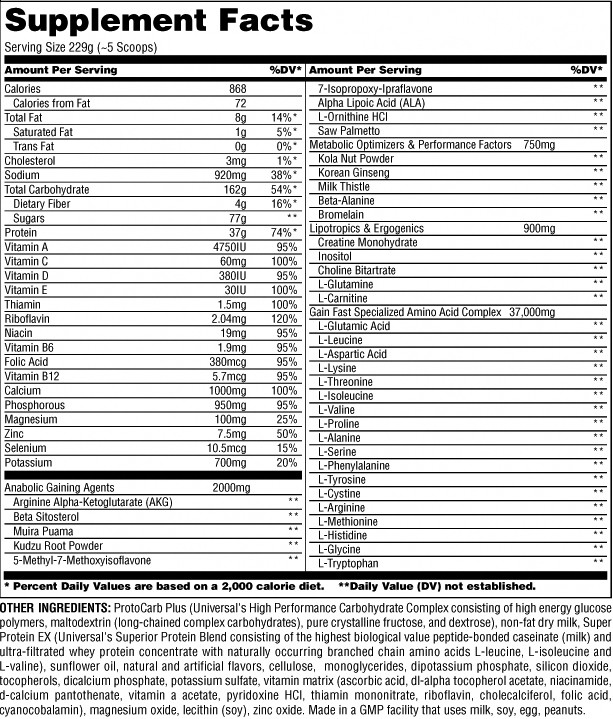 How to take Universal Nutrition Gain Fast 3100:
Mix 5 scoops of Gain Fast 3100 with 16 oz of your beverage of choice. Mix thoroughly (preferably in a blender with crushed ice for a rich, thick, delicious, frosty milk shake). For best results, take one to three servings of Gain Fast 31000 daily in addition to regular meals. Use in conjunction with a proper training and nutrition program. With Gain Fast 3100's exclusive "Get Big Quick" formula, you can get over 3100 calories from 157g of protein, 330g of carbs and 82g of fat.
Warnings:
Made in a GMP facility that uses milk, soy, egg and peanuts. Keep out of reach of children. Before beginning any program, consult your health care practitioner. Note: Do not use as your sole source of calories.
PLEASE NOTE: Product image is representative of the product offered but may not have the exact attributes. Please read product description for the specific attributes of this product.
PLEASE NOTE: The information above is intended for reference only. While we attempt to keep our information accurate, we cannot guarantee it is an accurate representation of the latest formulation of the product. If you have any concerns, please visit the vendor's web site. The information above are the views of the product's manufacturer, not the views of Same Day Supplements. These statements have not been evaluated by the Food and Drug Administration. This product is not intended to diagnose, treat, cure or prevent any disease.
*Prices are subject to change at any time and some items are limited to stock on hand.
In-stock orders placed before 3pm EST ship out the same day.
We offer many shipping options to countries like:
Brazil
United Kingdom
Canada
Germany
Australia
Japan
India
France
Israel
Worldwide
More Information

| | |
| --- | --- |
| SKU | GAIN-FAST-3100 |
| Manufacturer | UNIVERSAL NUTRITION |
Customer Reviews
The Best

Ganho de massa rápida para quem quer subir de peso (Quick mass gain for those looking to gain weight)

good

it took a time ,but it help to get big with a hard work.

Gain Fast!

I thought the cookies and cream flavor was pretty good. Overall Gain Fast 3100 helped me hit my macros. Personally I thought the Sugar intake is a little too much ,but still a great product.

Best Weight Gainer

I have been using Gain Fast 3100 for about 3 years now, and definitely seen the results from it. (increase in strength and mass) This is the real deal folks!