Force Factor DIM - 300 mg - 30 Capsules
Benefits and Results:
Decrease Estrogen †
Superior Absorption †
Key Natural Ingredients
Frequently Bought Together
Force Factor DIM - 300 mg - 30 Capsules
What is Force Factor DIM?
DIM, or diindolylmethane, is a unique compound found in small amounts in cruciferous vegetables like broccoli, kale, and cauliflower. What makes it special is its widespread traditional use to decrease estrogen levels in men. †
At concentrated amounts, DIM is thought to work by inhibiting the enzyme responsible for converting testosterone into estrogen in the body. † Throughout history, men have wanted to exhibit lower levels of estrogen relative to testosterone in an effort to maximize their masculinity. †
Why choose Force Factor DIM?
Force Factor DIM has shown some positive results in decreasing estrogen levels in men. †
With 300mg of high quality DIM in every capsule, along with BioPerine® black pepper fruit extract and selenium, you can rest assured that you are getting a powerful dose and quick absorption for optimal performance. †
Ingredients:
Selenium (as L-Selenomethionine)
DIM (Diindolylmethane)
BioPerine Black Pepper Fruit Extract
FAQ:
What's is BioPerine?
BioPerine is clinically shown to enhance the bioavailability of selenium, helping the formula get to work quickly to deliver incredible results.
What are the other ingredients in this product?
The other ingredients include Microcrystalline Cellulose, Gelatin, Magnesium Stearate, and Silicon Dioxide.
How many milligrams of DIM are in each capsule?
There is 300 mg of DIM in each capsule.
How do I take Force Factor DIM?
Dosages and Directions:
Take 1 capsule daily with a meal.
What's In Force Factor DIM?
Supplement Facts / Label: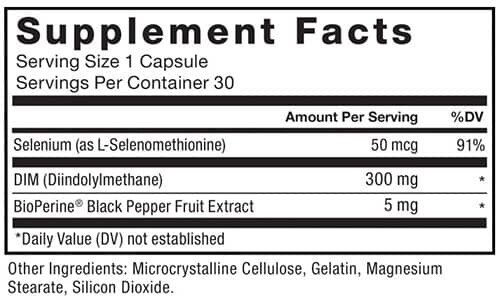 Warnings and Side Effects:
Keep out of reach of children. For adult use only. Use only as directed. Consult a healthcare professional before use if you are pregnant or nursing, have a medical condition, or use prescription medications.
Disclaimer:
PLEASE NOTE: Product images represent the product offered but may not contain exact attributes. Please read the product description for the specific attributes of this product.
†PLEASE NOTE: The intention of the information above is for reference only. It is our goal to maintain and display accurate information. Yet, we can't guarantee it represents the latest formulation of the product. If you have any concerns, please visit the manufacturer's website. The information above is not a representation of our views at Same Day Supplements. These are the views and information provided by the product's manufacturer. The Food and Drug Administration has not evaluated these statements. The intention of this product is not to diagnose, treat, cure or prevent any disease or illness.
*Prices are subject to change at any time and items may limit to stock on hand.
Other:
Shilpi Rajoria, Robert Suriano, Perminder Singh Parmar, Yushan Lisa Wilson, Uchechukwu Megwalu, Augustine Moscatello, H. Leon Bradlow, Daniel W. Sepkovic, Jan Geliebter, Stimson P. Schantz, Raj K. Tiwari (2011 Mar) 3,3′-Diindolylmethane Modulates Estrogen Metabolism in Patients with Thyroid Proliferative Disease: A Pilot Study https://www.ncbi.nlm.nih.gov/pmc/articles/PMC3048776/
Shilpi Rajoria, Robert Suriano, Andrea George, Arulkumaran Shanmugam, Stimson P. Schantz, Jan Geliebter, Raj K. Tiwari (2011 Jan 18) Estrogen Induced Metastatic Modulators MMP-2 and MMP-9 Are Targets of 3,3′-Diindolylmethane in Thyroid Cancer https://www.ncbi.nlm.nih.gov/pmc/articles/PMC3022654/
In-stock orders placed before 3pm EST ship out the same day.
We offer many shipping options to countries like:
Brazil
United Kingdom
Canada
Germany
Australia
Japan
India
France
Israel
Worldwide
More Information

| | |
| --- | --- |
| SKU | FF-0020 |
| Weight | 0.120000 |
| Manufacturer | Force Factor |
| UPC | 818594015245 |
Customer Reviews
Review Disclaimer:
The reviews posted below are based on individual customer experiences and not views or guarantees from SameDaySupplements.com. These results are not be typical. Actual results may vary.
Top customer reviews
Great Price For A Great Product

I was on the fence about this product at first. Heard some good reviews and thought I would give it a try. I'm glad I did. I wasn't expecting to notice changes so fast (first 2 weeks) but some things I noticed was my natural energy levels being higher, sleeping better, and even having fresher looking skin. Overall I think this product could be beneficial to many people.