Fit and Lean Collagen Plus Probiotics - 30 Servings
Benefits and Results:
Nourishes Skin, Hair & Nails †
Supports Bone, Joint & Muscle Strength †
Supports Digestion & Immune Health †
Helps Reduce Hunger †
Frequently Bought Together
Fit and Lean Collagen Plus Probiotics - 30 Servings
What is Fit and Lean Collagen + Probiotics?
Fit and Lean Collagen + Probiotics is a supplement that helps replenish your body of Collagen to keep you healthy and looking good.† Protein is the foundation of a healthy body, and the most abundant protein in the body is Collagen, making up over 30% of total body proteins.† Collagen can be found in your hair, skin, nails, muscles, bones and joints.† Collagen also helps promote satiety and reduce hunger.†
How does it work?
Ingredients:
Total Calories: 40 per
Total Protein: 10 g per serving.
Biotin (300 mcg per serving)- Supports and nourishes hair, skin and nails. †
Sodium (55 mg per serving)- Helps to cleanse pores deeply, balance oil production and thwart bacteria that can instigate breakouts and acne. †
Grass-fed Collagen Peptides (11 g per serving)- A protein that helps keep skin, hair, nails and joints healthy. †
Probiotic Blend (providing 5 billion CFUs probiotics) (500mg)
Lactobacillus Bulgaricus- Supports boosting immunity and fighting viruses. †
Lactobacillus Plantaraum- Helps to create microbe balance and stabilize digestive enzyme patterns. †
Lactobacillus Acidophilus- Helps to improve symptoms of IBS. †
Bifidobacterium Infantis- Helps to relieve symptoms of irritable bowel syndrome, such as abdominal pain, gas and bloating. †
Lactobacillus Casei- Helps regulate your digestive system. †
What can I expect from Fit and Lean Collagen + Probiotics?
Fit and Lean Collagen + Probiotics features 11 grams of the highest quality, Grass-fed Collagen Peptides. Plus this advanced body and beauty formula contains 1000% daily value of Biotin, a critical co-enzyme to support and nourish hair, skin and nails.† It can also promote better digestion, regularity and immune health.†  
With this powerful combination of Grass-fed Collagen Peptides, biotin and probiotics, you'll be on your way to feeling and looking beautiful and fit!
Featured customer reviews:
Review By Kenny T.
Good amount of protein, from a good source with the added benefits of probiotics
Review By Isabella N.
Been taking this for a little over a month and the results are very evident.  I am impressed with how much it has helped me already, I am excited for my next bottle to come in!
FAQ:
Does this product come in any flavors?
No, this product only come in unflavored to make it easier to mix well with your choice of beverage.
How many servings come in one container?
There are 30 servings per container.
Can I mix this with a hot beverage instead of a cold one?
Yes of course you may as this product is perfect to mix to any hot beverage like tea, coffee, or any others of your choice.
Can I stack this product with anything else?
Yes you may as there are no restrictive ingredients in this product that would interfere with other products.†
Comparable products:
How do I take Fit and Lean Collagen + Probiotics?
Dosage and Directions:
Mix one scoop with 8 fl. oz. of cold water, or with your favorite hot or cold beverage.
For best results, consume daily in conjunction with a healthy diet and exercise program.
What's In It?
Supplement Facts / Label: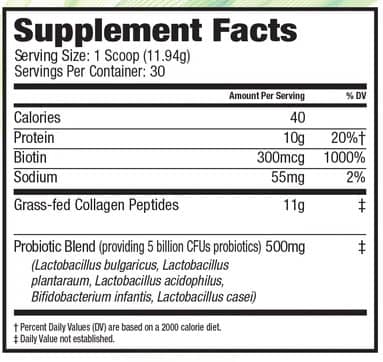 Warnings and side Effects:
Keep out of reach of children. Store in a cool dry place. Do not purchase if seal is broken.
Disclaimer:
PLEASE NOTE: Product images represent the product offered but may not contain exact attributes. Please read the product description for the specific attributes of this product.
†PLEASE NOTE: The intention of the information above is for reference only. It is our goal to maintain and display accurate information. Yet, we can't guarantee it represents the latest formulation of the product. If you have any concerns, please visit the manufacturer's website. The information above is not a representation of our views at Same Day Supplements. These are the views and information provided by the product's manufacturer. The Food and Drug Administration has not evaluated these statements. The intention of this product is not to diagnose, treat, cure or prevent any disease or illness.
*Prices are subject to change at any time and items may limit to stock on hand.
References:
Danni Li, PhD, Angela Radulescu, MD, Rupendra T. Shrestha, MD, Matthew Root, BS, Amy B. Karger, MD, PhD, Anthony A. Killeen, MD, PhD, James S. Hodges, PhD, Shu-Ling Fan, PhD, Angela Ferguson, PhD, Uttam Garg, PhD, Lori J. Sokoll, PhD, and Lynn A. Burmeister (2017 Sep 26) Association of Biotin Ingestion With Performance of Hormone and Nonhormone Assays in Healthy Adults https://www.ncbi.nlm.nih.gov/pmc/articles/PMC5818818/
Jun-cai Hou, Fei Liu, Da-xi Ren, Wei-wei Han, and Yue-ou Du (2015 Apr; 16) Effect of culturing conditions on the expression of key enzymes in the proteolytic system of Lactobacillus bulgaricus https://www.ncbi.nlm.nih.gov/pmc/articles/PMC4399432/
In-stock orders placed before 3pm EST ship out the same day.
We offer many shipping options to countries like:
Brazil
United Kingdom
Canada
Germany
Australia
Japan
India
France
Israel
Worldwide
More Information

| | |
| --- | --- |
| SKU | FL-0006 |
| Weight | 1.0000 |
| Manufacturer | Fit and Lean |
| UPC | 666222009438 |
Customer Reviews
no more issues

Been taking this for a little over a month and the results are very evident. I am impressed with how much it has helped me already, I am excited for my next bottle to come in!

love this brand

Good amount of protein, from a good source with the added benefits of probiotics