Edge of Insanity Pre Workout - Psycho Pharma - 25 Servings
Benefits and Results:
What can I Expect?
Exploding Muscle Pumps †
Sharp Focus †
Euphoric Feel †
Improve Endurance †
Psycho Pharma Edge of Insanity - Pre Workout
If you are looking for a pre workout that packs a punch then look no further then Edge of Insanity.
What Is Edge of Insanity?
Edge of Insanity is a pre workout made for stim junkies. Why does Edge of Insanity work so well? Simple. The formula was scientifically designed and personally beta tested on the most experienced and hard to please supplement junkies. †
Ingredients:
Psycho Endurance Vascularity and Pumps Blend:
Beta Alanine (3.2 Grams)
Citrulline Malate (8 Grams)
Zen Like Focus NooTropic:
Zembrin (Sceletium Tortuosum (aerial parts) extract) (25mg)
Razor's Edge Focus:
Caffeine Anhydrous (350 mg)
Theobromine (20 mg)

Yohimbine HCL 98% (5 mg)

Rauwolscine 98% (4 mg)
Who should take it?
If you are looking for a intense high stimulant pre workout, Edge of insanity is for you. Power through your most hardcore workouts. Edge of Insanity will give you the feel good energy that you need.
How Do I Take It?
Dosage and Directions:
First test your tolerance by trying 1/2 scoop. After tolerance has been assessed mix 1/2 scoop to 1 scoop of Edge of Insanity with 8 oz of cold water.
Take 15 minutes before exercise.
To avoid sleeplessness:
Do not consume within 4 hours prior to bedtime.
FAQ:
How much caffeine does it have?
The total caffeine content is 350mg per scoop.
Does it have DMAA?
No, this product does not have DMAA.
What flavors are available?
There is currently 6 flavors available. They are Wild Candy, Strawberry Watermelon, Blue Lemonade, Cherry Bomb and Jungle Juice and Spiked Punch.
Does it have creatine?
No, Edge of Insanity is creatine free. Feel free to stack it with creatine.
Is there a caffeine free version?
No, there isn't. Psycho Pharma does make a stimulant free pump product called Edge Pump if you are looking to avoid stimulants.
Does it have niacin?
No, it does not. It does have beta alanine which can give you the tingling feeling.
Why is it clumpy?
Psycho Pharma switched to citrulline malate in the new formula. This is a super pump ingredient that people want. It does have some issues with clumping.
What is the difference between the new and old formula?
Edge of Insanity has been revamped to focus on what matters in the gym, you being focused. They have removed the ingredient Zembrin and have replaced it with GABA and Dicaffiene Malate to still you give the feel good energy and focus you need. †
What's In Edge of Insanity Pre Workout?
Old Formula with Zembrin Supplements Facts / Label:
NEW Formula Supplements Facts / Label: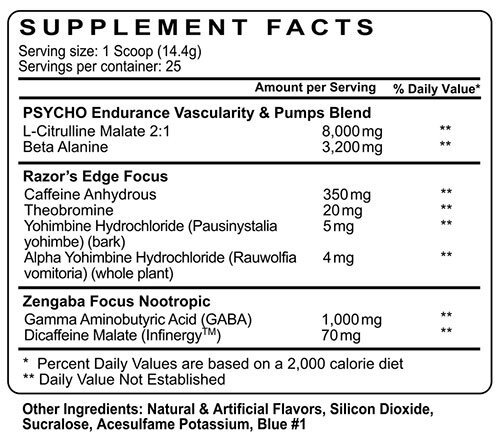 Warnings and Side Effects:
Make sure to read all warnings and take only as directed. Not for use by individuals under the age of 18 years. Do not use if pregnant or nursing. Consult with a physician before using this product if you have, or have a family history of:
Heart Disease
Thyroid Disease
Diabetes
High Blood Pressure
Depression or other Psychiatric Condition
Glaucoma
Difficulty Urinating
Prostate Enlargement
Seizure Disorder
Do not exceed recommended serving. Doing so may cause adverse health effects. Discontinue use and call a physician immediately if you experience:
Rapid Heatbeat
Dizziness
Severe Headache
Shortness of breath
Other similar symptoms
Individuals who are sensitive to the effects of caffeine or have a medical condition should consult a physician before using. Do not exceed one scoop prior to exercise under any circumstances.
Disclaimer:
PLEASE NOTE: Product images represent the product offered but may not contain exact attributes. Please read product description for the specific attributes of this product.
† PLEASE NOTE: The intention of the information above is for reference only. It is our goal to maintain and display accurate information. Yet, we can't guarantee it represents the latest formulation of the product. If you have any concerns, please visit the manufacturer's website. The information above is not a representation of our views at Same Day Supplements. These are the views and information provided by product's manufacturer. The Food and Drug Administration has not evaluated these statements. The intention of this product is not to diagnose, treat, cure or prevent any disease or illness.
*Prices are subject to change at any time and items may limit to stock on hand.
In-stock orders placed before 3pm EST ship out the same day.
We offer many shipping options to countries like:
Brazil
United Kingdom
Canada
Germany
Australia
Japan
India
France
Israel
Worldwide
More Information

| | |
| --- | --- |
| SKU | EDGE-OF-INSANITY |
| Manufacturer | Psycho Pharma |
Customer Reviews
Phenomenal Energy Lift

The muscle pump, energy renewal beforehand & while working out, not that jittery feeling, fantastic stuff!

John Crumsho

Works amazing. Definitely one of the top pre's on the market.

EDGE is Awesome

I ain't the craziest of stim junkies, but I really enjoy something pretty potent. That's where Edge of Insanity comes in. It ain't the craziest preworkout i've ever tried, but that's a good thing. It got me focused, clear minded, and ready to kill any and every set. It didn't give me the jitters, provided clean cut energy, and some awesome focus to make for well rounded workouts without looking or feeling like a crackhead. One thing to note is that it does cause you to sweat a lot, which I attribute to the high dosage of Alpha Yo in it, but nothing crazy. I prefer sweating when I'm working out anyway. Who doesn't?
Anyway, I definitely recommend. It's reliable and gets the job done without being under or overwhelming. What more do you want?

I love it!

Gives me all the power to do weights at the gym!!!I highly recommend this product!!!

I enjoy it

I wouldn't consider myself a stimulant junkie but I do prefer my pre workouts to pack a punch and edge of insanity does it for me!

s

make me nauseous

So far so good!

I just got this pre workout in last week, so I'm still testing the longevity of the effects. But, my first workout with Edge of Insanity was great! I used to take pre workouts like Mesomorph or Dust X, and while I still think those are stronger, this pre workout is still a heavier stim pre compared to like C4 or even Nitraflex. Plus, the kush feeling is pretty cool too!

Not insane at ALL

It was advertised as an insane high stim pre workout that did not deliver at ALL. I was tired and I didn't get any pump enhancement at all. All I received was probably the "kush feeling" which made me have awful workouts. It's kind if sad when I feel the same taking this and not taking any pre workout at all. The company is fine, just get bucked up or some other actually effective pre workout.

Best Pre workout around

I've been taking pre workouts since the DMAA era and I can confidently say that currently no other pre workout compares to Edge of Insanity. It's High stim in the good way, the kind that gives you a high in the gym and doesn't leave you feeling like a jittery mess. And un like most other high stim pre workouts i've tried they don't skimp on the pump ingredients. If you are in the market for a high stim pre workout I highly recommend you try edge for yourself.

BEST PWO

Best Pre Workout IMO