Cognisport - Hi Tech Pharmaceuticals - 60 Tablets
Buy 2 for $37.49 Each & Free Shipping USA
Buy 3 for $34.95 Each & Free Shipping USA
Benefits and Results:
Improves Mental Cognitive Health†
Mood†
Fatigue†
Vitality†
Manage and Reduce Stress†
Frequently Bought Together
Hi-Tech Pharmaceuticals Cognisport - 60 Tablets - Nootropic - "The Ultimate Gaming Supplement"
What Is CogniSport?
Hi-Tech Pharmaceuticals has created Cognisport, which is a supplement that is designed to help gamers perform better by providing them with energy that won't cause a crash, improving their reaction time, and enhancing their cognitive abilities.† It may also reduce eye fatigue associated with playing games in low-light conditions.†
How Does It Work?
Ingredients:
Proprietary Focus, Concentration and Mood Blend Technologies: special blend of ingredients designed to help with focus, concentration, and mood.†

Geranium Extract 50mg (leaves)
Senegalia Berlandieri Extract (leaves)
2-Aminoisoheptane HCL
Caffeine Anhydrous
Theobromine
Theacrine (as TeaCrine)
Tri-Xanthin Energy Blend: a blend of three ingredients designed to provide energy.†

Theobroma Cocoa Extract (seed)(as Cocoabuterol)
Guayusa Extract (leaves)
Green Tea Extract (leaves)
Memory Boost Blend: blend of ingredients designed to boost memory.†

Gingko Biloba Low Acid Extract 24/6 (leaves)
3,5,4'-trihydroxy-trans-stilbene
Huperazine A/ Cyclosome Complex
Cognition Rx and Vision Blend: blend of ingredients designed to support cognition and vision.†

Choline Bitartrate, Bacopa Monnieri 50% Bacosides (leaves) Extract
CDP Choline, Alpha Glyceryl Phosphorylcholine
Marigold Extract (flower)
Who Should Take It?
Cognisport was made specifically for elite gamers, and it may help improve their hand-eye coordination, focus, and vision.† Although it is designed for gamers, it is also helpful for those looking for a focus boost.†
FAQ:
How many servings are there?
There is 30 servings per container.
Similar Alternative Products:
How Do I Take CogniSport?
Suggested Dosage and Directions:
For healthy adults take one (1) tablet twice daily or as recommended by a healthcare practitioner.
What's In Hi-Tech CogniSport?
Supplement Facts / Label: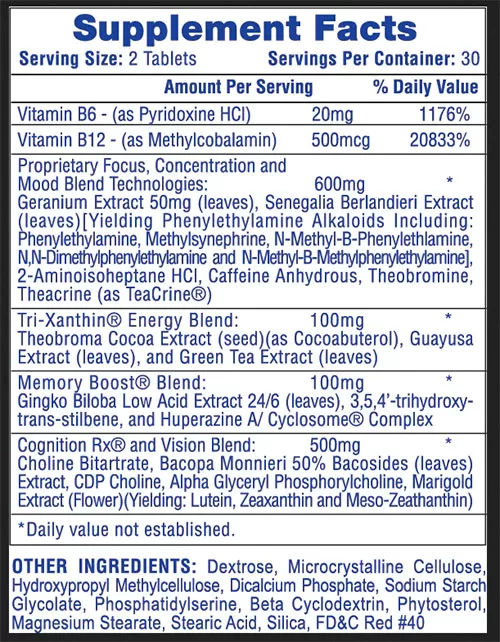 Warnings and Side Effects:
NOT INTENDED FOR USE BY PERSONS UNDER 18 YEARS OF AGE. KEEP OUT OF THE REACH OF CHILDREN. If you are pregnant, breast feeding, have known medical conditions (including kidney or liver disease) or are taking prescription or OTC medication(s) consult with your health care practitioner before using this product.
Disclaimer:
PLEASE NOTE: Product images represent the product offered but may not contain exact attributes. Please read the product description for the specific attributes of this product.
†PLEASE NOTE: The intention of the information above is for reference only. It is our goal to maintain and display accurate information. Yet, we can't guarantee it represents the latest formulation of the product. If you have any concerns, please visit the manufacturer's website. The information above is not a representation of our views at Same Day Supplements. These are the views and information provided by the product's manufacturer. The Food and Drug Administration has not evaluated these statements. The intention of this product is not to diagnose, treat, cure or prevent any disease or illness.
*Prices are subject to change at any time and items may limit to stock on hand.
Other Information:
Visit Hi-Tech Pharmaceuticals' website for more information.
In-stock orders placed before 3pm EST ship out the same day.
We offer many shipping options to countries like:
Brazil
United Kingdom
Canada
Germany
Australia
Japan
India
France
Israel
Worldwide
More Information

| | |
| --- | --- |
| SKU | HIT-0200 |
| Weight | 0.200000 |
| Manufacturer | Hi-Tech Pharmaceuticals |
| UPC | 811836024944 |
Customer Reviews
Review Disclaimer:
The reviews posted below are based on individual customer experiences and not views or guarantees from SameDaySupplements.com. These results are not be typical. Actual results may vary.
5
100% of customers recommend this product
Top customer reviews
Good stuff

This stuff definitely helps, especially since my regular prescription is hard to fill

Zoned In

CogniSport has truly been a game-changer for me! This nootropic supplement has significantly enhanced my mental focus and clarity. I've experienced improved performance and an overall boost in productivity. I highly recommend it to anyone looking to improve productivity. I will be buying it again!