Carnisport® By APS Nutrition, 120 Tabs
Carnisport Benefits and Results:
Increase Weight Loss †
Unleashes Free Fatty Acids †
Increases Performance and Aerobic Capacity †
Cellular Energy †
CARNISPORT - APS NUTRITION - 120 TABS - WEIGHT LOSS
What Is Carnisport?
CarniSport is a complex of 5 different Carnitine series compounds. They form the most complete Carnitine product for Physiques, Performance and Weight Loss. The heart, brain and liver are three organs with very high energy needs. CarniSport ensures they have all the energy they need to function. APS researchers discovered different forms of Carnitine benefit different parts of the body. That's why CarniSport includes five different forms of Carnitine series compounds.
How Does CarniSport Work?

Carnisport promotes:

Fat burning †
Reduces the breakdown of amino acids †
Promotes protein synthesis and the formation of lean muscle mass †

Carnisport is like an inward training program. Carnisport promotes a lasting increase in the enjoyment of physical activity. Research shows it can reduce soreness and muscle pain . It can promote recovery from exercise by increasing blood flow.
This reduces markers of metabolic stress, decreasing muscle soreness, and improving recovery time. That way, you can get back in the gym, on your bike, or on the field, faster.
What Can I Expect From CarniSport?

Producing energy from fat †

Ensuring athletic endurance †

Promoting recovery after exercise †

Preventing early onset of fatigue during exercise †

Carnisport Ingredients:
Niacin 50 mg
Vitamin B-6 10 mg
Carnitine Silicate 200 mg
GlucoCarn™ Alanine Propionyl L-Carnitine HCL 200 mg
Palmitoyl-R-Carnitine 200 mg
Propionyl L-Carnitine HCL 200 mg
L-Carnitine Tartrate 200 mg
Epigallocatechin Gallate (EGCG) 100 mg
What's In Carnisport?
Carnisport Supplement Facts: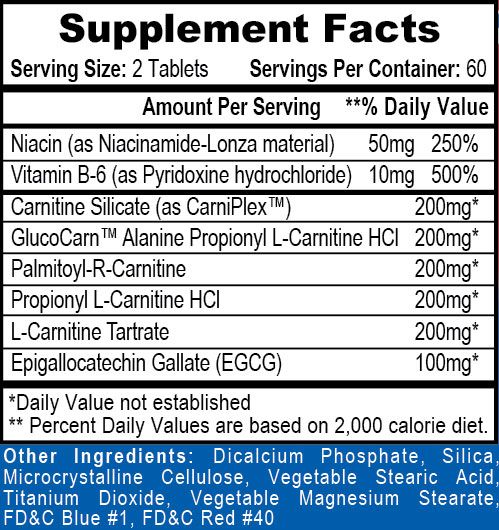 How Do I Take Canisport?
Dosage and Directions:
Carnisport can be taken 2 tablets, 2 times daily, 8-12 hours apart. Not to exceed 4 tablets of Canisport daily.
Warnings and Side Effects:
Keep out of reach of children.
PLEASE NOTE: Product images represent the product offered but may not contain exact attributes. Please read product description for the specific attributes of this product.

† PLEASE NOTE: The intention of the information above is for reference only. It is our goal to maintain and display accurate information. Yet, we can't guarantee it represents the latest formulation of the product. If you have any concerns, please visit the manufacturer's web site. Also the information above is not a representation of our views at Same Day Supplements. These are the views and information provided by product's manufacturer. The Food and Drug Administration has not evaluated these statements. The intention of this product is not to diagnose, treat, cure or prevent any disease or illness.

*Prices are subject to change at any time and items may limit to stock on hand.
In-stock orders placed before 3pm EST ship out the same day.
We offer many shipping options to countries like:
Brazil
United Kingdom
Canada
Germany
Australia
Japan
India
France
Israel
Worldwide
More Information

| | |
| --- | --- |
| SKU | APS-0042 |
| Weight | 0.3600 |
| Manufacturer | APS Nutrition |
| UPC | 649241899938 |
Customer Reviews
Fat loss

Good stacking supo

The last carnitine you'll need

Carnisport is hands down my favorite Carnitine product. You can't go wrong with five major forms of carnitine. This product has helped me lose extra weight and it also has other health benefits. Try it you wont be disappointed.

Good Product

I have not had much luck with fat burners but this one I feel is really working. I have been taking these supplements for a couple weeks now and I feel like this was a good buy.

Good value

love this product

A nice addition to my summer stack

I was taking cla and raspberry ketones and stuck at 180lb. My gf bought me carnisport for my birthday so before i made any diet changes i added this in and dropped another 3lb!