G Fuel Gamma Labs Review Pre-Workout
Gamma Labs G Fuel Review Pre Workout
G Fuel is not a traditional pre workout; it won't give you a pump at the gym. But, it will give you awesome boost of energy for whatever you're doing. Including gaming. In fact, G Fuel is "for gamers by gamers."
It contains a sugar free energy formula comprised of three complexes; an energy complex, a focus complex, and an antioxidant complex, with only 25 calories per serving. It promotes fast results†, no crash†, no jitters†, faster reaction time†, and improve concentration†.
Now gamers, you know how important those factors are when it's getting late into your hardcore gaming session and you need a quick boost. Regular energy drinks are filled with sugar and typically lead to a hardcore crash an hour later. Not G Fuel.
When we first heard of G Fuel, we were pumped because we're avid gamers here at Same Day, and we usually turn to coffee or energy drinks to get that boost of energy. With G Fuel, there is a healthier option with better results and taste great!
Now Lets Dive Into The Formula.
First thing we see on the label is the energy complex, which like all the other complexes, is a proprietary blend. This means we won't be able to tell how much of each ingredient is in each blend (besides the caffeine).
The energy complex contains 1.79 grams of active ingredients.
Featuring:
Taurine
L-Citrulline Malate
Caffeine (140mg)
Glucuronolactone
N-Acetyl-L-Carnitine HCl
The focus complex contains 1.2 grams of active ingredients.
Featuring:
L-Tyrosine
Choline Bitartrate
N-Acetyl-L-Tyrosine
Adenosine-5-Triphosphate Disodium Salt
The antioxidant complex contains 26mg of active ingredients.
Featuring:
Pomegranate Fruit Extract
Pineapple Fruit Powder
Apple Fruit Powder
Orange Fruit Powder
Blueberry Fruit Powder
Grape Seed Powder
Grape Fruit Powder
Plum Fruit Powder
Raspberry Fruit Powder
Strawberry Fruit Powder
Watermelon Fruit Powder
Lemon Fruit Powder
Lime Fruit Powder
Melon Fruit Powder
Sour Cherry Fruit Powder
Papaya Fruit Powder
Peach Fruit Powder
Pyrus Communis Fruit Powder
What to Replace G Fuel With
Unfortunately, we are currently not stocking G Fuel. But that doesn't mean there isn't other options available! Below is our list of tried-and-true pre workouts for non-workout purposes:
Noxipro VS G Fuel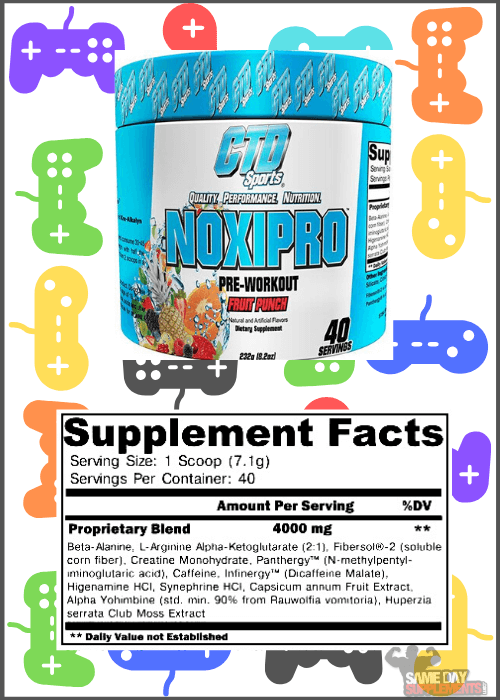 Featuring :
Beta-Alanine
L-Arginine Alpha-Ketoglutarate
Fibersol®-2
Creatine Monohydrate
Panthergy
Caffeine
Infinergy
Higenamine HCl
Synephrine HCl
Capsicum Annum Fruit Extract
Alpha Yohimbine
Huperzia Serrata Club Moss Extract
Amino X VS G Fuel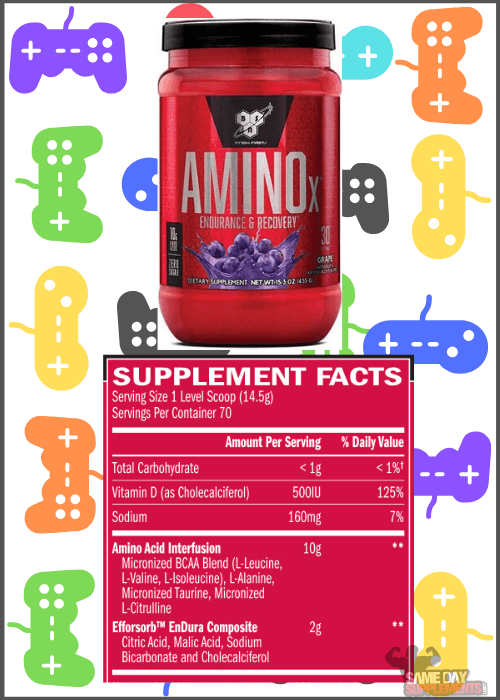 Featuring:
Micronized BCAA Blend
L-Alanine
Micronized Taurine
Micronized L-Citrulline
Citric Acid
Malic Acid
Sodium Bicarbonate
Cholecalciferol
Amino Energy VS G Fuel
Featuring:
Taurine
L-Glutamine
L-Arginine
L-Leucine
CarnoSyn Beta-Alanine
Citrulline
L-Tyrosine
L-Histidine
L-Lysine
L-Phenylalanine
L-Threonine
L-Methionine
Caffeine
Green Tea Extract
Green Coffee Extract
Animal Rage XL VS G Fuel
Featuring:
Creatine Monohydrate
Beta Alanine
Citrulline Malate
L-Taurine
Glucuronolactone
L-Tyrosine
Choline Bitartrate
N-Acetyl Tyrosine
β-Pheylethylamine
Eleutherococcus Senticosus
L-Carnitine
Ashwagandha Extract
Glycine Proprionyl L-Carnitine HCl
Caffeine Anhydrous
Coffee Bean Extract
Green Tea Lead Extract
Bacopa Monnieri
Endorush VS G Fuel
Featuring:
Creatine Monohydrate
Beta-Alanine
Black Pepper Extract
L-Arginine
L-Citrulline
Creatine Nitrate
Calcium Glycerophosphate
Magnesium Glycerophosphate
Caffeine (Green Tea and/or Green Coffee Bean)
Caffeine Anhydrous
Longan Extract
Yohimbe Extract
That's the Same Day Supplements review of G Fuel by gamers, for gamers. Of course if you're not a gamer you could always use it as a healthier alternative to the other sugar filled energy drinks.
†PLEASE NOTE:
The intention of the information provided is for reference only and we are in no way providing medical advice or instruction. The information provided in this post is based on anecdotal information and available studies/reviews. While it is our goal to maintain and display accurate information, we can't guarantee it represents the latest formulation of the product or information. Therefore, if you have any concerns, please visit the manufacturer's website. Also, the information above is not a representation of our views at Same Day Supplements. Rather, these are the views and information provided by manufacturers and users. Also, the Food and Drug Administration has not evaluated these statements. Finally, the intention of these products is not to diagnose, treat, cure or prevent any disease or illness.
References: