Blue Star Blade Fat Burner | 7 Things To Know
Well as the name suggests, Blade is a fat burner not a testosterone booster. Not only does it encompass classic fat burning ingredients, it's also a 24-hour fat burning formula. But we're going to dive more into this later on. However, if you were looking for a new testosterone booster, check out Blue Star Status! We even review it HERE.
Didn't mean to go on the blog? Don't worry! You can go straight to the product page HERE.
In this post we'll be covering:

1. Blue Star Blade: The Break-down
CH-19 Sweet Pepper (450 mg)

Acetyl-L-Carnitine(400 mg)

Green Tea Extract (300 mg)

Caffeine Anhydrous(225 mg)

Advantra Z (25 mg)

Yohimbine HCl (8 mg)
CH-19 Sweet Pepper:
The bio-active ingredient in CH-19 Sweet Pepper does a few things for weight loss. For starters, they activate your TRPv1 receptors. This response helps restrain the formation of new fat cells.† In addition to that, they also increase thermogenesis. But in combination with Green Tea Extract, this ingredient can also promote appetite suppression. (1)
Acetyl-L-Carnitine:
Carnitine is a derivative of amino acids. It's found in almost every cell in the body. But what makes it useful for fat loss is that it helps promote the transportation of fatty acids. During this transportation, the fatty acids are oxidized and able to be used for energy. (2)
Green Tea Extract:
There is a ton of research on Green Tea's effect on weight loss. (3) Some of the more recognized benefits include:
Improving your body's efficiency at burning calories

Improve exercise performance

Reduce visceral (belly fat) and inflammation
Caffeine Anhydrous:
Caffeine is a great foundation stimulant. It's the most common stimulant found in food and supplements. Caffeine can aid in increasing your:
Metabolism

Energy

And suppress your appetite.(4)
p-Synephrine HCl:
p-Synephrine is a naturally occurring phenylethylamine derivative. Because of this, it has both energy boosting and mood-boosting properties. But that not all. It also stimulates the receptors which support fat release, which increases fat burning. Unlike other fat-burning ingredients, it causes no nervousness or jitters and doesn't increase blood pressure. (5)
Yohimbine HCl:
It comes from the African evergreen tree and is popular for two things:
To treat erectile dysfunction

To help with fat loss.
But how?
The main way that it works in the body is through blocking alpha-2 adrenergic receptors. But yohimbine may also increase norepinephrine. Which reduces your body's natural tendency to retain fat. (6,7)
XD Delivery Technology Complex™
Fumaric Acid

BioPerine® Black Pepper

AstraGin™

Sodium R-Lipoate

Succinic Acid
The purpose of these ingredients is to increase the absorption rate and bio-availability of all the ingredients. This ensures that each ingredient is being benefited.

2. What Can You Expect?
So first and foremost, we should address the elephant in the room. Blade is advertised as a fat burner for men. But, women can take it too. There isn't anything hormonal in blade that would make it unfavorable by women. In fact, these same ingredients are featured in other products.
So what can you expect?
Well energy-wise, we don't expect you to feel cracked out. But, you should feel awake and focused. With the addition of the delivery complex, we expect the energy (and other properties) to last. All the stimulants in this formula are going to play into the appetite suppression. So this will definitely be a prominent effect. We would like the Acetyl-L-Carnitine to be at a higher dose. But if you're taking at least 2 caps a day, it's efficient.
As for thermogenesis, the combination of Yohimbine and the Ch-19 Sweet Pepper is great. However, we wouldn't say Blade is a top thermogenic; it's definitely more prominent as an energizer and appetite suppressant.
When Should You Take Blade?
Dosage and Directions:
Always begin with one capsule in a 24 hour period to assess tolerance. Take 2 capsules of Blue Star Blade upon waking up. Take an additional 2 capsules mid-afternoon with at least 8 ounces of water. Do not take within 5 hours of sleep. Do not exceed 4 capsules in a 24 hour period. Combine Blue Star Blade with a sensible diet and exercise program.
3. How Does It Compare To Other Fat Burners?
As we mentioned above, the ingredient's in Blade are in other fat burners. Today, we're going to be comparing 2 other popular fat burners:
Starting from the top with Methyldrene 25 Elite, there are 3 ingredients shared which are checked above.
Methyldrene 25 Elite, features a blend of 633.75 mg of active ingredients. Compared to Blade's 1494mg, it falls short by quite a bit. But one of the ingredients that make Methyldrene 25 Elite great is its Ephedra. Which is an alkaloid of a popular (but no longer available) ingredient Ephedrine. If you're trying out fat burners for the first time and aren't sure if you want to go all in for Blade, Methyldrene is a great option. We would say this product is better for appetite suppression.
Last, we have Lipodrene Elite by Hi-Tech Pharmaceuticals. Lipodrene Elite is definitely more of a potent thermogenic. It features 4 of the same ingredients as Blade. But it only contains 623mg of active ingredients. Just looking at the numbers isn't fair to lipodrene. Within that 623mg is some potent stimulants like:
Erythroxylum Coca Extract

Senegalia Berlandieri

Citrus Aurantium

4. What Makes It Special?
After going through the comparisons it may be clear what makes Blade so special.
A) The use of CH-19 Sweet Pepper
Although pepper extract itself is very common. We don't have very much information on this specific extract. This alone makes it special but we need more research comparing its benefits to other peppers.
B) The Dosages
As we have demonstrated above, the ingredients are actually very common in other products. But its the dosage that makes the difference. It's important to keep in mind that the label indicates the mgs per 2 caps. So if you're only taking 1, divide the label by 2.
C) The Delivery Blend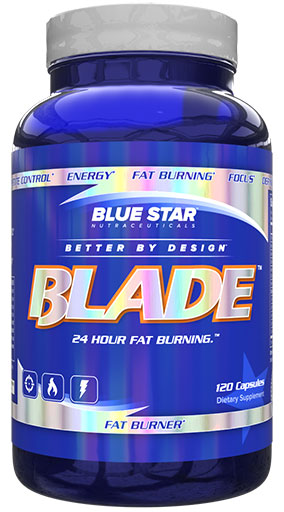 A delivery blend can take a good formula and make it great. Most products contain an ingredient to help with the overall bio-availability. But that's a big task for a single ingredient. The use of this blend makes every ingredient in Blade more efficient.

5.Why Is It So Much More $$
If you've checked out Blade in the past, you know it's not a cheap fat burner. And with the price point, you've got to wonder if it's legit and if its worth it. Well, for starters, Blue Star Nutraceuticals is located in Canada. For those who don't know, Canadian version of the FDA (Health Canada) is a lot more proactive than ours in the US. In fact, they even assure:
"Through the Natural Health Products Directorate, Health Canada ensures that all Canadians have ready access to natural health products that are safe, effective and of high quality while respecting freedom of choice and philosophical and cultural diversity." (8)
Now that doesn't mean US manufactured products are lower quality. But, it does help raise the bar for our Canadian manufactured products. And Blue Star does a great job of meeting that standard. So if the ingredients weren't enough to show you the quality of Blade, you have the backings of their NHPD.

6. What To Do If It Doesn't Work For You?
With all that said. Blade isn't a miracle product. You still have to put in some work. That means dieting and exercise. Dieting doesn't have to suck but unfortunately, you will have to maintain some restrictions. If you're struggling with cravings you can try adding Garcinia Cambogia.
A fat burner can be a great addition to your workout regimen but it won't substitute it. If you feel like your exercise routine is lacking in intensity: Switch it up! It doesn't have to be a drag, boring, or repetitive. But, you do have to be consistent.

7. How Can You Accelerate Your Fat Loss With Blade?
With all that said, there are other things you can add to Blade to make it more of a weight loss stack. You're already getting Carnitine from Blade, so you don't need to add more of that. You can try adding in a CLA.
CLA is a fatty acid in dairy products and some meat products too. In terms of weight loss, studies indicate CLA for 12 weeks could reduce body fat in overweight adults. AND help prevent weight gain.(9)
Let's Look At The Reviews For Blade!
Blue star blade Review by Jason
Very happy with product,&service the delivery was very fast & I was kept up to date on arrival will shop at this great company again & let family & friends no too (Posted on 4/25/2019)
Check it out Review by Kenny
I was very pleased with the performance of Blade and the way it worked for me. Cost is a little on the higher end but it works how its advertised and that makes it worth it for me. I would definitely recommend checking this product out! (Posted on 4/7/2018)
Overall Review by Connor
Overall, Blade is an excellent cutting supplement. If you have your diet on point and are exercising on a regularly basis then I would highly suggest picking up a few bottles of blade to push you through any plateaus. (Posted on 4/6/2018)

This wraps up our review and breakdown of Blue Star Blade Fat Burner! Thank you for reading and if you have any questions or if there's another product you'd like us to review, send us an email HERE!
Warnings And Side Effects
KEEP OUT OF REACH OF CHILDREN. NOT INTENDED FOR USE BY PERSONS UNDER 18.
Consult a health care provider before use if you have been treated for or diagnosed with, or have family history of any medical conditions, or if you are using any prescription or over-the-counter medications. Consult a health care provider before starting any diet or exercise program.
Do not exceed recommended servings. Improper use of this product will not improve results and is not advised. Use only as directed. Do not use if safety seal on this package has been broken. Store in a cool, dry place (60° to 80° F).
This product contains ingredients that may be banned by some sports organizations and/or increase risk of false positive on a drug test. Please consult with your sport organization or physician before taking this product.
Disclaimer:
†The intention of the information provided is for reference only and we are in no way providing medical advice or instruction. The information provided in this post is based on anecdotal information and available studies/reviews. While it is our goal to maintain and display accurate information, we can't guarantee it represents the latest formulation of the product or information. Therefore, if you have any concerns, please visit the manufacturer's website. Also, the information above is not a representation of our views at Same Day Supplements. Rather, these are the views and information provided by manufacturers and users. Also, the Food and Drug Administration has not evaluated these statements. Finally, the intention of these products is not to diagnose, treat, cure or prevent any disease or illness.