Ape Shit Cutz – Primeval Labs – Thermogenic Pre Workout
Benefits and Results:
Focus†
Energy†
Thermogenic†
Frequently Bought Together
Untamed Labs Ape Shit Cutz – Primeval Labs – Thermogenic Pre Workout
What Is Primeval Labs Ape Shit Cutz?
Primeval Labs Ape Shit Cutz is a thermogenic pre workout that is designed to not only give you energy and focus but to also support weight loss.† With the inclusion of GBB be ready to start sweating as this powerful thermogenic ingredient will heat you up.†
How Does It Work?
Ingredients:
Beta Alanine: prominent endurance support supplement known to support stamina and resistance to fatigue.†
Choline Bitartrate: helps support acetylcholine production in the body promoting greater focus and a stronger mind-muscle connection.†
Caffeine (from Green Tea (Camellia sinensis)(leaf): great for increasing mental energy, focus, and concentration.†
Garcinia Cambogia Extract (Garcinia Cambogia)(fruit): may help decrease oxidative stress, suppress appetite, and support weight loss efforts.†
Dandelion Extract (Taraxacum officinale)(leaves): all-natural diuretic included to help shed unwanted water weight.†
Gamma-Butyrobetaine Hydrochloride (GBB): promotes thermogenic effect in the body, so expect to feel the heat.†
Yohimbine Bark Extract (8% Yohimbine): helps increase energy, focus and suppress appetite while also supporting fat burning.†
What Can I Expect?
Weight Loss†
Increase in Energy†
Increased Athletic Performance†
Endurance†
Who Should Take It?
Ape Shit Cutz is great for those looking to loose weight and boost their energy and performance in the gym.†
Featured Customer Reviews:
Justin Johnson Holy shit!!:
Phenomenal product!! Thermogenic blend is amazing!!
Cole O'Grady Apeshit crazy!:
This product gives you a great mental focus, intense energy and mind blowing pumps!!! One of the best supplemental products, that I have ever used!
FAQ:
How many servings are there?
There is 50 servings if you take one scoop. 25 servings if you take two scoops.
What flavors does it come in?
Currently there is 6 flavors: Smashberry, Lemon Lime, Cherry Lemonade, Orangutan Juice, Strawberry Peach and Sweet Tea Lemonade.
Can I take this with regular Ape Shit?
No, do not take this product with any other product that contains stimulants.
How much caffeine is there?
There is 150 mg in one scoop and 300 mg of caffeine in two scoops.
What is the difference between Ape Shit, Ape Shit Cutz, and Ape Shit Alpha?
The original Ape Shit is ideal for users who are stimulant sensitive and/or new to pre workouts.† Ape Shit Cutz is ideal for people that are looking for a weight loss aid but, still want a pre workout. This version contains ingredients to help you sweat and suppress your appetite.† Ape Shit Alpha is ideal for people who are looking for a pre workout that may also help build muscle and suppress estrogen while boosting testosterone.†
Similar Alternative Products:
Stacks Well With:
For additional weight loss stack with CLA 1000 and Carnislim.†
How Do I Take Ape Shit Cutz?
Suggested Dosage and Directions:
Mix 1-2 scoops in 6-8oz of cold water 15-20 minutes prior to workout. Start with 1 scoop to assess tolerance prior to moving to the 2 scoop serving size.
What's In Ape Shit Cutz?
Supplement Facts / Label: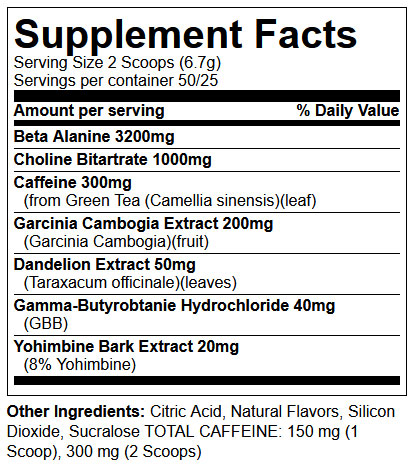 Warnings and Side Effects:
Not for anyone under the age of 18. This product is not to be used by anyone sensitive to stimulants such as caffeine. Not for use by individuals under the age of 18 years. Do not use if pregnant or nursing. Consult a physician or licensed qualified healthcare professional before using this product if you have, or have had a family history of:
Heart disease
Thyroid disease
Diabetes
High blood pressure
Depression
Other psychiatric condition
Glaucoma
Difficulty urinating
Prostate enlargement
Seizure disorder
Do not exceed recommended serving. Exceeding recommended serving may cause adverse health effects. Discontinue use and call a physician or licensed qualified health care professional immediately if you experience:
Rapid heartbeat
Dizziness
Severe headache
Shortness of breath
Other similar symptoms
Individuals who are sensitive to the effects of caffeine or have a medical condition should consult a licensed health care professional before consuming this product. Do not use this product if you are more than 15 pounds overweight. The consumer assumes total liability if this product is used in a manner inconsistent with label guidelines.
Do not use for weight reduction. This product is intended for use by healthy individuals only. KEEP OUT OF REACH OF CHILDREN. Too much caffeine may cause nervousness, irritability, sleeplessness and occasionally rapid heartbeat.
This product contains ingredients that may be banned by some sports organizations and/or increase risk of false positive on a drug test. Please consult with your sport organization or physician before taking this product.
Disclaimer:
PLEASE NOTE: Product images represent the product offered but may not contain exact attributes. Please read the product description for the specific attributes of this product.
†PLEASE NOTE: The intention of the information above is for reference only. It is our goal to maintain and display accurate information. Yet, we can't guarantee it represents the latest formulation of the product. If you have any concerns, please visit the manufacturer's website. The information above is not a representation of our views at Same Day Supplements. These are the views and information provided by the product's manufacturer. The Food and Drug Administration has not evaluated these statements. The intention of this product is not to diagnose, treat, cure or prevent any disease or illness.
*Prices are subject to change at any time and items may limit to stock on hand.
Other Information:
Visit Primeval Labs' website for more information.
In-stock orders placed before 3pm EST ship out the same day.
We offer many shipping options to countries like:
Brazil
United Kingdom
Canada
Germany
Australia
Japan
India
France
Israel
Worldwide
More Information

| | |
| --- | --- |
| SKU | APE-SHIT-CUTZ |
| Manufacturer | Untamed Labs |
Customer Reviews
Review Disclaimer:
The reviews posted below are based on individual customer experiences and not views or guarantees from SameDaySupplements.com. These results are not be typical. Actual results may vary.
Top customer reviews
Sweat of the day

The thermogenic pre is awesome. Definitely gives me that boost I need. The sweat I get is unreal.

Awesome!

Great preworkout, def felt a difference from others i've tried.

Great boost of energy

the flavour, packaging and results are great! Best pre workout I've tried so far.

Awesome

Huge fan of the Cherry Lemonade flavor. The taste amazing. Great energy for my workout too. Def noticed I sweat more on this pre workout compared to the other version. Overall great product.

Apeshit crazy!

This product gives you a great mental focus, intense energy and mind blowing pumps!!! One of the best supplemental products, that I have ever used!

Holy shit!!

Phenomenal product!! Thermogenic blend is amazing!!