ALPHAMINE™ BY PES, THERMOGENIC POWDER
Alphamine Benefits and Results:
Versatile Energy Powder †
With Carnitine, Theanine, and Choline †
125 mg of Caffeine †
Amazing Taste! †
ALPHAMINE - PESCIENCE - 84 SERVINGS - FAT BURNER POWDER

What Is PES Alphamine?
Alphamine from PEScience is the athlete energy drink. Unlike other energy drinks or coffee, Alphamine provides a clean boost of energy. The caffeine and theanine combination allows for smooth energy that lasts for hours. Plus there is additional ingredients like Leucine, L-Carnitine-L-Tartrate, and Choline. This makes Alphamine more than just an energy drink. It's a great thermogenic as well as a mood support agent. Experience the energy powder designed for athletes and fitness enthusiasts, Alphamine.

Alphamine is available in many delicious flavors and mixes easy. Alphamine has been known for its amazing taste for over 4 years! Make the switch - Experience the difference.
Alphamine Flavors Include:
Raspberry Lemonade
Fruit Punch
Strawberry Pina Colada
Appletini
Cotton Candy
Melon Berry Twist
How Much Caffeine Is In Alphamine?
There is 125 mg of caffeine in Alphamine. We do not suggest taking Alphamine with another source of caffeine such as a pre workout.
What Is Alphamine Good For?
As a Fat Burner for Weight Loss
As a Pre Workout
For Energy
What's In Alphamine?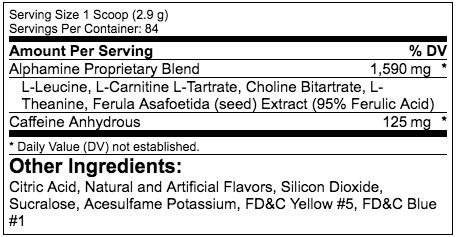 How Do I Take Alphamine?
Dosage and Directions:
Mix 1 scoop of Alphamine with 4-8 oz water. Adjust the amount of water to achieve desired taste. Not for individuals sensitive to caffeine. Do not exceed 2 scoopsof Alphamine per 6 hour period. Do not exceed 3 scoops per day. Consume at least 125 Fl. Oz. of liquid per day for men and 91 Fl. Oz. of liquid per day for women while taking this product.
Warnings and Side Effects:

DO NOT USE IN COMBINATION WITH CAFFEINE OR ANY STIMULANTS FROM OTHER SOURCES. DO NOT USE UNDER EXTREME CONDITIONS OF HEAT, SLEEP DEPRIVATION OR DEHYDRATION. DO NOT COMBINE WITH ALCOHOL. This product is only intended to be consumed by healthy adults 18 years of age or older. Consult with your physician before using this product. This product contains caffeine . Stop use 2 weeks before surgery. Consult your health care professional if you experience any adverse reaction. Do not exceed recommended serving. Do not take if pregnant or nursing. Do not use if safety seal is broken or missing. KEEP OUT OF REACH OF CHILDREN.
PLEASE NOTE: Product images represent the product offered but may not contain exact attributes. Please read product description for the specific attributes of this product.
† PLEASE NOTE: The intention of the information above is for reference only. It is our goal to maintain and display accurate information. Yet, we can't guarantee it represents the latest formulation of the product. If you have any concerns, please visit the manufacturer's web site. Also the information above is not a representation of our views at Same Day Supplements. These are the views and information provided by product's manufacturer. The Food and Drug Administration has not evaluated these statements. The intention of this product is not to diagnose, treat, cure or prevent any disease or illness.
*Prices are subject to change at any time and items may limit to stock on hand.
In-stock orders placed before 3pm EST ship out the same day.
We offer many shipping options to countries like:
Brazil
United Kingdom
Canada
Germany
Australia
Japan
India
France
Israel
Worldwide
More Information

| | |
| --- | --- |
| SKU | PES-ALPHAMINE |
| Manufacturer | PES |
Customer Reviews
Tastes Great!

Gives you tons of energy without the jitters! This is great to stack with high volume!

Good

Good, clean energy. Makes you sweat like crazy.

BEST!

Best thermogenic powder on the market! Tastes great too!

thermo powder

This is my new favorite thermogenic product on the market today. It really makes you sweat. The focus is great and has clean energy. Would definitely recommend this. Nota huge fan of the flavoring but when the product is effective I look past it.

Alphamine

If you like to sweat through your clothes at the gym this is the product for you! Great Thermogenic product. Would highly recommend this product and will continue to buy and use it!

Best out there.

Extremely happy with this product. Clean energy, and tastes delicious! All of PES products I have tried are awesome and work. Thanks Sameday

Burns fat, not muscle

Before even using this stuff I could tell how effective it would be just by reading the ingredient profile.

Probably the most well put together fat burner on the market.

I love the 98% Chlorogenic Acid, as well as the HICA which helps boost protein synthesis and prevents the breakdown of muscle tissue

Great energy and focus as well. Really helped me lean up and lose belly fat. I actually got good pumps off this when I used it pre workout.