Universal Nutrition Hi Protein Bar
SKU
UNIVERSAL-HI-PROTEIN-BAR
Universal Hi Protein Bar Benefits:
33 Grams of Protein per Bar †
4 Quality Protein Sources †
20 Key Vitamins and Minerals †
Only 1 Gram of Sugar †
Universal Hi Protein Bar - Protein Bars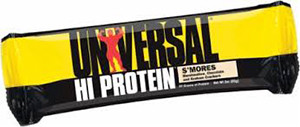 First there was the "energy bar." This was followed by the "high protein" bar and then the "low carb" bar. With the Universal Hi Protein Bar, a new precedent has been set: the high protein/low carb (HPLC) bar. Universal Hi Protein Bar is the first HPLC bar with over 33-34g of protein and only 7g of net impact carbs. With a protein-to-carb ratio of nearly 5-to-1, there is no other bar like it in the world. For starters, the Universal Hi Protein Bar is the world's largest high protein bar, topping the scales at 85g (9% larger than typical bars). And while many bars use only whey protein concentrate exclusively, Hi Protein also uses the purer, more expensive whey protein isolates in each and every bar. Plus, you'll also find hydrolyzed whey protein, glutamine peptides, and soy isolates. You won't find this combination in anything else. But protein is only part of the story. Compare Hi Protein Bar's 1g sugars to others. Some "high protein" bars contain 13g of sugars! Hi Protein Bar is also the only bar of its kind which contains no sucrose or added salt. There is no other bar in this category which can make these claims. Not one. How is this possible? We make all of our own bars. We don't hire a "contract manufacturer" to do it for us. Ever wonder why nearly all bars taste the same? That's right, contract manufacturing. Does the back of your high protein bar say, "made by" as it should, or does it say "made for" or "distributed by"? This is an important distinction. Manufactured by us. More protein, fewest carbs. What more do you need to know? How about a nice, easy price? Because we're the manufacturer, we can keep quality up and cost down. On a gram per gram basis, Universal Hi Protein Bar is the most economical of all the bars. Bottom line: you're not going to find more protein and fewer carbs anywhere else at a better price. Finally, while protein content may be the primary concern, and while the price is secondary, there's still the issue of taste. A bar can be great in every respect, but without taste, it will never succeed. Some bars on the market have the consistency of asphalt. Others taste like they're made of concrete. Rest assured, all of the Universal Hi Protein Bars are soft, moist, fresh and delicious. In a recent comparison, consumers chose ours as one of the best tasting high protein bars on the market. With 20 key vitamins and minerals and its proprietary Hi Protein Bar Matrix, the Universal Hi Protein Bar is hard to beat. Extremely hard.
What's In Universal Nutrition Hi Protein Bars?
How to Take Universal Nutrition Hi Protein Bars:
Eat a Universal Hi Protein Bar after weight training or whenever you need extra protein in your diet. Store in a cool, dry place (50 degrees F to 65 degrees F) at 50% relative humidity) away from direct heat and sunlight.
Warnings:
Made on equipment that also processes milk, egg, soy, peanuts, and tree nuts.
PLEASE NOTE: Product image is representative of the product offered but may not have the exact attributes. Please read product description for the specific attributes of this product.
PLEASE NOTE: The information above is intended for reference only. While we attempt to keep our information accurate, we cannot guarantee it is an accurate representation of the latest formulation of the product. If you have any concerns, please visit the vendor's web site. The information above are the views of the product's manufacturer, not the views of Same Day Supplements. These statements have not been evaluated by the Food and Drug Administration. This product is not intended to diagnose, treat, cure or prevent any disease.
*Prices are subject to change at any time and some items are limited to stock on hand.
In-stock orders placed before 3pm EST ship out the same day.
We offer many shipping options to countries like:
Brazil
United Kingdom
Canada
Germany
Australia
Japan
India
France
Israel
Worldwide
More Information

| | |
| --- | --- |
| SKU | UNIVERSAL-HI-PROTEIN-BAR |
| Manufacturer | UNIVERSAL NUTRITION |
Customer Reviews
Custo benefício

Salva a dieta em qualquer horas ótimo produto

Hi Protein Bar

Very Tasty Bar. Great Ingredient Profile.