Optimum Fiber - Unflavored - 36 Servings
Benefits and Results:
5 Grams of Fiber per Serving†
6 Different Fiber Sources†
Only 10 Calories†
Mixes Easily†
Fitness Fiber By Optimum Nutrition - 30 Servings - Unflavored - Digestion Health
What Is It?
Optimum Nutrition Fitness Fiber provides 5 grams of fiber in every serving. It is recommended for healthy adults to intake 25 to 35 grams of fiber per day. †
However, if you do not consume the appropriate amounts of fruits, vegetables and whole grains, this can be difficult to achieve.
Athletes and health-conscious individuals value an optimal digestive system to effectively breakdown and absorb nutrients. †
How Does It Work?
Dietary Fiber includes the parts of plant foods that your body cannot absorb or breakdown. It passes through the stomach, small intestine, colon and then out of the body.
A diet high in fiber can help normalize bowel movements, lower cholesterol, clean out toxins, improve blood sugar levels, and can even help you achieve a healthy weight. †
Fiber has also been associated with reducing the risk of cardiovascular disease and all cancers. †
Ingredients:
Total Carbohydrates: 6g
Dietary Fiber: 5g
Fiber Blend: Polydextrose, Maltodextrin, Inulin, Partially Hydrolyzed Guar Gum, Psyllium Seed Husk, Gum Arabic
What Should I Expect?
Over time this product may support improved bowel health and promote an overall sense of well-being (feeling healthy).†
Who Should Take It/ Who Shouldn't Take It?
This product is intended for healthy adults who are looking to increase their daily fiber intake. Take throughout the day as part of a balanced diet and exercise program.
Featured Customer Reviews:
Good Source of Fiber. By Thiago
Essential for all types of diets. Very good for a healthy body.
Great One. By Arthur
Quality fiber for those who doesn't get it through regular food.
Great Supplement. By Jhonatas
Great supplement for those who do frequently eat fiber. Great intestinal regulator.
FAQ:
Does this contain any calories?
Yes, there is 10 calories in each serving.
Does this product come flavored?
Unfortunately, the product is only unflavored. However, this makes the product more versatile in what it can be mixed with/in.
Comparisons:
This product contains 3 grams of Dietary Fiber (2 grams being Soluble) in 6 capsules.
Vs. Fiberlyze By Species Nutrition
This product contains 9 grams of fiber (8 grams being soluble) in each scoop.
How Do I Take It?
Dosage and Directions:
Add 1 teaspoon of Fitness Fiber to any beverage or food with a consistency that permits easy mixing. Sauces, dressings, soups, puddings and cottage cheese are all good examples. Stir until thoroughly mixed.
To assess your tolerance for extra dietary fiber, start with one serving per day, preferably with a meal. You can gradually add additional servings with other meals or protein shakes as needed.
What's In Optimum Nutrition Fitness Fiber?
Supplement Facts / Label: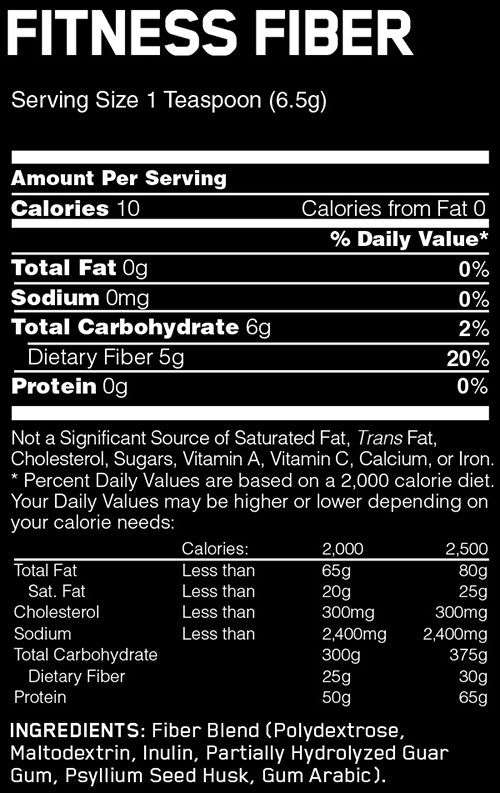 Warnings and Side Effects:
Consult your physician before using this product if you are taking any medications or are under a physician's care for a medical condition. Not for use by those under the age of 18 or women that are pregnant, trying to get pregnant, or nursing.
Disclaimer:
PLEASE NOTE: Product images represent the product offered but may not contain exact attributes. Please read the product description for the specific attributes of this product.
†PLEASE NOTE: The intention of the information above is for reference only. It is our goal to maintain and display accurate information. Yet, we can't guarantee it represents the latest formulation of the product. If you have any concerns, please visit the manufacturer's website. The information above is not a representation of our views at Same Day Supplements. These are the views and information provided by the product's manufacturer. The Food and Drug Administration has not evaluated these statements. The intention of this product is not to diagnose, treat, cure or prevent any disease or illness.
*Prices are subject to change at any time and items may limit to stock on hand.
References:
Sharon V Thompson, Bridget A Hannon, Ruopeng An, Hannah D Holscher (Dec 2017). Effects of Isolated Soluble Fiber Supplementation on Body Weight, Glycemia, and Insulinemia in Adults With Overweight and Obesity: A Systematic Review and Meta-Analysis of Randomized Controlled Trials. https://pubmed.ncbi.nlm.nih.gov/29092878/
Vicky A Solah, Deborah A Kerr, Wendy J Hunt, Stuart K Johnson, Carol J Boushey, Edward J Delp, Xingqiong Meng, Roland J Gahler, Anthony P James, Aqif S Mukhtar, Haelee K Fenton, Simon Wood (Feb 2017) Effect of Fibre Supplementation on Body Weight and Composition, Frequency of Eating and Dietary Choice in Overweight Individuals. https://pubmed.ncbi.nlm.nih.gov/28212353/
In-stock orders placed before 3pm EST ship out the same day.
We offer many shipping options to countries like:
Brazil
United Kingdom
Canada
Germany
Australia
Japan
India
France
Israel
Worldwide
More Information

| | |
| --- | --- |
| SKU | ON-0218 |
| Weight | 0.6000 |
| Manufacturer | OPTIMUM NUTRITION |
| UPC | 748927026528 |
Customer Reviews
Muito bom

Vale a pena para uma alimentação saudável e complemento de dieta

Fiber

great supplement for those who do not eat with frequency fibers, great intestinal regulator

great supplement

great supplement for those who do not eat with frequency fibers, great intestinal regulator

great one

quality fiber for those who doesnt get it through regular food.

Good source of fiber

esential for all types of diets. very good for a healthy body

great supplement

Great supplement optimum nutrition, and the site is also 10000000000000000 NOTE recommend the product and the site SAMY DAY SUPPLEMENTS.