Comprar Suplementos Importados Com Boleto Bancario
Suplementos Importados Com Boleto Bancario
Ainda não é possível comprar diretamente com boleto na Same Day Supplements, para comprar através de boleto você terá que comprar um "gift card" antes e depois usa-lo no fechamento de sua ordem, a compra do "gift card" funciona da mesma forma que você compraria qualquer outro produto no site. Por que eu tenho que compra um gift card antes? Porque é o único item do site que pode ser pago através de boleto bancário. O gift card ou "vale presente" em português, é na verdade um cupom (um código) que você compra com determinado valor para dar a alguém ou usa-lo mesmo.No momento da compra é possível selecionar o valor do gift card que pode ser desde $25.00 - $3,000.00 dólares, recomendo que você faça uma simulação de sua encomenda antes, para saber quanto ela irá custar. Você pode comprar seu gift card através do seguinte link: Gift Card

O boleto já será gerado com o valor em reais e você pode pagar em qualquer banco ou lotérica, após a confirmação de pagamento seu gift card ficará disponível, então você deve clicar em gift card no menu a esquerda do site no ultimo item, depois você deve copiar o código e inseri-lo no no fechamento se sua ordem, como na imagem abaixo.
No campo de procura ("Search") digite Gift Card e clique na opção que aparecer.
Vai abrir uma página e no campo "Enter Value" você vai colocar o valor do crédito que você quer comprar e que vai ser usado na compra. Depois clique em "add to cart".
Clique em "view cart & checkout".
Faça o login na sua conta, se não tiver conta é só se registrar, mas é importante lembra que a primeira compra na loja tem que ser obrigatoriamente por Paypal.
Escolha o endereço e clique em "continue".
Clique em "continue" na página com o boleto EBANX que é o site que faz toda a transação.
Agora clique em "Place Order", então você vai ser redirecionado para o site da EBANX.
Escolha a opção boleto, clique em continuar, o boleto será gerado e depois é só efetuar o pagamento.
Pronto agora é só esperar os seus créditos serem confirmados pela EBANX e depois pela SameDay Supplements, pode ficar tranqüilo, que você será notificado por email.
Você vai ver que sua compra vai ficar como "Pending" enquanto seu boleto não é confirmado.
Quando você receber o email da SameDay Supplements é só você logar em sua conta em My Account e ir na guia "Gift Card".
Clique em "Redeem" no seu gift card para que seus créditos sejam colocados em sua conta.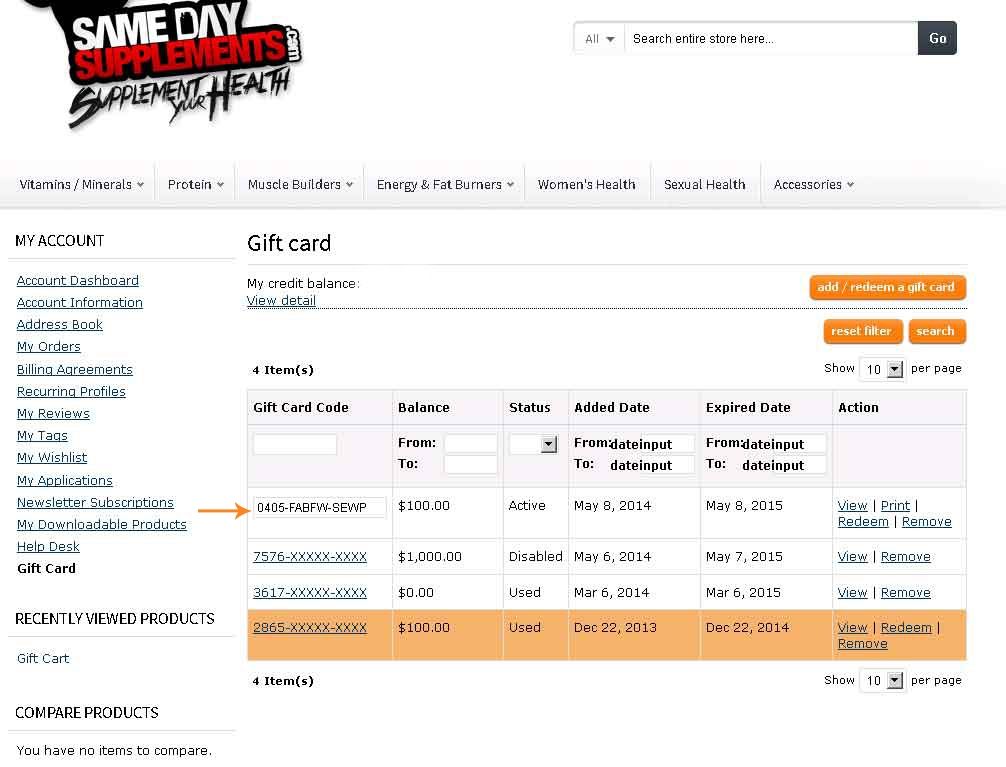 Seus créditos estarão em sua conta automaticamente quando clicar em Redeem.
Agora é só fazer sua compra normalmente e no momento que estiver no seu carrinho pra ir fazer o checkout escolha a opção "use gift card to checkout". Não se preocupe em coloca exatamente o valor pois o site já ajusta automaticamente, por exemplo, sua compra de 51.84 dólares, é só você colocar 52 dólares.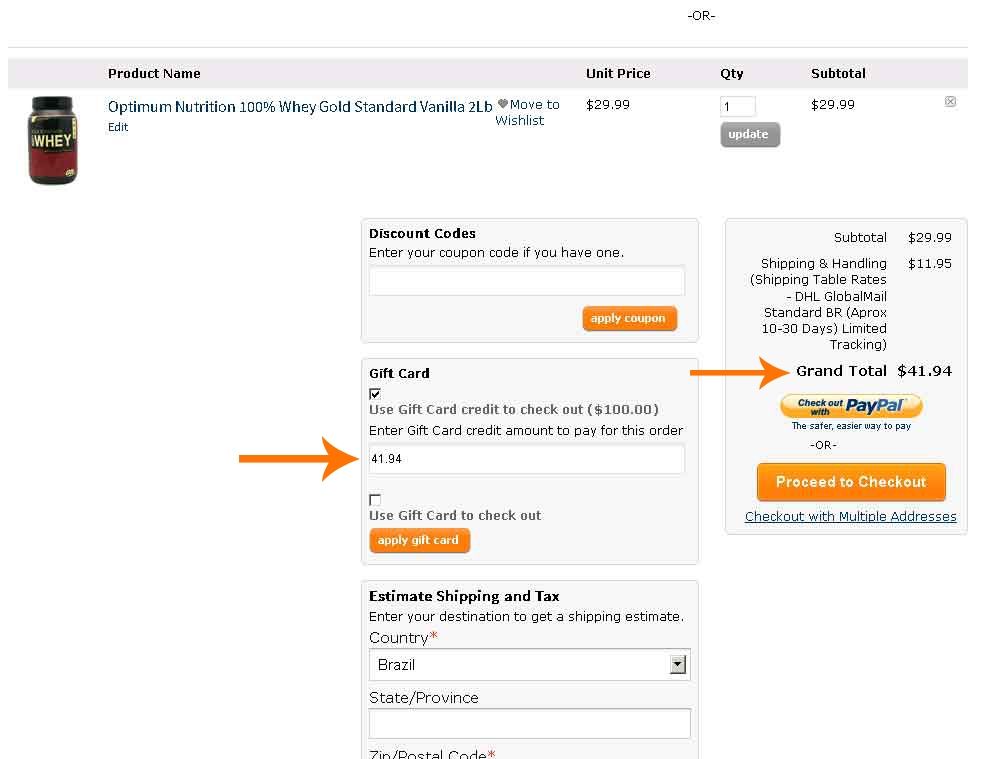 Pronto agora é só terminar o processo de compra normalmente.