Psychotic Gold VS Psychotic (2019 Review)
Psychotic Gold VS Psychotic (2019 Review)
Introducing one of our newest pre workout series, Psychotic and Psychotic Gold by Insane Labz! First things first, these aren't the only pre workouts in Insane Labz's arsenal. They also have Psychotic HellBoy and Redrum. So if you want a review or comparison of those products as well, make sure to leave us a comment or send an email HERE.
But this blog will be covering Psychotic Gold and Psychotic only. We're going to breakdown:
What's The Same,

What's Different,

What You Should Expect,

And More!
What Are They?
Both Psychotic and Psychotic Gold are intense, energy focused pre workouts. However, they both feature a great mix of pump, and focus ingredients as well. We'll dive more into the specifics later in the post but if you want to jump ahead click here.
How Should I Take It?
We, and the manufacturers, recommend you asses your tolerance to either pre workout. Start with ½ scoop or less and gradually increase to a full scoop when you're comfortable. Due to the potency of these pre workouts, you shouldn't consume caffeine or stimulants from other sources.
Does Psychotic or Psychotic Gold Have Sides Effects?

Insane Labz indicates that you shouldn't exceed the recommended serving size (1 scoop). Also, these pre workouts are not intended for persons under the age of 18. You should stop using either pre workout if you experience the following:
Rapid heart beat, dizziness, severe headaches or shortness of breath
or
2 weeks prior to surgery.
You should consult your physician if you are currently on medication or have a medical condition.
Can Women Take It?
Absolutely! Both Psychotic and Psychotic Gold are not gender-specific. But consult your physician prior to use if you are pregnant or nursing.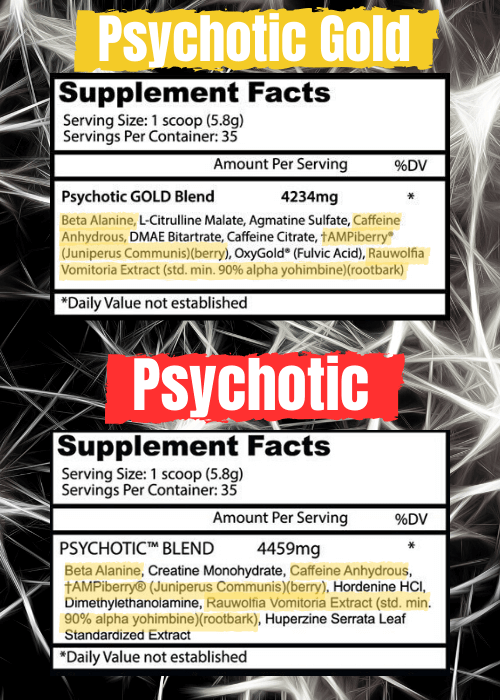 How Do They Compare?
Both Psychotic Gold and Psychotic have 35 servings per container and feature a 5.8 gram scoop.
The Shared Ingredients:
As you can see above, we've highlighted all the shared ingredients between these products.
This includes:
Beta Alanine

Caffeine Anhydrous

†AMPiberry®

Rauwolfia Vomitoria Extract
Beta Alanine
As you workout your muscle cells excrete lactic acid. Lactic acid build up is one of the things associated with muscle soreness and fatigue. Beta-alanine buffers the lactic acid from building up. As a result you will be able to get a few more reps out in the gym. (1)

Caffeine Anhydrous
Caffeine is a central nervous system stimulant of the methylxanthine class. How caffeine works is by binding to a specific receptor in the brain called the adenosine receptor. But, unlike adenosine, caffeine doesn't slow down the cell. Instead the nerve cells speed up. Caffeine also causes the brain's blood vessels to constrict. This is due to it blocking adenosine's ability to open them up. Which is why it is sometimes referred to as a vaso-constrictor, like other stimulants. (2)
Although both Psychotic Pre Workout and Psychotic Gold Pre Workout are proprietary blends:
Insane Labs has confirmed there is approximately 300mg of caffeine in Psychotic and 400mg of caffeine in Psychotic Gold Pre Workout.
†AMPiberry®
AMPiberry, aka Juniper Berry, is a pretty new ingredient in pre workouts. In fact, it's actually more prevalent in diuretics. So if you find yourself losing some water weight while taking either pre workout, you have the Juniper Berry to thank. But as you can image that's not why Insane Labz included this ingredient. There is some evidence that AMPiberry promotes a smooth energy curve when paired with caffeine and other stimulants.

What does this mean?
 AMPiberry will help increase the effects of stimulants. Doing so promotes lasting energy at a smoother rate. (3)
Rauwolfia Vomitoria Extract
If you don't recognize Rauwolfia Vomitoria, you may know its more common name yohimbine. This ingredient is also not very common in pre workouts. Instead, you're way more likely to find a version of yohimbine in a fat burner. Why?
Yohimbine is a great thermogenic. There are a couple of ways yohimbine functions. The main way is through blocking alpha-2 adrenergic receptors located in fat cells. Once yohimbine has bound with a fat cell, it "turns off" the alpha receptor. Which allows the fat cells to mobilize and burn off. But yohimbine is also a mild stimulant. For a pre workout, this means you'll get the benefits of a stimulant and it may help you sweat more. (4)
What Makes Them Special?
Now that we've covered what's the same, lets breakdown what makes them different. Firstly, if you like having many flavor to run through, psychotic is for you. Psychotic comes in 7 flavors:
Cotton Candy

Fruit Punch

Grape

Gummy Candy

Watermelon

Apple

Sour Cherry Colada
Where as Psychotic Gold currently on has 3:
Gummy Candy

Orange

Fruit Punch
We've already mentioned the difference in caffeine mgs, but overall-
Psychotic has 4,459mg of active ingredients compared to Psychotic Gold's 4,234mgs. But before you make a quick judgement, more mg doesn't mean more potent. So lets compare the individual ingredients.

Psychotic
Creatine Monohydrate

Hordenine HCl

Dimethylethanolamine (DMAE or DMEA)

Huperzine Serrata Leaf Extract



Creatine Monohydrate
This is a combination of three naturally occurring amino acids found in the body (L-arginine, Glycine, L-methionine). Creatine helps in build muscle in a few ways but its most recognized ability is it affect on ATP Production and cell hydration. A fully hydrated cell is a more anabolic cell. Meaning you have a higher increase of muscle protein synthesis. (5)
Hordenine HCl
Hordenine HCl is another common fat burner ingredient. It's similar to yohimbine in that it's a thermogenic and stimulant. But chemically it's closer to Bitter Orange Extract (Synephrine). This is going to promote an increase in energy and may play into some mood enhancement.(6)
Dimethylethanolamine
DMAE or DMEA promotes improvements in cognitive functions. That means more focus/concentration and some more mood boosting effects.(7)
Huperzine Serrata Leaf Extract
Our last ingredient in Psychotic is Huperzine Serrata Leaf Extract. Which is actually common in both fat burners and pre workouts. Huperzine A is actually considered a natural anti depressant. But it is also useful in improving focus. In fact, it's been used to help treat Alzheimer's disease.(8)

Psychotic Gold
L-Citrulline Malate

Agmatine Sulfate

DMAE Bitartrate

Caffeine Citrate

OxyGold (Fulvic Acid)
L-Citrulline Malate
L-Citrulline Malate introduces our first pump ingredient from both of these products. The only difference between L-citrulline and citrulline malate is the addition of malic acid. Traditionally, malic acid is used as a preservative in packaged foods. But as a supplement, it can improve stamina and reduce pain and inflammation induced by high intensity training.(8,9)
Agmatine Sulfate
Another pump ingredient in Psychotic Gold is Agmatine Sulfate. Agmatine is a metabolite of L-Arginine, an amino acid. Research suggest it may govern nitric oxide (NO) synthesis. As well as working to properly regulate cellular energy. This makes agmatine sulfate a popular pump-inducing supplement choice. But further research is needed on this ingredient. (10,11)
DMAE Bitartrate
Next we have DMAE again but with the addition of Bitartrate. This will provide the same benefits as DMAE. But, because of the bitartrate, it does have less of the actual DMAE. (12)
Caffeine Citrate
Psychotic Gold features 2 types of caffeine; the Anhydrous and the Citrate.
What's different?
Caffeine Citrate is the fastest acting caffeine available, which makes it very popular in supplements. Whereas Caffeine Anhydrous is the purest form of caffeine available. †
OxyGold (Fulvic Acid)
OxyGold or Fulvic Acid is useful in a lot of ways. But in a pre workout, its helpful at increasing the bioavailablity of other ingredients. Fulvic acid helps:
transports minerals and other nutrients to cells more effectively

boosts absorption rate of nutrients by making cells more permeable

and fights inflammation within the digestive organs
There are a ton of factors that influence how your body absorbs nutrients. But the essential point is that you don't absorb 100% of anything you consume from food to supplements. So even if you've had a pre workout that claimed 300mg of caffeine before, you didn't feel the 300mg. With the addition of Fulvic Acid, now you'll feel it. And for a longer period of time. But it should be noted there needs to be more research on how effective it is.(13)
What To Expect
OK so now that we know what these pre workouts are and what makes them unique, what can you expect from them.
Both pre workouts are high energy pre workouts.
BUT
With the addition of the OxyGold and the AMPiberry, we expect Psychotic Gold to kick in faster and for longer. And the addition of pump ingredients in Psychotic Gold will help promote increased endurance.  However, Psychotics use of mood and cognitive boosters may give it an edge in the focus department. 
Which Should You Try?
Well if you're looking for a strong, all-around good pre workout we'd recommend Psychotic Gold. But if you're more interested in the energy and focus, Psychotic may be better.
Let's Look At The Reviews!
Psychotic Review By Charles

Do ya wanna get stimulated for the gym, cutting the grass, building a garage, a house whatever, if it involves physical activity…Psychotic is a good product. And for all you stupid people…. .its not to take and the go jogging or running. There is a difference. Ur heart will wanna jump out of your chest. Please stupid people…do not buy this product. It isn't meant for you. Seriously.

Psychotic Gold Review By Eric

This pre workout really is insane! First time I took it I got a new pr. Not only do I have more energy and endurance, but I feel my strength go up! I am very motivated for the gym these days too. I think gummy candy best flavor hands down and SameDaySupps is definitely my go to shop for sups. Placed my order at 8am and got my tracking info in the afternoon. Very happy customer.
WARNING:
NOT FOR USE BY INDIVIDUALS UNDER THE AGE OF 18 YEARS. DO NOT USE IF YOU ARE PREGNANT OR NURSING. THIS PRODUCT CAN RAISE BLOOD PRESSURE AND INTERFERE WITH OTHER DRUGS YOU MAY BE TAKING. TALK TO YOUR DOCTOR ABOUT THIS PRODUCT.
† PLEASE NOTE: The intention of the information above is for reference only. It is our goal to maintain and display accurate information. Yet, we can't guarantee it represents the latest formulation of the product. If you have any concerns, please visit the manufacturer's web site. Also the information above is not a representation of our views at Same Day Supplements. These are the views and information provided by product's manufacturer. The Food and Drug Administration has not evaluated these statements. The intention of this product is not to diagnose, treat, cure or prevent any disease or illness.