Amino X By BSN, Amino Acids
Amino X Benefits and Results:
Improves Endurance & Recovery †
Stimulant-Free †
Prevents Muscular Fatigue †

10 Gram Blend of Essential BCAAs †
Amino X By BSN - Amino Acids

What Is BSN Amino X?
Unleash Your Performance Potential! BSN AMINO X is a stimulant free, BCAA formula designed to support endurance during your workout and aid in muscle recovery post training, so you can push your performance to the next level. Amino X is a 10 gram blend of BCAAs and the essential amino acids, L-Alanine, Taurine and L-Citrulline, BSN AMINO X will help your body recover from today's workout and prepare for tomorrow's. Offered in five refreshing flavors, BSN AMINO X provides you with versatile, nutritional support for any type of workout regimen.
BCAAs and the Body
Amino acids are the building blocks of protein, and therefore, the building blocks of lean muscle. Branched Chain Amino Acids (BCAAs) refer to three specific amino acids - Leucine, Isoleucine and Valine - that the body must obtain from either food or BCAA supplementation. BCAAs can be used by muscle cells as an energy source, which may help offset muscle breakdown during endurance exercise and help support recovery and repair after weight training. As a result, BCAAs are a popular and relevant supplement among those who exercise regularly*.
AMINO X: Effervescent Instantized Amino Acids
Endurance Training*
Muscle Recovery and Repair*
Workout Performance*
Muscle Protein Synthesis*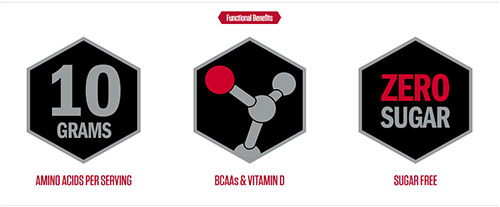 What's In BSN Amino X?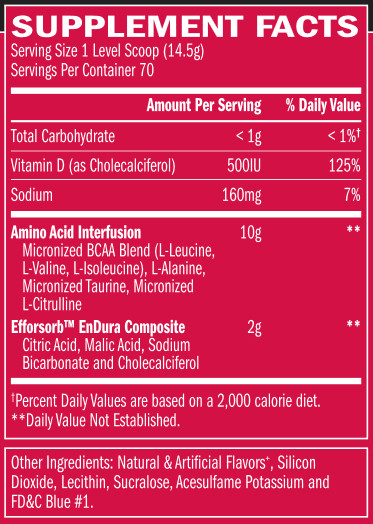 How Do I Take BSN Amino X?

As a dietary supplement, mix 1 scoop of BSN Amino X with 6 oz of cold water or any beverage of your choice before, during or after your workout. To ensure maximum results; wait 20-30 minutes after taking BSN Amino X before eating a meal or drinking a shake.
Note: To prevent settling, stir and drink immediately. To maximize the effects of BSN Amino X consume 120 oz of water per day and a diet that is rich in protein and carbohydrates, You body chemistry and weight will determine how long it takes to experience the effects of BSN Amino X. BSN Amino X begins to induce its maximum effects in weeks 3-12. After 12 weeks of use, discontinue for at least 4 weeks.
SODA SERIES: Mix about 2 scoops (15 g) with 6-8 fl oz of cold water and consume 15 - 30 minutes prior to workout.
Warnings:
Before consuming seed advice from a physician if you are unaware of your current health condition or have any pre-existing medical condition or if you are taking an MAO Inhibitor or any other medication. DO not use if you are contemplating pregnancy, pregnant, nursing, prone to dehydration, or exposed to excessive heat. Reduce or discontinue use if sleeplessness, tremors, dizziness, nervousness, headaches, or heart palpitations occur. Only intended for use by healthy adults 18 years of age or older. Keep out of reach of children and pets. Store in cool dry place away from direct sunlight. Consumer is responsible for ensuring that his/her use of this product complies with the rules and regulations of all governing bodies or other entities having jurisdiction over any sport or athletic activity in which he/she participates as well as any career regulations. User assumes all risks, liabilities, and consequences related to any and all non-compliance issues that may arise by these entities. Allergen Warning: Manufactured on equipment, which processes products containing milk, egg, soybeans, whey and tree nuts. Allergen Information: Contains Soy (Lecithin) ingredients. Due to settling, a natural occurrence with powders, variations in the powder height level may vary from bottle to bottle. Powder density may be affected as a result of the settling which may cause slight variations in scoop serving size.
PLEASE NOTE: Product image is representative of the product offered but may not have the exact attributes. Please read product description for the specific attributes of this product.
PLEASE NOTE: The information above is intended for reference only. While we attempt to keep our information accurate, we cannot guarantee it is an accurate representation of the latest formulation of the product. If you have any concerns, please visit the vendor's web site. The information above are the views of the product's manufacturer, not the views of Same Day Supplements. These statements have not been evaluated by the Food and Drug Administration. This product is not intended to diagnose, treat, cure or prevent any disease.
*Prices are subject to change at any time and some items are limited to stock on hand.
In-stock orders placed before 3pm EST ship out the same day.
We offer many shipping options to countries like:
Brazil
United Kingdom
Canada
Germany
Australia
Japan
India
France
Israel
Worldwide
More Information

| | |
| --- | --- |
| SKU | BSN-AMINO-X |
| Manufacturer | BSN |
Customer Reviews
Excelente produto

Sabor perfeito e resultado maravilhoso! (Perfect taste and wonderful result!)

Otimoo

Melhor combo de aminoácidos

Excelente produto

Site confiável e entrega rápida. Recomendo.

Delicious

The taste it's delicious

Ótimo Intra-Treino

Excelente suplemento! Muito saboroso, oferece 10g de BCAA e rende mais de 30 doses. Recomendo a todos!

BSN quality

great source of BCAA, great quality.good for befgore and after workout.really good product

big supplement and good price

excellent product with 10g of amino acids.

tastes wonderful

this is by far the best tasting amino complex around!