Amino Build Next Gen, By MuscleTech
Test subjects built 3.75 lbs. of lean muscle
Clinically shown to boost strength by 40%
Enhances endurance with the first dose
Amino Build Next Gen By MuscleTech - Amino Acids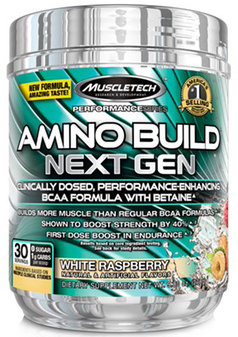 Builds Muscle and Enhances Performance:
Branched chain amino acids (BCAAs) have been used by top bodybuilders and other athletes for years due to their ability to support training endurance and recovery! BCAAs are comprised of 3 powerful amino acids – leucine, isoleucine and valine – and are perfect for any hard-training athletes because they serve as primary building blocks for muscle and helps combat muscle loss and protein breakdown, especially during intense training.

And while many BCAA powders deliver these basics, most BCAA or amino powders are not based on scientific research, nor are they designed to enhance performance. MuscleTech Researchers knew this when they created the original AMINO BUILD formula, and that's why they engineered more than just another "me too" amino formula. Instead, AMINO BUILD was developed with elite athletes in mind and formulated with clinically researched ingredients that drive peak performance – including a massive dose of BCAAs, clinically researched doses of leucine, and betaine that other amino formulas simply didn't have.
The Clinically Dosed Muscle & Performance Enhancing BCAA Formula:
Now MuscleTech Researchers have taken this most powerful amino acid formula and made it even better! Introducing MUSCLETECH AMINO BUILD NEXT GEN! This powerful new formula updates the original AMINO BUILD formula with a new electrolyte complex and even better flavor! And unlike other underdosed products that have little or no research to back up their claims, MUSCLETECH AMINO BUILD NEXT GEN is back by 4 different clinical studies that demonstrate its muscle-, strength- and performance-enhancing abilities!
Delivers 8 Grams of BCAAs:
This powerful pre- and intra-workout complex contains a massive 8g dose of 100% free-form BCAAs (per 2 scoops) in the ideal 2:1:1 ratio to help fuel skeletal muscles, preserve muscle glycogen stores and reduce protein breakdown.
Contains a Clinically Studied Dose of Betaine for More Lean Muscle:
Each 2-scoop serving of MUSCLETECH AMINO BUILD NEXT GEN also features a clinically studied 2.5g dose of betaine added to the formula that helped subjects significantly enhance their muscular endurance. This 2.5g dose also helped test subjects pack on 3.75 lbs. of lean muscle!
Provides a Precise Electrolyte Complex:
MUSCLETECH AMINO BUILD NEXT GEN is a truly complete formula featuring precise doses of coconut water and watermelon juice as well as electrolytes to help replenish electrolytes that are lost during hard training.
Powers Endurance Performance with a Clinically Studied Dose of Taurine:
Each 2-scoop serving of MUSCLETECH AMINO BUILD NEXT GEN features a 1g dose of taurine, which is clinically shown to improve athletic performance in endurance athletes.
Test Subjects Built 3.75 lbs. of Lean Muscle!
Betaine has quickly become a staple of many athletes' supplementation plans because of its ability to deliver real musclebuilding results. With the launch of the original AMINO BUILD formula, Team MuscleTech Researchers were amongst the first to include a clinical dose of betaine in any supplement, and the science continues to support this amazing ingredient!

In a 2013 study featuring 23 experienced strength-trained men between the ages of 18 and 35 conducted at a leading American University and published in the Journal of The International Society of Sports Nutrition, researchers found that subjects who supplemented with 1.25g of betaine twice a day with weight training, gained 3.75 lbs. of muscle in 6 weeks – while the placebo group gained just 0.66 lbs. That's over 5.5 times the muscle gained versus the placebo group from the exact dose found in 2 scoops of MUSCLETECH AMINO BUILD NEXT GEN!
Best-in-Class Taste!
MUSCLETECH AMINO BUILD NEXT GEN is flavored by experts in one of the world's top flavoring houses in order to taste better than any other amino acid powder on the market. Whether you drink it while you work out our sip on it throughout the day, we're confident you'll love the new and improved flavors that MUSCLETECH AMINO BUILD NEXT GEN delivers!
Tested for Quality and Purity:
To ensure a high standard of quality, each batch of MUSCLETECH AMINO BUILD NEXT GEN also undergoes strict quality control and is third-party tested and verified to ensure that each bottle of has the highest purity, quality and consistency.
What's In MuscleTech Amino Build Next Gen?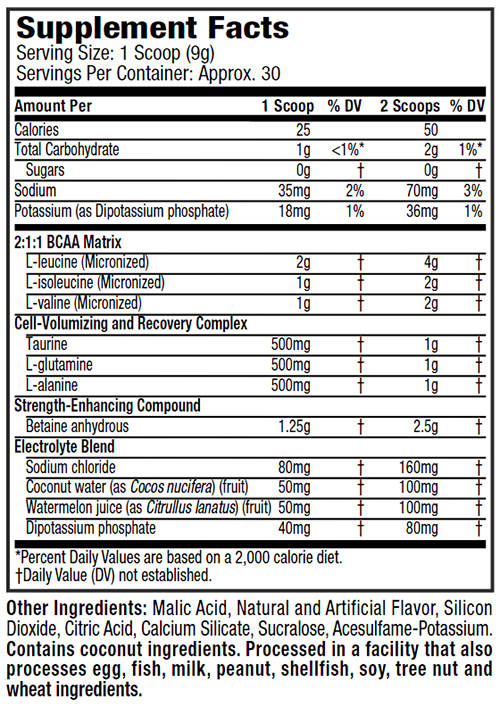 How to Take MuscleTech Amino Build Next Gen:
Mix 1 scoop of Amino Build Next Gen with 8 oz. of water and consume pre- and intra-workout. For full effects, mix 2 scoops of Amino Build Next Gen with 16 oz. of water and consume during your workout. Read the entire label before use and follow directions provided. If you want to add to your overall daily BCAA intake without the additional calories from drinking multiple protein shakes, you can also add 1 to 2 scoops of Amino Build Next Gen to a jug of water and drink it over time.
Warnings:
Not intended for use by persons under 18. Do not use if you are pregnant or nursing. Consult a medical doctor if you have a medical condition or before starting any diet or exercise program.
PLEASE NOTE: Product image is representative of the product offered but may not have the exact attributes. Please read product description for the specific attributes of this product.
PLEASE NOTE: The information above is intended for reference only. While we attempt to keep our information accurate, we cannot guarantee it is an accurate representation of the latest formulation of the product. If you have any concerns, please visit the vendor's web site. The information above are the views of the product's manufacturer, not the views of Same Day Supplements. These statements have not been evaluated by the Food and Drug Administration. This product is not intended to diagnose, treat, cure or prevent any disease.
*Prices are subject to change at any time and some items are limited to stock on hand.
In-stock orders placed before 3pm EST ship out the same day.
We offer many shipping options to countries like:
Brazil
United Kingdom
Canada
Germany
Australia
Japan
India
France
Israel
Worldwide
More Information

| | |
| --- | --- |
| SKU | AMINO-BUILD-NEXT-GEN |
| Manufacturer | MUSCLETECH |