Turnt Up Pump By EPG, Pre Workout, Fruit Punch, 45 Servings
Turnt Up Pump Benefits and Results:
Skin Splitting Pumps †
Kranked Up Intensity †
Extreme Energy and Endurance †
Increases Adrenaline †
Increases Blood, Nutrient, and Oxygen Flow †
Turnt Up Pump By EPG - 45 Servings - Fruit Punch - Pre Workout
EPG Turnt Up Pump is a complex pre-workout formula that combines some of the most effective ingredients available. Extremely high doses of N-Methylpentyl-iminoglutaric, Alpha Yohimbe, Synepherine, Agmatine Sulfate and more combine to create a unique, thermogenic and fat burning pre-workout formula.
When You Can't Wait For Your Next Workout ... You Know You've Been Turnt Up.
EPG Created Turnt Up to compare to past pre-workouts like Jack3d from USP Labs. Instead, we made something better! The thermogenic fat burning pre workout formula that makes you feel so good you will want to drink it before you go out at night. N-Methylpentyl-iminoglutaric, is a metabolite in the body and like the original Jack3d, has similar mood enhancement and focusing properties. It has remarkable structural similarities to past popular pre-workout products and has shown to increase adrenaline while increasing blood, oxygen, and nutrient flow in the body.
Endurance, Vascularity and Skin Splitting Pumps.
EPG Turnt Up Pump contains a uniquely elevated dose of the active ingredients Agmatine Sulfate and L-Arginine. L-Arginine is an amino acid, which promotes healthy heart function by increasing the body's blood flow. Happy Hour Workout - You'll want to drink EPG Turnt Up Pump before you go out at night. The EPG Turnt Up Pump blend combine with Endurance, Vascularity and Pumps blend and other high-end ingredients like Alpha Yohimbe, Synephrine, and Beta Alanine make EPG Turnt Up one of the most well-researched and top-performing pre workouts available today.
What's In EPG Turnt Up Pump?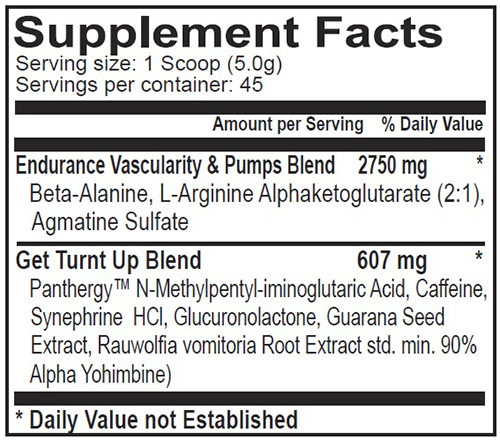 How to Take EPG Turnt Up Pump:
As a dietary supplement, take 1-2 scoops of EPG Turnt Up Pump (5 gram scoop) in 8oz of cold water 30 minutes prior to exercise. At first, try 1 scoop of EPG Turnt Up Pump to determine tolerance levels. Do not exceed 2 servings in any 24-hour period. Do not take within 6 hours of bed time. Make sure to read all warnings and take only as directed.
PLEASE NOTE: Product image is representative of the product offered but may not have the exact attributes. Please read product description for the specific attributes of this product.
PLEASE NOTE: The information above is intended for reference only. While we attempt to keep our information accurate, we cannot guarantee it is an accurate representation of the latest formulation of the product. If you have any concerns, please visit the vendor's web site. The information above are the views of the product's manufacturer, not the views of Same Day Supplements. These statements have not been evaluated by the Food and Drug Administration. This product is not intended to diagnose, treat, cure or prevent any disease.
*Prices are subject to change at any time and some items are limited to stock on hand.
In-stock orders placed before 3pm EST ship out the same day.
We offer many shipping options to countries like:
Brazil
United Kingdom
Canada
Germany
Australia
Japan
India
France
Israel
Worldwide
More Information

| | |
| --- | --- |
| SKU | BNE-0014 |
| Weight | 0.6400 |
| Manufacturer | EPG |
| UPC | 638936150041 |