BSN True Mass - Weight Gainer
Benefits and Results:
Calories Per Serving: 700 †
20 Grams of Natural EAAs †
10 Grams of Natural BCAAs †
True Mass By BSN - Weight Gainer Protein
What Is It?
BSN True Mass is an Ultra-premium lean mass gainer designed to support muscle growth and muscle recovery for individuals with above normal caloric needs.† This formula features 90 grams of carbs per serving and 50 grams of protein at 700 calories. † Also includes is 6 grams of dietary fiber per serving and Medium Chain Triglycerides. † BSN True Mass can be used post-workout, between meals and/or before bed, to fuel muscle recovery from heavy training while providing nutrients your body needs to continue building. †
How Does It Work?
BSN True Mass features a signature ultra-premium protein to fuel muscles with essential protein building blocks. † The carbohydrate blend provides the caloric support for intense training. Healthy fats supply quick-burning fuel to satisfy the serious athlete's energy demands.
Macros:
Calories: 710
Total Fat: 17g
Total Carbohydrate: 90g
Sugars: 14g
Protein: 50g
What Should I Expect?
Increased Endurance †
Faster Recovery†
Increased Protein Synthesis †
Reduced Body Fat†
Enhanced Exercise Performance †
Increased Strength †
Increased Lean Muscle Mass †
Who Should Take It/ Who Shouldn't Take It?
This product is intended for any individuals, men or women, who needs a calorie dense alternative or addition to regular foods to assist with gaining muscle mass.† This product is perfect for athletes and bodybuilders looking to increase their caloric intake.†
Featured Customer Reviews:
One of the best in the business. By Fhellipe
Very good weight gain, good taste and cost-effective, but should not subistituir a meal, only complement.
Big Product. By Thiago
Great product for mass gain
FAQ:
How much sugar does this have?
This product has 18 grams of sugar in each serving.
Does this have any creatine?
No, this product does not contain any creatine.
How long will it take to see results?
We recommend taking this product continuously for about 6 weeks.
Will this make me fail a drug test?
This product does not contain any banned substances.
Can I break up the serving size throughout the day?
Yes, 3 scoops at once can be a lot for some people. You may take 1 serving around each meal of the day to increase absorption.
Are there any side effects with taking this product?
When taken as directed, there are no reported side effects associated with this product.
Comparisons:
Vs. Serious Mass By Optimum Nutrition
This weight gainer has 1,250 calories, 50 grams of protein, along with 25 vitamins and essential minerals.
Vs. Syntha 6 By BSN
This protein has 200 calories and is intended to support lean muscle gains. It contains 22g of protein and 15g of carbohydrates.
This product has 1220 per serving, with 50g of signature protein.
Stackable with:
How Do I Take It?
Dosage and Directions:
Mix 3 scoops with 16 oz. of cold water or any beverage of your choice. Drink 1 serving daily, or as needed to satisfy your protein or mass-gaining requirements. To increase your protein and calorie intake per serving and to achieve an amazing milkshake taste, use milk.
What's In BSN True Mass?
Supplement Facts / Label: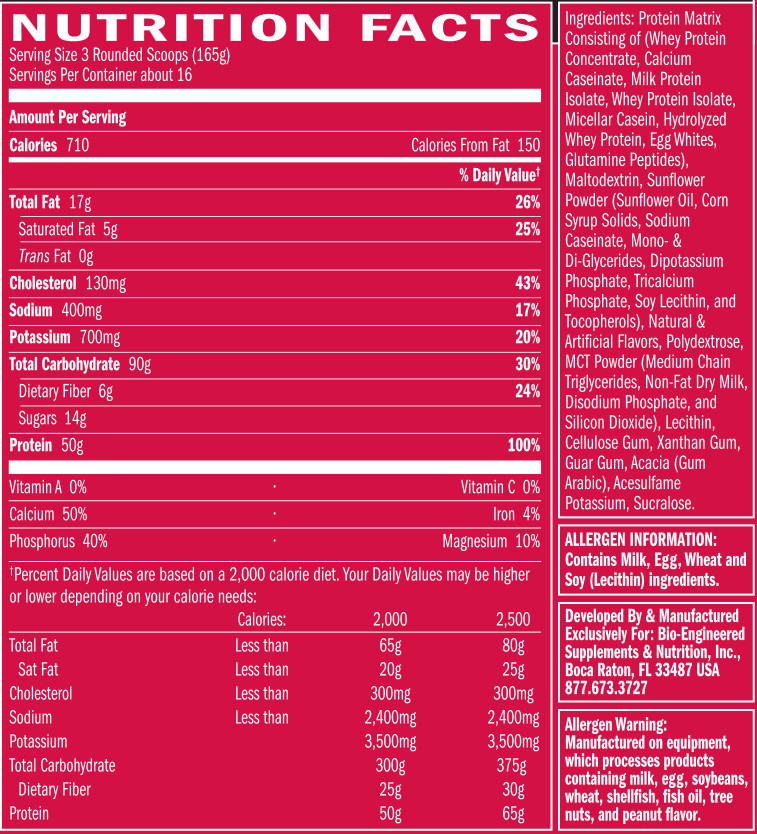 Warnings and Side Effects:
Please use only as directed. This product is intended for healthy adults over the age of 18. Please consult a medical professional prior to use if you take prescription medication and/or have a condition. Do not use if you are pregnant, or nursing.
Allergen Warning: Manufactured on equipment, which processes products containing milk, egg, soybeans, wheat, shellfish, fish oil, tree nuts, and peanut flavor.
Disclaimer:
PLEASE NOTE: Product images represent the product offered but may not contain exact attributes. Please read the product description for the specific attributes of this product.
†PLEASE NOTE: The intention of the information above is for reference only. It is our goal to maintain and display accurate information. Yet, we can't guarantee it represents the latest formulation of the product. If you have any concerns, please visit the manufacturer's website. The information above is not a representation of our views at Same Day Supplements. These are the views and information provided by the product's manufacturer. The Food and Drug Administration has not evaluated these statements. The intention of this product is not to diagnose, treat, cure or prevent any disease or illness.
*Prices are subject to change at any time and items may limit to stock on hand.
References:
Jeff S Volek, Brittanie M Volk, Ana L Gómez, Laura J Kunces, Brian R Kupchak, Daniel J Freidenreich, Juan C Aristizabal, Catherine Saenz, Courtenay Dunn-Lewis, Kevin D Ballard, Erin E Quann, Diana L Kawiecki, Shawn D Flanagan, Brett A Comstock, Maren S Fragala, Jacob E Earp, Maria L Fernandez, Richard S Bruno, Adam S Ptolemy, Mark D Kellogg, Carl M Maresh, William J Kraemer (2013). Whey protein supplementation during resistance training augments lean body mass. https://pubmed.ncbi.nlm.nih.gov/24015719/
Nuno M Duarte, Agostinho L Cruz, Diogo C Silva, Graça M Cruz (Jan 2020). Intake of whey isolate supplement and muscle mass gains in young healthy adults when combined with resistance training: a blinded randomized clinical trial (pilot study). https://pubmed.ncbi.nlm.nih.gov/31565912/
In-stock orders placed before 3pm EST ship out the same day.
We offer many shipping options to countries like:
Brazil
United Kingdom
Canada
Germany
Australia
Japan
India
France
Israel
Worldwide
More Information

| | |
| --- | --- |
| SKU | TRUE-MASS |
| Manufacturer | BSN |
Customer Reviews
One of the best in the business

Very good weight gain, good taste and cost-effective, but should not subistituir a meal, only complement.

big product

great product for mass gain