Thermogen Heat By EPG, 60 Caps
Thermogen Heat Benefits and Results:
Stimulates Positive Energy †
Rapid Fat Burn †
Intense Focus †
Thermogen Heat By EPG - 60 Caps - Thermogenic

Imagine your body as an Incinerator of fuels and a Fatcinerator of the garbage and toxins you consume. EPG Thermogen Heat works this same way from inside your body. Think about it, you fuel your body via the 5 food groups. Sometimes you indulge yourself with bad foods (garbage), sugars, fats or toxins. But... as your body is burning on EPG Thermogen Heat here it can act as a FATCINERATOR... it burns fuel, burns garbage; it burns and incinerates everything you put into it.
Upon Taking (1 capsule taken) EPG Thermogen Heat in just 15 minutes...
You'll feel the chills of the Alpha Yohimbe that tingles the hairs on your arms and head, signaling the burn is about to get started. The caffeine (not too much) picks up your energy levels in about 30 minutes. Then, the Synepherine HCL takes over. This is the real driving force; you'll feel the sweat on your forehead and all over your body. Your need drink lots of water becomes evident with your thirst to replenish your body that hasn't even worked out yet. Most users will take this Extreme Energy Amplifier and utilize its intense focus toward some mental or physical activity that by taking EPG Thermogen Heat.... becomes enjoyable and fun... This defines Stimulate Positive Energy!
What's In EPG Thermogen Heat?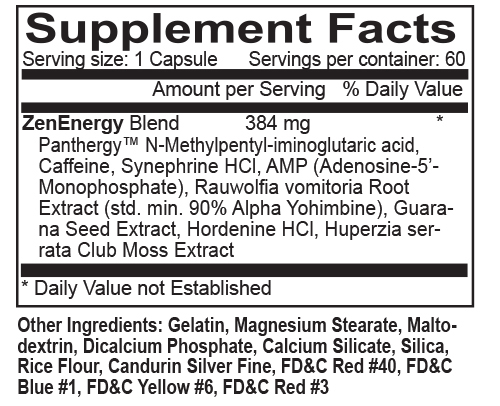 How to Take EPG Thermogen Heat:
Consult with your physician before using this product. Begin by taking 1 capsule of EPG Thermogen Heat on an empty stomach 15-30 mintues before breakfast. An additional 1 capsule may be take 5 hours later. UNDER NO CIRCUMSTANCES SHOULD INITIAL SERVING SIZE BE EXCEEDED OR THE WARNINGS ON THIS BOTTLE IGNORED. Exceeding the recommended amounts or not following directions may lead to unwanted effects.
PLEASE NOTE: Product image is representative of the product offered but may not have the exact attributes. Please read product description for the specific attributes of this product.
PLEASE NOTE: The information above is intended for reference only. While we attempt to keep our information accurate, we cannot guarantee it is an accurate representation of the latest formulation of the product. If you have any concerns, please visit the vendor's web site. The information above are the views of the product's manufacturer, not the views of Same Day Supplements. These statements have not been evaluated by the Food and Drug Administration. This product is not intended to diagnose, treat, cure or prevent any disease.
*Prices are subject to change at any time and some items are limited to stock on hand.
In-stock orders placed before 3pm EST ship out the same day.
We offer many shipping options to countries like:
Brazil
United Kingdom
Canada
Germany
Australia
Japan
India
France
Israel
Worldwide
More Information

| | |
| --- | --- |
| SKU | BNE-0013 |
| Weight | 0.1400 |
| Manufacturer | EPG |
| UPC | 638936150171 |