Super Amino Liquid By Dymatize Nutrition
Maximum Strength
Maximum Absorption
Excellent Source of Essential and Non-Essential Amino Acids
Super Amino Liquid By Dymatize Nutrition - Amino Acids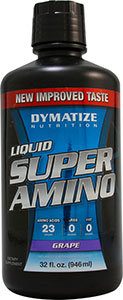 Highly Efficient Protein Source!
Dietary Supplement. Zero Carbs. Maximum Strength.Maximum Absorption. Dymatize Super Amino Liquid 23,000 is a highly efficient protein source made from a proprietary blend of the highest quality protein sources. Dymatize Super Amino Liquid's custom blend is an excellent source of essential and non-essential amino acids including the valuable Branched Chain Amino Acids (BCAA's). Amino Acids are the building blocks of muscles and are essential to help create and maintain positive nitrogen balance, which is important for new muscle growth. Amino acids also play a key role in preventing catabolic breakdown of muscle proteins, which help to rebuild muscle tissue after intensive exercise. Dymatize Super Amino Liquid 23,000 was designed to be one of the strongest amino acid products available on the market. Dymatize Super Amino Liquid With 23,000 mg of high quality free form essential and non-essential amino acids per serving.
Essential And Non-Essential Amino Acids!
Dymatize Super Amino Liquid 23,000 will help you reach your training goals.Dymatize Super Amino Liquid utilizes the "Hydro-Amino" bond. This bond helps enable the aminos to be assimilated faster since they have already been hydrolyzed. This allows for rapid utilization and a quick and easy assimilation.Dymatize Super Amino Liquid 23,000 is made from the finest quality and most effective free form, peptide bonded and free flowing amino acid sources in the world. TYPICAL AMINO ACID PROFILE: L-Alanine 2156mg, L-Aspartate 1560mg, L-Glutamic Acid 2550mg, L-Histidine 282mg, L-Leucine (BCAA) 760mg, L-Methionine 400mg, L-Proline 3280mg, L-Threonine 510mg, L-Tyrosine 390mg, L-Arginine 2000mg, L-Cystine 20mg, Glycine 5719mg, L-Isoleucine (BCAA) 370mg, L-Lysine 1005mg, L-Phenylalanine 490mg, L-Serine 905mg, L-Tryptophan 10mg, L-Valine (BCAA) 535mg. The L-Tryptophan is Naturally Occurring. Not added or manufactured. Essential Amino Acids. Gluten Free.
What's In Dymatize Nutrition Super Amino Liquid?
How to Take Dymatize Nutrition Super Amino Liquid:
As a dietary supplement, consume 4 Tablespoons of Super Amino Liquid before each meal and again before and after training, or use as directed by a physician or licensed nutritionist. Store in a cool, dry place. After opening, keep tightly closed in a refrigerator or orther cool place.
Warnings:
Contains Milk.
PLEASE NOTE: Product image is representative of the product offered but may not have the exact attributes. Please read product description for the specific attributes of this product.
PLEASE NOTE: The information above is intended for reference only. While we attempt to keep our information accurate, we cannot guarantee it is an accurate representation of the latest formulation of the product. If you have any concerns, please visit the vendor's web site. The information above are the views of the product's manufacturer, not the views of Same Day Supplements. These statements have not been evaluated by the Food and Drug Administration. This product is not intended to diagnose, treat, cure or prevent any disease.
*Prices are subject to change at any time and some items are limited to stock on hand.
In-stock orders placed before 3pm EST ship out the same day.
We offer many shipping options to countries like:
Brazil
United Kingdom
Canada
Germany
Australia
Japan
India
France
Israel
Worldwide
More Information

| | |
| --- | --- |
| SKU | SUPER-AMINO-LIQUID |
| Manufacturer | Dymatize Nutrition |
Customer Reviews
Liquid Aminos

Very easy to use and the ingredient profile is good.