Plasma Muscle By MuscleTech, 84 Caps
Special Price
$48.19
Regular Price
$53.54
Test Subjects Gained 8.8 lbs. of Lean Muscle
96% Increase In Muscle Thickness
147% More Strength
30% More Power
4 Times More Reps
Enhances Reps, Pumps, Muscle Endurance & Fatigue Resistance
Scientifically Researched Key Ingredients
Plasma Muscle By MuscleTech - 84 Caps - Muscle Builder
What Is MuscleTech Plasma Muscle?
The Most Powerful Pre-Workout And Lean Musclebuilding Pill On The Market Today! Introducing new MuscleTech Plasma Muscle – the most powerful pre-workout and lean musclebuilding pill on the market today! Featuring a never-before-seen combination of Peak ATP and optiNOs, Plasma Muscle is a serious musclebuilder for hardcore athletes looking for only the most cutting-edge performance enhancement and muscle growth. It provides the most extreme musclebuilding pumps you've ever experienced along with lean muscle gains!
Encapsulated within our breakthrough PlasmaCap Fusion Technology, this innovative, never-before-seen, and exclusive combination of Peak ATP and optiNOs is clinically shown to significantly improve muscle strength, endurance and musclebuilding in exercise-trained subjects.
Gain 8.8 lbs. of Lean Muscle:
If you haven't tried Peak ATP, you're missing out on one of the most innovative supplement discoveries of the last decade! Peak ATP is a patented form of Adenosine 5'-Triphosphate (ATP) Disodium and is without a doubt the most powerful pre-workout musclebuilding ingredient available. ATP found naturally in your muscles (intracellular) serves as the primary fuel for muscle cells. However the extracellular ATP that Peak ATP provides is just as important, as research suggests boosting high levels of ATP in the blood helps to increase blood flow, and supports improved muscular strength and endurance, while at the same time increasing anabolic signaling by activating the mTOR pathway! New research now shows that supplementing with Peak ATP in combination with high-intensity training can increase muscle performance, muscle mass, and strength!
Incredible Gains in Pure Muscle with the power of Peak ATP and optiNOs:
The pre-workout pills and powders game is a serious arms race, and supplement shop shelves and websites are cluttered with formulas that do their best to appeal to athletes looking to recapture the energy and "buzz" they got from their first dose of their first pre-workout. With lifters off chasing that high, they often forget to take a close look at these formulas. The truth is they're mostly designed to stimulate your central nervous system, and very few pre-workout pills or powders can legitimately trigger the physiological processes that support the incredible muscular adaptations you want. They do little to help you to grow pounds of lean muscle! That's all about to change. Plasma Muscle will not only help you feel some of the most extreme muscle pumps you've ever experienced and turn you into a relentless lifting machine in the gym; but it is also designed to trigger your anabolic mTOR pathway – the very process that ignites protein synthesis and allows your body to pack on slabs of new lean muscle! Plasma Muscle™ contains fully disclosed and patented Peak ATP as well as optiNOs, the latest in cutting-edge musclebuilding pre-workout ingredients available on the market today with no proprietary blends, shady, unproven ingredients or tired outdated ingredients.
In addition, these same subjects not only gained insane amounts of strength, they also made some serious muscle gains! In fact, subjects gained 8.8 lbs. of lean muscle vs. the placebo group, who only gained 4.6 lbs. in 12 weeks – that's 90% more lean muscle!
Strength Increase In 12 Weeks:
Hard-training subjects who supplemented with Peak ATP in a 12-week human clinical study at The University of Tampa increased their total strength by an average of 121.9 lbs. in 12 weeks! The placebo group only increased their strength by an average of 49.4 lbs. What's also incredible are the changes to the thickness of the subjects' muscles. Researchers investigated the architectural changes in the subjects' muscles using advanced ultrasonography and discovered that Peak ATP subjects increased their muscle thickness by 96% more than the increase for the placebo group. That's incredible!
How Peak ATP Works In The Body:
Researchers believe that Peak ATP works through 3 distinct mechanisms in the body, each one an important part of your ability to perform at a high level and support your ability to grow.
How Peak ATP Works:
Peak ATP increases anabolic signaling leading to shocking lean muscle development. By activating the mTOR pathway, Peak ATP initiates protein synthesis.
Peak ATP increases skeletal muscle calcium influx and release. When you're fatigued, the availability of oxygen and calcium release declines in your muscle (calcium is necessary for muscle contraction), which negatively affects your performance. Supplementing with ATP can lead to better calcium handling in your muscles for improved performance.
Peak ATP supports vasodilation and improves blood flow. Your body has oxygen sensors that release ATP from red blood cells when low muscular levels of oxygen are detected. This helps facilitate increased blood flow in order to deliver this oxygen. Supplementing with ATP stimulates this natural physiological effect, which can help you push through those last few reps!
Featuring The Never-Before-Seen Ingredient Combination: optiNOs
The second powerful key ingredient complex in Plasma Muscle is so new and unique that MuscleTech researchers are the first to feature it in a supplement. OptiNOs features a powerful combination of Cissus, Curcuma and Ajowan extracts that have been studied at a global human performance lab. In this emerging double-blind placebo-controlled study on healthy resistance-trained male subjects, optiNOs was shown to enhance muscle endurance and reduce muscle fatigue. In fact, subjects were able to push out 4 times more reps than the placebo group!
PlasmaCap Fusion Technology:
Plasma Muscle does more than just bring you the most powerful key ingredients. We've gone a step further by using new PlasmaCap Fusion Technology. This incredible new liquid cap technology makes regular capsules that break and come apart before you even open the bottle a thing of the past. In addition to providing a tamperproof, leak-proof, and airtight one-piece capsule, PlasmaCap Fusion Technology provides protection for the sensitive, ingredients used in Plasma Muscle, while delivering rapid release.
Tested For Quality and Purity:
Each batch of new MuscleTech Plasma Muscle undergoes strict quality control and is third-party tested and verified to ensure that each bottle of Plasma Muscle has the highest purity, quality and consistency.
What's In MuscleTech Plasma Muscle?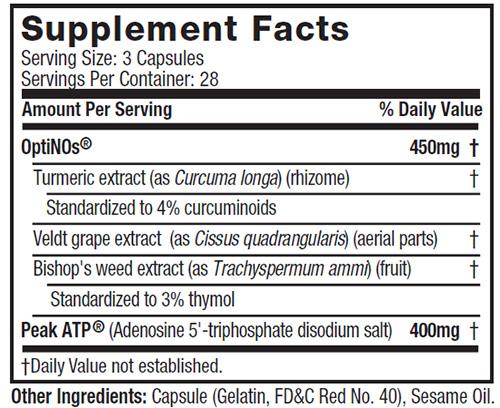 How Do I Take MuscleTech Plasma Muscle?
Take 1 serving (3 capsules) of Plasma Muscle daily 30 to 45 minutes before your workout. On non-training days, take one serving (3 capsules) on an empty stomach before breakfast. Do not exceed 3 capsules of Plasma Muscle in a 24-hour period. Read the entire label before use and follow directions provided.
Warnings:
Not intended for use by persons under 18. Do not use if pregnant or nursing. Consult a medical doctor before starting a diet or exercise program or if you have a medical condition.
PLEASE NOTE: Product image is representative of the product offered but may not have the exact attributes. Please read product description for the specific attributes of this product.
PLEASE NOTE: The information above is intended for reference only. While we attempt to keep our information accurate, we cannot guarantee it is an accurate representation of the latest formulation of the product. If you have any concerns, please visit the vendor's web site. The information above are the views of the product's manufacturer, not the views of Same Day Supplements. These statements have not been evaluated by the Food and Drug Administration. This product is not intended to diagnose, treat, cure or prevent any disease.
*Prices are subject to change at any time and some items are limited to stock on hand.
In-stock orders placed before 3pm EST ship out the same day.
We offer many shipping options to countries like:
Brazil
United Kingdom
Canada
Germany
Australia
Japan
India
France
Israel
Worldwide
More Information

| | |
| --- | --- |
| SKU | MT-0286 |
| Weight | 0.3000 |
| Manufacturer | MUSCLETECH |
| UPC | 631656606799 |