NO Xplode XE Edge By BSN, Pre Workout
Unique Combination of Botanical Ingredients
Caffeine for Extreme Energy and Focus
Super Leaf Extracts
325 mg of Caffeine
1.6 Grams of Beta Alanine
NO Xplode XE Edge By BSN - Pre Workout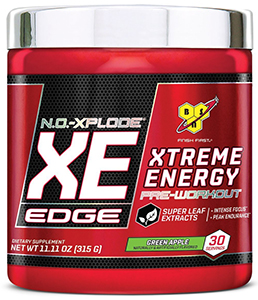 What is BSN NO Xplode XE Edge?
Your Pre Workout Edge Has Arrived! BSN NO Xplode XE Edge is the result of a global search for a unique blend of botanical ingredients that will help deliver an intense pre workout formula to have you crushing it in the weight room. NO Xplode XE Edge's ingredients such as Guayusa, an Amazonian Super Leaf, Yohimbe, From the West African Evergreen, and Macuna, a Tropical Legume have been combined with 325 mg of caffeine, 1.6 grams of Beta Alanine, and 1 Gram of Citrulline blend to support extreme energy, feel, and focus in 1 scoop. Get your performance edge with BSN NO Xplode XE Edge.
Who Is NO Xplode XE Edge For?
Athletes seeking intense energy and focus to destroy their workout – seeking the latest and greatest ingredients for a performance edge.
What Flavors are Available for NO Xplode XE Edge?
Destroy Your Workout With These Five Flavors: BSN NO Xplode XE Edge offers the latest and greatest ingredients for serious athletes seeking a performance edge. Fruit Punch, Blue Raspberry, Green Apple, Cherry Lime, and Tropical Burst - a unique combination of strawberry, watermelon, and coconut.
Can I Take BSN NO Xplode XE Edge with Other Products?
Yes, you can take NO Xplode XE Edge with other BSN products including True Mass, Syntha-6, and Syntha-6 Edge or any products that do not contain stimulants
Part of the BSN EDGE Series:
EDGE is a high performance sports nutrition series from BSN designed to give athletes an edge in training and competition.
Quality and Safety:
Quality and safety is the cornerstone on which all BSN products are formulated and manufactured. Our stringent ingredient and manufacturing requirements are best in class. From the raw materials we select, to our state-of-the-art manufacturing facilities, this unrelenting commitment to superior quality ensures the safety and potency of every product we produce.
What's In BSN NO Xplode XE Edge?
How Do I Take BSN NO Xplode XE Edge?
Mix 1 scoop of NO Xplode XE Edge with 4-6 fl oz of cold water and consume immediately. Stir. Do not shake. For best results consume 10-20 minutes before training.
Warnings:
CONSULT YOUR PHYSICIAN BEFORE USING THIS PRODUCT IF YOU ARE TAKING ANY MEDICATIONS OR ARE UNDER A HEALTHCARE PROFESSIONAL'S CARE FOR A MEDICAL CONDITION, INCLUDING, BUT NOT LIMITED TO, PSYCHIATRIC DISORDERS. NOT FOR USE BY THOSE UNDER THE AGE OF 18, WOMEN WHO ARE PREGNANT, TRYING TO GET PREGNANT, OR NURSING, OR THOSE WHO ARE SENSITIVE TO BETA-ALANINE, CAFFEINE OR NIACIN. DO NOT CONSUME CAFFEINE FROM OTHER SOURCES WHILE TAKING THIS PRODUCT AS TOO MUCH CAFFEINE MAY CAUSE NERVOUSNESS, IRRITABILITY, SLEEPLESSNESS, AND OCCASIONALLY RAPID HEARTBEAT. BETA-ALANINE AND NIACIN MAY CAUSE A HARMLESS, TEMPORARY TINGLING OR FLUSHING SENSATION. USE ONLY AS DIRECTED. DO NOT EXCEED RECOMMENDED DAILY INTAKE. Do not combine with alcohol. Do not exceed 2 scoops within any 24 hour period, consumed at least 4 hours apart. Consume as part of a healthy diet and exercise program, and drink at least 100 fl oz of water per day. Exercise may increase your need for additional fluid intake. Keep out of reach of children. Store in a cool, dry place away from direct sunlight.
PLEASE NOTE: Product image is representative of the product offered but may not have the exact attributes. Please read product description for the specific attributes of this product.
PLEASE NOTE: The information above is intended for reference only. While we attempt to keep our information accurate, we cannot guarantee it is an accurate representation of the latest formulation of the product. If you have any concerns, please visit the vendor's web site. The information above are the views of the product's manufacturer, not the views of Same Day Supplements. These statements have not been evaluated by the Food and Drug Administration. This product is not intended to diagnose, treat, cure or prevent any disease.
*Prices are subject to change at any time and some items are limited to stock on hand.
In-stock orders placed before 3pm EST ship out the same day.
We offer many shipping options to countries like:
Brazil
United Kingdom
Canada
Germany
Australia
Japan
India
France
Israel
Worldwide
More Information

| | |
| --- | --- |
| SKU | NO-XPLODE-XE-EDGE |
| Manufacturer | BSN |
Customer Reviews
Exelente para dar disposição

Gerador de força e disposição no pré treino dando otimos ganhos de massa magra acompanhado de uma dieta