NITRAFLEX CREATINE - CHERRY LIMEADE - 30 SERVINGS
Hyperemia & Testosterone Enhancing
Highest Concentration
Reactive Hyperemia
Nitraflex Plus Creatine by GAT - 420 Grams - Cherry Limeade - Pre-Workout
PHYSIOLOGICAL BASIS: "Reactive hyperemia" describes the increase in muscle blood flow that occurs during high-intensity resistance exercise and produces the "pump" associated with increases in muscle size. NITRAFLEX®+ Creatine pre-training formula contains ingredients that in vitro, animal and clinical studies suggest possess properties that may help advanced athletes maximize energy, intensity, vascularity and reactive hyperemia (pumps) during their workouts, and provide long-term support of testosterone and nitric oxide levels in the healthy range when used as directed.*
Highly Concentrated 3X Strength
Clinically-Studied CFB + Vasoactive Compounds*
Unique properties of some of the key compounds in Nitraflex + Creatine:
1-Scoop Serving*: NITRAFLEX+C is so potent, only 1 scoop (1 serving) is necessary. Do not exceed 1 scoop in a single 24-hour period. Do not take NITRAFLEX+C within 5 hours of bedtime.
High Citrulline: Arginine Ratio: Arginine is a proven precursor to nitric oxide (NO), a vasodilator. What most people don't know is that arginine supplementation stimulates the activity of arginase, an enzyme that breaks down arginine. Over time, this may actually result in reduced arginine and NO levels, in turn causing your pre-workout formula to stop working. Research suggests that supplementing with a high ratio of citrulline to arginine may reduce this risk by avoiding overstimulation of arginase.*
CFB Helps Support Testosterone: In a clinical study, calcium fructopyranose borate (CFB) was shown to increase total and free testosterone within 3 hours of a single dose equivalent to just over 2 scoops of Nitraflex.*† A longer-term study reported an increase in free testosterone by up to 29%.
Effective Dose of Beta-Alanine*: The clinically-proven performance enhancer beta-alanine was added at a powerful dose that you will feel working following your very first serving. (May promote slight, tingly-sensation).*
Creatine: Creapure® Creatine provides a superior level of performance for althletes.* Creatine drives increased power output, muscle endurance, and muscle volumization.* Consuming 2g of creatine for 6 weeks significantly increased plasma creatine concentration.†
Cognitive Enhancers*: NITRAFLEX+C contains unique ratios of scientifically validated compounds that help you remain alert, intense and focused while you're flying from set to set with veins fully dilated and muscles pumped to the extreme. (DMAE)*
What's in GAT Nitraflex Plus Creatine?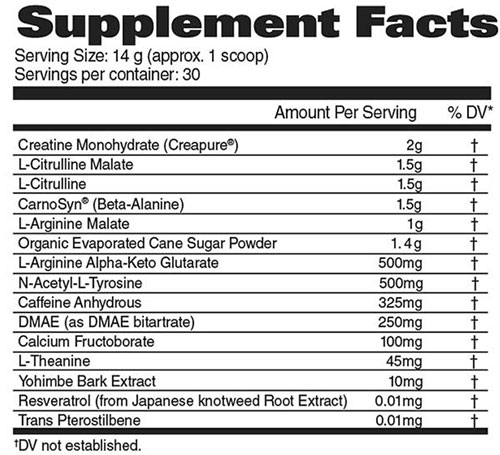 Key Ingredients in GAT Nitraflex Plus Creatine:
Potent muscle building ingredients L-Citrulline malate, L-Arginine, L-Arginine alpha-ketoglutarate (AKG) amino acids have been added to NITRAFLEX to support healthy nitric oxide levels and muscle performance. With calcium fructoborate (CFB), a nature-identical, high-quality form of boron with clinically tested bioactivity.* Tested in an IRB-approved clinical pilot study using experienced athletes. After taking NITRAFLEX for 2 weeks, all subjects increased their maximum bench press strength 5-10 lbs. Subjects also increased their muscular endurance, training volume and blood testosterone levels.* Individual results may vary.
How to take GAT Nitraflex:
Training days: Day 1: Begin by assessing your tolerance with half a scoop (1/2 scoop) of Nitraflex mixed with 6-8 oz of cold water. Days 2 and beyond: Depending on tolerance, mix 1 serving (1 scoop) of Nitraflex with 6-8 oz of cold water and consume within 30 minutes before working out. Non-training days: Take 1 serving (1 scoop) open arising in the morning or before any physical activity. Do not take more than 1 serving in a single 24-hour period. Do not take within five hours of bedtime. Special Times to use (Take 1/2 to 1 Scoop): take before martial arts, Take before powerlifting meets, Take before long distance runs or intense cardio sessions, Take before any type of weight training, Take before sporting events, Take anytime extreme energy/focus is needed, Take before exams or anything that requires mental recall.
Warnings:
This product is strictly intended for use by health persons 18 years of age or older. Each serving (1 scoop) contains 350 mg of caffeine. Do not combine with other caffeine or stimulant-containing products. Follow the instructions for assessing your tolerance. DO not use if you are pregnant, nursing or trying to become pregnant. Do not use if you are currently unaware of your health status or if you have a medical condition including but not limited to heart, liver, kidney or thyroid disease, psychiatric or epileptic disorders, high or low blood pressure, cardiac arrhythmia, recurrent headaches, enlarged prostate or glaucoma. Do not use if you are taking prescription or non-prescription medications, aspirin or non-steroidal anti-inflammatory drugs. Do not use if you are prone to overheating or dehydration. After 8 weeks of use, take 1 week off before resuming use. Discontinue at least 2 weeks prior to surgery or if you experience rapid heartbeat, dizziness, severe headache or shortness of breath.
PLEASE NOTE: Product image is representative of the product offered but may not have the exact attributes. Please read product description for the specific attributes of this product.
PLEASE NOTE: The information above is intended for reference only. While we attempt to keep our information accurate, we cannot guarantee it is an accurate representation of the latest formulation of the product. If you have any concerns, please visit the vendor's web site. The information above are the views of the product's manufacturer, not the views of Same Day Supplements. These statements have not been evaluated by the Food and Drug Administration. This product is not intended to diagnose, treat, cure or prevent any disease.
*Prices are subject to change at any time and some items are limited to stock on hand.
In-stock orders placed before 3pm EST ship out the same day.
We offer many shipping options to countries like:
Brazil
United Kingdom
Canada
Germany
Australia
Japan
India
France
Israel
Worldwide
More Information

| | |
| --- | --- |
| SKU | GAT-0163 |
| Weight | 1.1000 |
| Manufacturer | GAT Sport |