Mr Hyde Nitro X By Pro Supps
Mr. Hyde NitroX Benefits and Results:
Supports Muscle Strength, Power, and Endurance †
Powerful Combination of High-Powered Thermogenic Compounds †
Infused with TeaCrine® for Sustained Energy and Focus †
400 mg Caffeine Matrix †
Mr Hyde Nitro X By Pro Supps - Pre Workout

What Is Pro Supps Mr Hyde Nitro X?
Mr Hyde Nitro X is way more than just another pre-workout. Forumlated to be the complete training solution, Mr Hyde Nitro X takes you to a whole new level. With ingredients scientifically shown to promote pumps, vascularity, strength, mental focus, sustained energy, and motivation, Mr Hyde Nitro X leaves no stone unturned in the pre-workout checklist. Don't settle for just any pre-workout; leave no doubt with Mr Hyde Nitro X.
Mr Hyde Nitro X Is Powered By:
500 mg Nitrosigine
1 g Creatine Nitrate
2.5 g CarnoSyn Beta Alanine
25 mg TeaCrine
Mr Hyde Nitro X Supports:
Increased Pumps & Vascularity*
Gains in Muscle Strength, Power, & Endurance*
Increased Metabolism with Powerful Thermogenic Compounds*
Enhanced Mental Focus & Motivation*
What's In Pro Supps Mr Hyde Nitro X?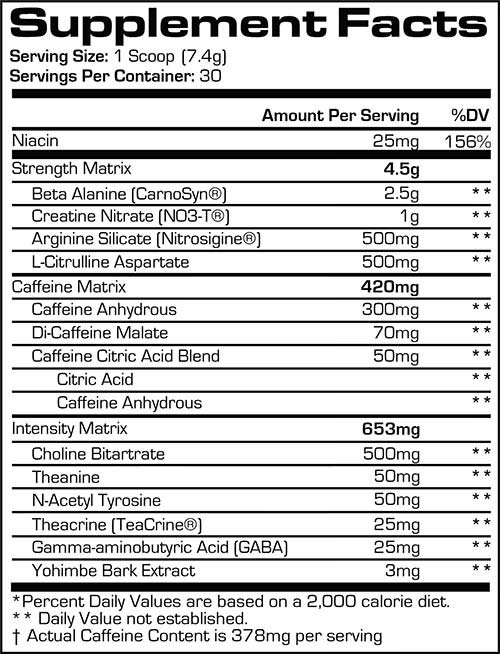 How Do I Take Pro Supps Mr Hyde Nitro X?
As a dietary supplement, mix 1 scoop of Mr Hyde Nitro X with 8 oz of cold water. Consume 15 to 30 minutes before exercise. Do not consume Mr Hyde Nitro X within 4 hours prior to bedtime. Do not take any other products that contain caffeine or any other stimulants while taking Mr Hyde Nitro X.
Warnings:
Mr Hyde Nitro X is for advanced exercise and supplement users only. Do not exceed one serving in a 24 hour period. Not for use by individuals under the age of 18 years. Do not use if pregnant or nursing. Consult a physician or licensed qualified health care professional before using this product if you have, or have a family history of heart disease, thyroid disease, diabetes, high blood pressure, depression or other psychiatric condition, glaucoma, difficulty in urinating, prostate enlargement, or seizure disorder. Do not exceed recommended serving. Exceeding recommended serving may cause adverse health effects. Discontinue use and call a physician or licensed qualified health care professional immediately if you experience rapid heartbeat, dizziness, severe headache, shortness of breath or other similar symptoms. Individuals who are sensitive to the effects of caffeine or have a medical condition should consult a licensed health care professional before consuming this product. Do not use this product if you are more than 15 pounds overweight. The consumer assumes total liability if this product is used in a manner inconsistent with label guidelines. Do not use for weight reduction. This product is intended for use by healthy individuals only. Keep out of reach of children. Too much caffeine may cause nervousness, irritability, sleeplessness and occasional rapid heartbeat.
PLEASE NOTE: Product image is representative of the product offered but may not have the exact attributes. Please read product description for the specific attributes of this product.
PLEASE NOTE: The information above is intended for reference only. While we attempt to keep our information accurate, we cannot guarantee it is an accurate representation of the latest formulation of the product. If you have any concerns, please visit the vendor's web site. The information above are the views of the product's manufacturer, not the views of Same Day Supplements. These statements have not been evaluated by the Food and Drug Administration. This product is not intended to diagnose, treat, cure or prevent any disease.
*Prices are subject to change at any time and some items are limited to stock on hand.
In-stock orders placed before 3pm EST ship out the same day.
We offer many shipping options to countries like:
Brazil
United Kingdom
Canada
Germany
Australia
Japan
India
France
Israel
Worldwide
More Information

| | |
| --- | --- |
| SKU | MR-HYDE-NITRO-X |
| Manufacturer | PRO SUPPS |
Customer Reviews
AMAZING

i got exactly what i was looking for. couldn't be more happy

useful

this is the first preworkout i have ever used after a friend told me i should try taking something before my workouts. i was not expecting this to help me as much as it did but now getting to the gym after work is a lot easier

i will buy again

This stuff works great and gives you an energy boost as promised but not as powerful as cocaine lol. Flavors are ok too. I tried pixie dust but will probably check out a new flavor next time!

Highly Recommend

Mr Hyde Nitro X is the best preworkout I have taken so far. The flavor wasn't overly sweet and the energy lasted the duration of my workout. I recommend giving this one a try.

STRONG PWO

ONE SCOOP AND I WAS OFF THE WALLS WITH ENERGY. SAFE TO SAY I SET NEW PR'S THIS WEEK

it works

i figured i would try this because i used to take the old mr hyde. it isn't as good as the formula years back but i think it's better than the new stuff coming out these days

great!

i take a half scoop before the gym and that gives me the energy i need

Tasty

the red candy fish and cotton candy flavors were great

good but they didn't ship out my gift

good