MHP Dark Matter, Zero Carb
SKU
MHP-DARK-MATTER-ZERO-CARB
Hyper-Anabolic Post-Workout Muscle Growth Accelerator
Utilizing Oligopeptides for fast absorbtion
Fast Impact Insulinotropic Amino Acids
MHP Dark Matter Zero Carb - Post Workout
Putting on mass and getting shredded is a challenging task. In fact, most people often sacrifice and lose hard earned muscle in an effort to "cut up" for a contest or just to get lean. Building muscle and losing fat are opposing forces that are invariably at war with each other. From a molecular perspective, the pathways that are activated for fat loss often inhibit the pathways that are responsible for muscle growth. Athletes seeking to achieve very low body fat percentages – such as competitive bodybuilders – often have to resort to extreme methods such as very low carbohydrate dieting. While these diets are effective for fat loss, they can leave you in a catabolic state. When an athlete lowers and restricts calories to achieve weight loss, they must maximize the quality of every single nutrient they put into their body to maintain or improve muscle quality.
Scientists and athletes have known for some time now that exercise enhances muscle anabolism and makes the body more sensitive to anabolic stimuli. However, hard trained athletes on low carb or low calorie diets are extremely susceptible to post-workout catabolism. This is exactly what you want to avoid as it can result in a loss of muscle, strength and performance. We know that if you want to grow, you need nutrients as soon as possible after your workout session or your hard work will be for naught. But the dilemma for dieters has always been that post-workout formulas typically contain lots of carbohydrates, sugar and calories.
So what is an athlete to do if they want to get ripped without sacrificing their hard earned muscle? Fortunately, a new post-workout solution is here – introducing new MHP DARK MATTER ZERO CARB CONCENTRATE.
When compared with other post-workout recovery drinks, MHP DARK MATTER ZERO CARB CONCENTRATE is in a class of its own. Simply put, the new MHP DARK MATTER ZERO CARB CONCENTRATE is the muscle building solution for bodybuilders and dieters looking to build muscle and get ripped. The formula takes advantage of the most recent scientific discoveries in post-exercise nutrition for optimizing protein synthesis and the anabolic actions of insulin to enhance muscle growth and recovery without carbs!
What's in MHP Dark Matter Zero Carb?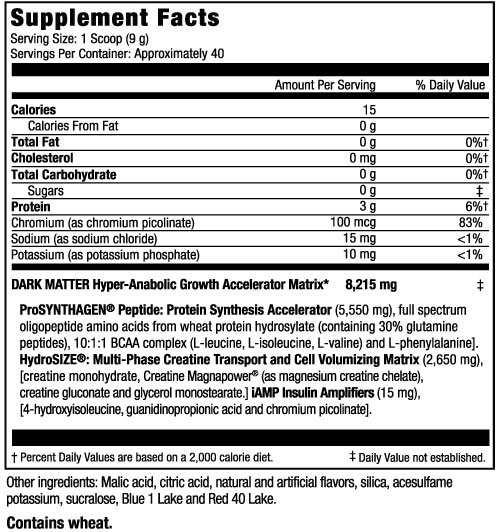 How to Take MHP Dark Matter Zero Carb:
MHP Dark Matter Zero Carb is a hyper-anabolic ultimate post-workout muscle growth accelerator designed to be taken immediately after your workout. Add 1 scoop of MHP Dark Matter Zero Carb to 8 fl oz. of water in a glass or shaker bottle immediately after training. For maximum results, you may take 2 scoops of MHP Dark Matter Zero Carb with 16 fl oz. of water). Stir or shake vigorously before drinking.
Warning:
Keep Out Of Reach Of Children.
This product is manufactured in GMP compliant facilities and meets the highest quality standards. All ingredients meet the standards enforced by the U.S. Food and Drug Administration. The state of California requires the following warning:
WARNING: Consuming this product can expose you to chemicals including lead which is known to the state of California to cause cancer and birth defects or other reproductive harm. For more information go to www.P65Warnings.ca.gov/food.
PLEASE NOTE: Product image is representative of the product offered but may not have the exact attributes. Please read product description for the specific attributes of this product.
PLEASE NOTE: The information above is intended for reference only. While we attempt to keep our information accurate, we cannot guarantee it is an accurate representation of the latest formulation of the product. If you have any concerns, please visit the vendor's web site. The information above are the views of the product's manufacturer, not the views of Same Day Supplements. These statements have not been evaluated by the Food and Drug Administration. This product is not intended to diagnose, treat, cure or prevent any disease.
*Prices are subject to change at any time and some items are limited to stock on hand.
In-stock orders placed before 3pm EST ship out the same day.
We offer many shipping options to countries like:
Brazil
United Kingdom
Canada
Germany
Australia
Japan
India
France
Israel
Worldwide
More Information

| | |
| --- | --- |
| SKU | MHP-DARK-MATTER-ZERO-CARB |
| Manufacturer | MHP |
Customer Reviews
Post Workout

Dark Matter works really well for me, overall good post workout. . Good results!