Max Out Pre Workout, By iForce Nutrition
Max Out Pre-Workout Benefits and Results:
Powerful Energy †
Explosive Strength †
Laser Focus †
Intense Pumps †
Max Out By iForce Nutrition - Pre Workout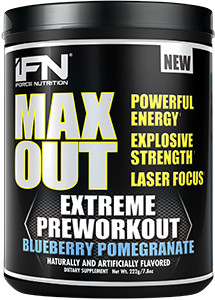 Insane Energy!
When we want to perform at our best, nothing comes close to the raw power of iForce MAX OUT Pre Workout's intense energy blend specially designed to get your adrenaline pumping and you ready to BLAST through any plateau in your way!* ADRENAPLEX is precisely formulated for an IMMEDIATE rush, with key ingredients to force your body to upregulate its natural energy systems, giving you long lasting, non-jittery energy that will leave you begging for just one more set again and again.*
Phenethylamine HCL: Immediate energy rush going into your workout and reduced fatigue while you're there. PEA has also been shown to enhance mood, focus and concentration, keeping you driven and motivated through your routine.*
Caffeine: 300mg of the most pure caffeine available for huge sustained energy all through your workout!*
Synephrine HCL: Will have you feeling like you can run through walls and hit PR's with every attempt! Synephrine also supports the breakdown of stored body fat during your workout, so you build muscle and get ripped!*
Power and Strength!
Push harder and force muscles to GROW. Muscles are meant to be pushed, by pushing and working a muscle you develop it to be more POWERFUL and STRONGER. Increasing capacity is why we train. Build and grow.* NITROPLEX has key ingredients precisely dosed to iForce MAX OUT Pre Workout muscle performance and push Nitric Oxide and PUMPS to a whole new level, unlike anything you've ever experienced. Utilizing the pharmaceutical power of Nitrate technology, NITROPLEX will feed your muscles with more blood, oxygen, and nutrients than ever before. This means quicker recovery and HUGE GROWTH!*
Glycerol Monostearate: Takes excess water and shuttles it into muscle cells for immediate swelling of muscle tissue and massive pumps for insane lifting power!*
Potassium Nitrate: The ultimate in nitrate technology, 600mg provides a larger Nitric Oxide boost than you've ever experienced before! See the vasodilation, feel the increased oxygen and nutrient delivery and experience the immediate increases in strength!*
Laser Focus!
Nothing makes a workout better than being In The Zone, when you can't think about anything but the cold hard iron that lies in front of you. Want to set a new PR? Well then you better get FOCUSED!*
COGNIPLEX is a revolutionary adaptation to traditional pre-workout focus attempts, with proven compounds to immediately increase focus & memory, and powerful Adaptogens so your body can handle ANY new challenge it faces! The mind is stronger than the body. Harness the power of COGNIPLEX and force a new PR every single workout!*
Rhodiola Rosea: A powerful Adaptogen to help your body handle the physical stresses of pushing it to the limit! Rhodiola has been shown to stimulate levels of the mood-related neurotransmitters serotonin, dopamine and norepinephrine in your brain, for a potent mood-enhancing effect.*
DMAE: Used in the production of acetylcholine, shown to positively impact mood, focus, concentration and memory. DMAE has also been shown to support sleep, giving you the edge from a repaired body and a rested, ready mindset.*
Huperzine A: Potent nootropic that allows the mind to focus more effectively and potentially increase memory, learning and cognitive function. Get clarity, focus and concentration during your workout!*
Performance and Hydration!
Every workout, every competition is ALL about performance. Fuel your body to perform at its best and DOMINATE the competition. The ultimate way prepare for the most BRUTAL adversary is to make sure you are hydrated to the fullest!* HYDRAPLEX is a proven ratio of potent electrolytes shown to help hydrate your body faster and keep it hydrated longer than ever before. No more cramping up from dehydration, no more missing lifts because you didn't come prepared. Hydraplex will make sure you are ready for ACTION by the time you hit the gym!*
Potassium Phosphate/Sodium Phosphate/Magnesium Phosphate: The most important electrolytes your body needs to perform at 100%! Electrolytes allow your brain to communicate to your muscles more effectively, so the more you have, the better your hand eye coordination can be, and the better athlete you can be!*
What's In iForce Nutrition Max Out Pre Workout?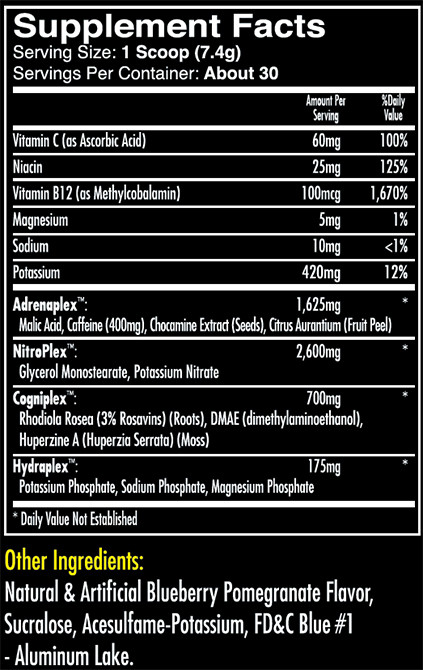 How to Take iForce Nutrition Max Out Pre Workout:
To assess tolerance, add 1/2 serving of iForce Max Out Pre Workout (1/2 scoop) to 4-6 oz (120-175ml) of water, and consume about 30 minutes before training. After assessing tolerance, add one full serving of iForce Max Out Pre Workout (1 scoop) to 8-10 oz (240-300 ml) of water, and consume about 30 minutes before training. Mix in a shaker cup or stir in a glass. Adjust water to taste. Do not combine with any products that contain Nitrates.
Warnings:
This product is only intended to be consumed by healthy adults 18 years of age or older. Do not exceed recommended dose. Do not consume synephrine of caffeine from other sources, including but not limited to, coffee, tea, soda, and other dietary supplements or medications containing phenylephrine or caffeine. Contains caffeine. Do not use if you suffer from low blood pressure. Do not use for more than 8 weeks. Consult with your physician prior to use if you are taking medications, including but not limited to MAO inhibitors, anti-depressants, aspirin, non-steroidal anti-inflammatory drugs, or products containing phenylephrine, ephedrine, pseudoephedrine, or other stimulants. Consult your physician prior to use if you have a medical condition, including but not limited to, heart, liver, kidney, or thyroid disease, psychiatric or epileptic disorders, difficulty urinating, diabetes, high blood pressure, cardiac arrhythmia, recurrent headaches, enlarged prostate, or glaucoma. Discontinue 2 weeks prior to surgery if you experience rapid heart beat, dizziness, severe headache, or shortness of breath. Do not use if the seal is broken or missing. Do not consume with alcohol. Keep out of reach of children.
PLEASE NOTE: Product image is representative of the product offered but may not have the exact attributes. Please read product description for the specific attributes of this product.
PLEASE NOTE: The information above is intended for reference only. While we attempt to keep our information accurate, we cannot guarantee it is an accurate representation of the latest formulation of the product. If you have any concerns, please visit the vendor's web site. The information above are the views of the product's manufacturer, not the views of Same Day Supplements. These statements have not been evaluated by the Food and Drug Administration. This product is not intended to diagnose, treat, cure or prevent any disease.
*Prices are subject to change at any time and some items are limited to stock on hand.
In-stock orders placed before 3pm EST ship out the same day.
We offer many shipping options to countries like:
Brazil
United Kingdom
Canada
Germany
Australia
Japan
India
France
Israel
Worldwide
More Information

| | |
| --- | --- |
| SKU | MAX-OUT-PRE-WORKOUT |
| Manufacturer | iFORCE NUTRITION |
Customer Reviews
Max Out

Love this pre workout. It Gets me hyped to have the best workouts in the gym. Taste great and works!!