Jack3d Intense Training Aid - Pineapple
Bursting Pumps
Ridiculous Energy
Massive Gains
USPLabs Jack3d - 250 Grams - Pre Workout
We know finding the perfect pre workout is hard. USPLabs knows this better than anyone. Don't waste your money again on a pre workout that doesn't deliver. Introducing USPLabs Jack3d!
What is it?
Jack3d is an intense powder pre workout. In other words its an intense training aid enhanced with Geranium. If you have been taking pre workouts for years and need a pre workout to give you alot of energy then, the new Jack3d is for you.
If you are someone that is caffeine sensitive, you can still take Jack3d. It is just recommended that you start off with half a scoop first.
How Do I Take Jack3d?
Dosage and Directions:
Mix 1-3 scoops with 6-12 ounces of cold water and consume 1 serving daily.
On exercise days, consume 30-60 minutes before resistance training.
Contents may settle.
Shake container before each use.
Store in a cool dry place to prevent clumping and discoloration.
Do not exceed 3 scoops per day.
Common Questions:
We get a lot of questions about the new Jack3d. Here are the Frequently Asked Questions:
How much caffeine is in it?
There is 135mg of caffeine per serving (scoop).
Does Jack3d contain DMAA?
No. It does not have DMAA.
Is USP Labs Jack3d Micro Available?
No, this product has been discontinued.
Can I drink alcohol while taking Jack3d?
No. Do not combine with alcohol.
Does it contain creatine?
Yes, Jack3d contains a blend of creatine monohydrate.
Is the original (old) formula coming back?
No, the Original Jack3d has been discontinued and is no longer available.
Ingredients:
What's Inside Each Scoop?
Arginine Alpha-Ketoglutarate
Creatine Monohydrate
Beta Alanine
Caffeine
2-Aminoisoheptane HCL
Geranium Extract (stem and leaves)
Yohimbe Extract (bark)(Standardized for Yohimbine Alkaloids)
Schisandra Chinensis (berry) Extract) (Standardized for Schizandrol A)
What's In USPLabs Jack3d?
Supplements Facts / Label: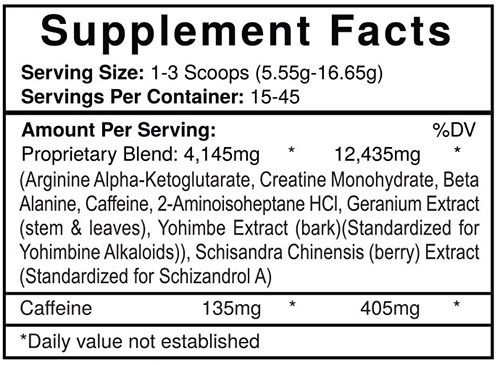 Warnings and Side Effects:
This product can raise your blood pressure and interfere with other drugs you may be taking. Talk to your doctor about this product.
Keep out of reach of children. Read entire label before taking this product. This product is intended only to be consumed by healthy adults 18 years of age or older. Do not use in combination with caffeine or any other stimulants from other sources. Do not use under extreme conditions of:
Heat
Cardiovascular exertion
Sleep deprivation
Dehydration
Consult with your Physician before using this product. Especially if you are using any prescription or over the counter medication. Also if you have any pre-existing medical condition including but not limited to:
High or low blood pressure
Cardiac arrhythmia
Stroke
Heart, Liver, Kidney or thyroid disease
Seizure disorder
Psychiatric disease
Diabetes
Difficulty urinating due to prostate enlargement
Taking a MAOI (Monoamine Oxidase Inhibitor) or any other medication
Do not use if you are taking erectile dysfunction medication. Do not take additional nitrates along with this product. This product contains caffeine. It should not be taken by individuals wishing to cut this ingredient from their diet.
Discontinue use 2 weeks prior to surgery. Stop use and consult your physician if you experience any adverse reaction. Do not exceed recommended serving. Pregnant or nursing women should not use this product.
Disclaimer:
PLEASE NOTE: Product images represent the product offered but may not contain exact attributes. Please read product description for the specific attributes of this product.
† PLEASE NOTE: The intention of the information above is for reference only. It is our goal to maintain and display accurate information. Yet, we can't guarantee it represents the latest formulation of the product. If you have any concerns, please visit the manufacturer's website. The information above is not a representation of our views at Same Day Supplements. These are the views and information provided by product's manufacturer. The Food and Drug Administration has not evaluated these statements. The intention of this product is not to diagnose, treat, cure or prevent any disease or illness.
PLEASE NOTE: USPLABS is operated under Hi Tech Pharmaceuticals Inc and is not affiliated with USPLabs, LLC a Texas Company.
*Prices are subject to change at any time and items may limit to stock on hand.
In-stock orders placed before 3pm EST ship out the same day.
We offer many shipping options to countries like:
Brazil
United Kingdom
Canada
Germany
Australia
Japan
India
France
Israel
Worldwide
More Information

| | |
| --- | --- |
| SKU | USP-0067 |
| Weight | 0.7200 |
| Manufacturer | USP LABS |
| UPC | 811836024371 |