Isofit By Nutrex - Bananas Foster - 2lb
Benefits and Results:
100% Instantized Whey Isolate †
Lactose-Free & Gluten Free †
Gourmet Dessert Taste †
Isofit By Nutrex - Bananas Foster - 2lb - Protein
What Is It?
Nutrex IsoFit is the only 100% whey protein isolate that comes in real gourmet, premium dessert flavors!†
It has an unmatched delicious taste you won't find in any average protein. IsoFit contains 25g of pure whey isolate per serving.
It's also cross-flow microfiltered and fully Instantized, allowing it to mix easily. IsoFit is fast-digesting and packed with over 12g of naturally occurring Essential Amino Acids along with almost 6g of Branched Chain Amino Acids per serving.† Additionally, it is completely lactose-free and gluten-free.
How Does It Work?
Research shows that consuming high levels of protein after exercise can help muscles recover and adapt faster.†
IsoFit is your body's fuel for improved muscle growth, strength, performance and recovery.† It gets into your body rapidly to help your muscles build and repair every time you use it.†
Nutrex IsoFit is also infused with MCT oil powder and organic inulin fiber instead of inferior thickening agents.†
What Should I Expect?
Since it doesn't have any stimulants, you won't immediately feel or notice a difference after taking a serving. Results are best achieved when taking for at least 8 weeks.
Who Should Take It/ Who Shouldn't Take It?
Nutrex IsoFit is for anyone who is looking to gain quality, lean muscle. † Although it's extremely popular with bodybuilders and power lifters, anyone can use Nutrex IsoFit. It may also be helpful for women who have trouble gaining weight.
Featured Customer Reviews:
Melanie R: Perfect
It's the most amazing protein shake with the best taste
FAQ:
How many times a day should I take this?
We recommend taking 1 scoop before or after exercise, or whenever you desire a high-protein, high-quality drink.
Can I drink this on non-training days?
Yes, absolutely! Be sure to monitor your physical requirements and maintain adequate hydration.
Comparisons:
Vs. Gold Standard Whey
Contains 120 calories, 3 grams of carbs and 24 grams of protein per scoop.
Vs. Dymatize ISO 100
Contains only 110 calories, 25 grams of protein and 1 gram of carbs per scoop.
Vs. Isoflex
This protein has zero fat and zero sugar. Additionally contains 27 grams of protein and 1 gram of carbs.
Vs. AllWhey Gold
This powder is micro-filtered, which removes excess lactose and fat. This protein contains 24 g per serving.
Stackable Products:
By adding other supplements including Creatine, Glutamine, and Taurine, you can make an even more powerful post- workout recovery product.
How Do I Take It?
Dosage and Directions:
For best results, mix 1 scoop (1 serving) into 5oz of cold water. Consume 30 minutes after your workout or have it anytime during the day as a delicious high-protein shake to support lean muscle building and recovery.
What's In Isofit?

Supplement Facts / Label: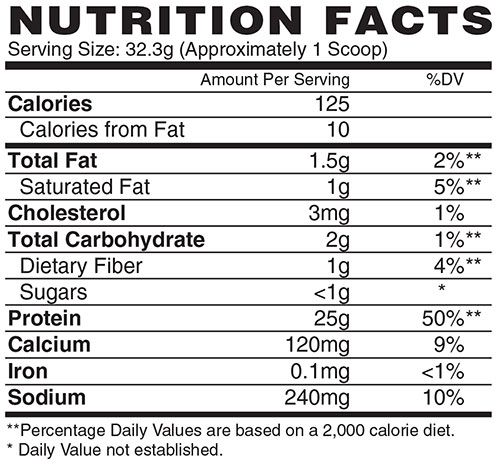 Warnings and Side Effects:
Use only as directed. For adult use only. Consult a health care practitioner prior to use if you:
Are pregnant or breastfeeding
Have Liver or Kidney Disease
Have been instructed to follow a low protein diet.
Do not use if outer seal is broken. Store in a cool, dry place. Keep out of reach of children. For additional information, see allergen warning.
Allergen Warning: Contains Milk (Whey). Produced in a facility that also handles soy, egg, peanut, tree nuts, fish, crustaceans and shellfish products.
Disclaimer:
PLEASE NOTE: Product images represent the product offered but may not contain exact attributes. Please read the product description for the specific attributes of this product.
†PLEASE NOTE: The intention of the information above is for reference only. It is our goal to maintain and display accurate information. Yet, we can't guarantee it represents the latest formulation of the product. If you have any concerns, please visit the manufacturer's website. The information above is not a representation of our views at Same Day Supplements. These are the views and information provided by the product's manufacturer. The Food and Drug Administration has not evaluated these statements. The intention of this product is not to diagnose, treat, cure or prevent any disease or illness.
*Prices are subject to change at any time and items may limit to stock on hand.
References:
Pasiakos SM, McLellan TM, Lieberman HR. (Jan 2015) The effects of protein supplements on muscle mass, strength, and aerobic and anaerobic power in healthy adults: a systematic review. https://www.ncbi.nlm.nih.gov/pubmed/25169440
Cribb PJ, Williams AD, Stathis CG, Carey MF, Hayes A. (Feb 2007) Effects of whey isolate, creatine, and resistance training on muscle hypertrophy. https://www.ncbi.nlm.nih.gov/pubmed/17277594
In-stock orders placed before 3pm EST ship out the same day.
We offer many shipping options to countries like:
Brazil
United Kingdom
Canada
Germany
Australia
Japan
India
France
Israel
Worldwide
More Information

| | |
| --- | --- |
| SKU | NX-0175 |
| Weight | 2.6000 |
| Manufacturer | Nutrex |