Hyper Fx, Pre Workout, By BSN
Extreme Energy
Focus Amplifier
Concentrated Pre-Workout
Hyper Fx By BSN - Pre Workout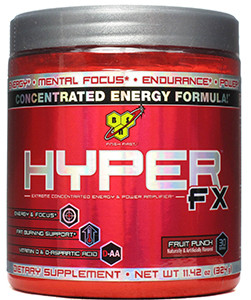 Extreme Energy & Focus Amplifier
HYPER FX is a concentrated pre-workout supplement designed to deliver amplified energy, focus and endurance support.* Each concentrated scoop features innovative ingredients such as CARN+, BetaPower Betaine Anhydrous, AstraGin, and PEAK ATP which are designed to support training performance. HYPER FX is available in 5 refreshing flavors that mix easily in water and are delivered via BSN's exclusive effervescent technology.
This concentrated energy formula was designed for advanced athletes who demand energy and focus from their pre-workout formula at amplified levels. Each serving of HYPER FX is a concentrated 8.8gram blend that provides intense energy, focus and endurance that is well-suited to long sessions of aerobic activity or high intensity workouts.
HYPER FX vs. NO XPLODE
Despite serving the same fundamental purpose of pre-workout energy promotion, NO XPLODE and HYPER FX have unique formulas with distinct applications. NO XPLODE is a complete, pre-workout supplement designed to not only support energy and endurance, but to also support muscle building, strength and overall performance. On the other hand, the formula behind HYPER FX provides ultra-concentrated, streamlined energy and focus support that is advantageous during fast paced, high volume workouts. Both supplements should be present in an athlete's arsenal.
HYPER FX: Extreme Energy & Power Amplifier
Extreme Training Energy
Alertness & Focus
Power & Endurance
What's In BSN Hyper Fx?
How to Take BSN Hyper Fx:
As a dietary supplement, mix 1 level scoop of Hyper FX with 3 oz to 6 oz of water and drink immediately on an empty stomach 30-45 minutes before training. If desired, use a second level scoop at least 4 hours after using the first level scoop. Do not take more than 2 level scoops of Hyper FX in 1 day. Approximately 270mg of caffeine per serving. While mixing HYPER FX do not shake! Stir powder with utensil.
Warnings:
Before consuming HYPER-FX seek advice from a physician if you are unaware of your current health condition, planning any medical procedure or having a medical condition, including but not limited to, heart, liver, kidney, thyroid disease, psychiatric or epileptic disorders, difficulty urinating, diabetes, high blood pressure, cardiac arrhythmia, recurrent headaches, enlarged prostate or glaucoma. This product contains caffeine and synephrine. DO NOT consume synephrine from other sources including but not limited to, coffee, tea, soda and other dietary supplements or medications containing phenylephrine or caffeine. DO NOT use HYPER-FX if you have any pre-existing medical condition or if you are taking an MAO inhibitor, anti-depressants, aspirin, non-steroidal anti-inflammatory drugs or products containing phenylephrine, ephedrine, pseudoephedrine, or other medications or over the counter drugs containing stimulants, or any other form of medication. Discontinue use and call a physician immediately if you experience chest pain, tremors, dizziness, severe headaches, nausea, an irregular heartbeat, or shortness of breath. Please be aware this product contains the naturally occurring amino acid Beta-Alanine, which may cause a tingling skin sensation in some individuals similar to niacin flush. This effect should diminish after a few hours and should ultimately subside after days of continuous use. Although rare, individuals with the genetic disorder Hyper Beta-Alaninemia should not use this product. Consume a minimum of 120 ounces of water daily in conjunction with a healthy diet and regular exercise. After 8 weeks of continuous use, discontinue for at least 2 weeks. Discontinue 2 weeks prior to surgery. Keep out of reach of children and pets and others for whom use of this product is not strictly intended. Use only as directed. Not recommended for use by children under 18 years of age. Do not exceed recommended dose. Do not use for more than 6 months without at least 2 weeks off cycle every 8 weeks. Store in a cool dry place away from direct sunlight. Allergen Warning: Manufactured on equipment which processes products containing milk, egg, soybeans, shellfish, fish oil, tree nuts and peanut flavor.
PLEASE NOTE: Product image is representative of the product offered but may not have the exact attributes. Please read product description for the specific attributes of this product.
PLEASE NOTE: The information above is intended for reference only. While we attempt to keep our information accurate, we cannot guarantee it is an accurate representation of the latest formulation of the product. If you have any concerns, please visit the vendor's web site. The information above are the views of the product's manufacturer, not the views of Same Day Supplements. These statements have not been evaluated by the Food and Drug Administration. This product is not intended to diagnose, treat, cure or prevent any disease.
*Prices are subject to change at any time and some items are limited to stock on hand.
In-stock orders placed before 3pm EST ship out the same day.
We offer many shipping options to countries like:
Brazil
United Kingdom
Canada
Germany
Australia
Japan
India
France
Israel
Worldwide
More Information

| | |
| --- | --- |
| SKU | HYPER-FX-PRE-WORKOUT |
| Manufacturer | BSN |
Customer Reviews
Excelent

One of the best Pre Workout that I've ever tried ... Good Disposition, great pump and great flavor

The best by far!!!

If you wanna get ripped,clean energy and focus.
You MUST try hyper-fx.
The best by far!!!

great pump

The best I ever made, great disposition, great focus and good pump.