Hydra Shred By Sparta Nutrition, Mango Nectar, 60 Servings
Hydra Shred Benefits:
Designed To Target Fat Loss From Every Angle
No Proprietary Blends
Clinical Dosages
Details
Hydra Shred By Sparta Nutrition - 60 Servings - Mango Nectar - Fat Burner

What Is Sparta Nutrition Hydra Shred?
Losing weight, getting shredded, and the pursuit of dropping body fat can be amongst the most arduous of tasks out there. If you've ever done cardio, you know that each and every minute is feels like eternity. It's time to capitalize and utilize the most advanced premium ultra strength lipolytic fat burner available: HydraShred.
Featuring premium dosages of Garcinia Cambogia extract, 6 different types of caffeine, Grains of Paradise, Acetyl-L-Carnitine, Banaba Leaf, L-Carnitine-L-Tartrate, and more, it just doesn't get better. Burn fat, shape your physique, reduce your appetite, and increase your energy now.
HYDRA SHRED | PREMIUM FAT BURNING INGREDIENTS
L-Carnitine-L-Tartrate (LCLT) plays a vital role in energy metabolism, specifically in the transportation of fatty acids into mitochondria where they can be burned for energy. Studies suggest that LCLT leads to improved performance, testosterone support, and overall fat metabolism.
Acetyl L-Carnitine is the acetylated form of l-carnitine, which is readily utilized in the Krebs Cycle. The acetyl group is used to form acetyl-CoA, the intermediary of energy from amino acids, carbohydrates, and fats, shown to lower triglycerides.
Garcinia Cambogia is a highly publicized supplement, suggested to support healthy weight loss. Garcinia Cambogia contains Hydroxcitric Acid (HCA), which can be shown to support weight loss.
Eria Jarensis is the "next big stimulant" out there. Eria Jarensis is a PEA ingredient, functioning as a neuromodulator to stimulate the central nervous system (CNS), improve mood in a therapeutic-boosting way, and provide a multi-faceted stimulant approach in combination with a moderate dosage of caffeine.
Vanillin is a phenolic aldehyde that is the primary component of a vanilla bean. What's a vanilla extract doing in a fat burner? It's simple, vanillin is a selective agonist of transient receptor potential vanilloid subtype 1 (TRPV1); TRPV1 agonists are known to increase energy metabolism and induce lipolysis.
Banaba Leaf is a potent true full spectrum ingredient that stimulates glucose transport into cells and can help maintain healthy blood sugar levels. Studies suggest that Banaba leaf can support a lean and toned body through appetite and sugar control.
J. Regia Extract, scientifically knows as 2-amino-5-methylheptane, is a naturally occurring source of DHMA (Octodrine), derived from the bark of the English Walnut tree. Notably used for it's enhanced absorption and strength, J. Regia Extract provides limitless-like energy.
Next, we have the 6 Phase Caffeine Matrix. Featuring Caffeine Anhydrous, Dicaffeine
Malate, Caffeine (from Green Tea), Yerba Mate Extract, Guarana Extract, and Green
Coffee Bean Extract. 6 forms to hit you in a multitude of ways, bringing the Hydra to HydraShred.
Last but not least, Cirsium Oligophyllum, a plant indigenous to East Asia, closely related to the thistle family. Studies show that this extract of the plant can help lose subcutaneous fat, which is fat found below the skin – specifically aiming for the hard to reach belly fat.
What's In Sparta Nutrition Hydra Shred?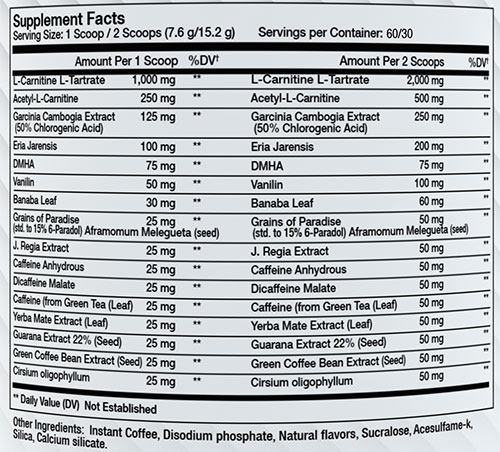 How Do I Take Sparta Nutrition Hydra Shred?
As a dietary supplement, take one scoop of Hydra Shred with breakfast or before morning cardio. Once you tolerate that dosage, add an additional scoop six to eight hours later. Do not take more than 2 scoops per day.
Warnings:
Not intended for use by persons under age of 18. Do not exceed recommended dose. Do not consume caffeine from other sources, including but not limited to, coffee, tea, soda, and other dietary supplement facts or medications containing caffeine. HydraShred contains caffeine. Read the entire label and consult with your physician prior to use. If you are pregnant or nursing, or if you are taking medication, including but not limited to MAOI inhibitors, antidepressants, aspirin, nonsteriodal anti-inflammatory drugs or products, or other stimulants. Consult your physician prior to use if you have a medical condition, including but not limited to, heart, liver, kidney, or thyroid disease, psychiatric or epileptic disorders, difficulty urinating, diabetes, high blood pressure, cardiac arrhythmia, recurrent headaches, or glaucoma. Do not use if safety seal is broke or missing. Keep lid tightly closed and store in a cool, dry place. Improper usage may be hazardous to a person's health. As with all supplements: keep out of reach of children and animals.
PLEASE NOTE: Product image is representative of the product offered but may not have the exact attributes. Please read product description for the specific attributes of this product.
PLEASE NOTE: The information above is intended for reference only. While we attempt to keep our information accurate, we cannot guarantee it is an accurate representation of the latest formulation of the product. If you have any concerns, please visit the vendor's web site. The information above are the views of the product's manufacturer, not the views of Same Day Supplements. These statements have not been evaluated by the Food and Drug Administration. This product is not intended to diagnose, treat, cure or prevent any disease.
*Prices are subject to change at any time and some items are limited to stock on hand.
In-stock orders placed before 3pm EST ship out the same day.
We offer many shipping options to countries like:
Brazil
United Kingdom
Canada
Germany
Australia
Japan
India
France
Israel
Worldwide
More Information
More Information

| | |
| --- | --- |
| SKU | SPN-0010 |
| Weight | 0.7500 |
| Manufacturer | Sparta Nutrition |
| UPC | 689466891577 |
Questions (0)
Reviews